In the 2000-2002 seasons in which Shaq helped my city attain our greatest dynasty.. the arguable greatest center of all time was an athletic specimen to say the least.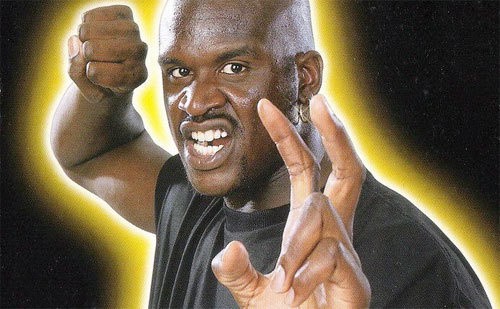 At 7"1 and nearly 350 pounds, 'Diesel' was a true force to be reckoned with.
The amount of kinetic force this man could deliver with a single punch or kick could be devastating, and Shaq's basketball drills most likely had him as flexible as he could be for his frame.
If Shaq's prime was in 2002 (when he was aesthetically at his physical peak), he would have had to fight his way up the UFC food chain and deal with the champions of that era. Randy Couture was the light heavyweight champion and moved up to fight legends like Josh Barnett and Ricco Rodriguez. When Couture lost the belt to Barnett in 2002, he still retained the championship due to Barnett testing positive for steroids.
Couture lost the belt yet again to a bigger man in Ricco Rodriguez, so Shaq most likely would have faced this third degree jiu jitsu black belt and ground and pound specialist. Ricco, like most other heavyweights of that era really topped out at around 6"4.
Shaq at 7"1 would still be an imposing figure, and in his prime, his athleticism would have instilled fear in most every heavyweight on Earth.
In boxing, Shaq could have never been champion. The pugilist's ring exposes your endurance and ability to catch punches from all angles... in mma, even the novice can shoot for a double leg and use instincts to survive and punish.

We saw Manny Sh-acquiao get dominated by the 5"10 Oscar De La Hoya in their exhibition match, and it shows that the level of skill difference can let even the smallest of men survive in the ring.
(Check That Exchibition Match Out In The Video to the Left)
If Shaq were to have fought a jiu jitsu black belt in his prime, I believe they would have had luck taking him down, but his strength, mindset, and aggression due to those factors would have carried him through. Shaq even wrestled former light heavyweight champion Forest Griffin as a much older man and showed that he is not a complete dunce on the ground.
His ability to reverse and gain top control are actually quite solid, and Shaq laying on top of anyone would be the most miserable experience on this planet. Check out that exhibition here, it was a Facebook Watch special.
I really can't think of any other athlete as dominant or physically imposing as Shaq in his prime, possibly Mike Tyson but they both have the same level of championship tenure.
In short, Shaq definitely could have been heavyweight champion. In watching the post show of the Bucks vs. Raptors game the other day, I realized that Shaq is consistently baffled by All Stars having off days because in his prime.. he would've dominated each time out.
Shaq's mindset was his biggest asset, he wasn't afraid to do anything it took to completely obliterate the enemy. This is a fighter's mindset.. this is a champions mindset.