This should be a fun list, and in retrospect, every guy deserves their ban in one way or the other... so let's get started!
#10: Dennis Hallman [Banana Hammock]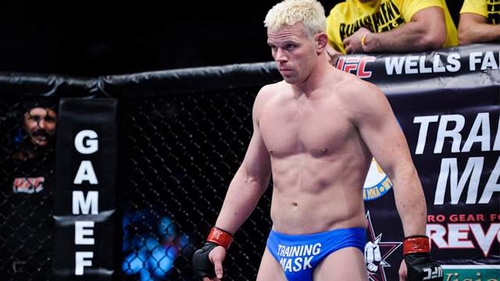 This guy embarrassed UFC president Dana White so badly with this showing, that he was permanently banned from competing in the Octagon again. Hallman said it was a bet with his friend to fight in the 'banana hammock', hope it was worth it the elbow bludgeoning he took that night, the loss on his record, and him forever being banned!

#9: Chuck Liddell [Fallen Legacy]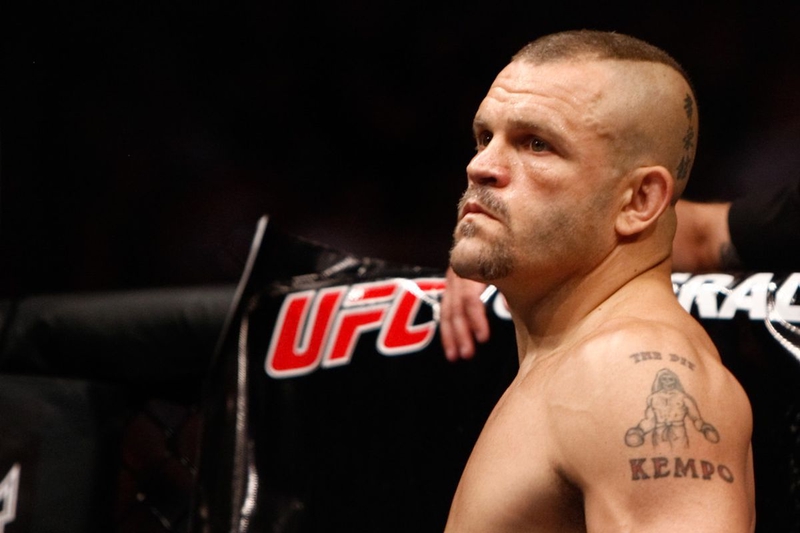 The Iceman is actually my favorite fighter of all time, and he brought my into the sport circa 2003. He was an absolute monster of his era knocking out literally everyone they put in front of him. The latter end of his career was not sweet as he was on the receiving end of some pretty lifechanging knockouts. Dana banned Chuck more as a friend than anything.. he just didn't want to see that happen anymore.
#8: Tito Ortiz [Rivalry With the Pres]
Tito was always a loudmouthed hot head, but him and Dana White for years went back and forth not only challenging each other to a boxing match, but making it very well known they hated each other.
Dana banned him cause he hated him and knew he'd only cause problems win or lose... he's also the most cringy bastard to ever hold a post fight mic.
Here is one of my favorite videos of all time, if you know Tito, you'll laugh the entire time.

#7: Randy Couture [Perceived Disloyalty]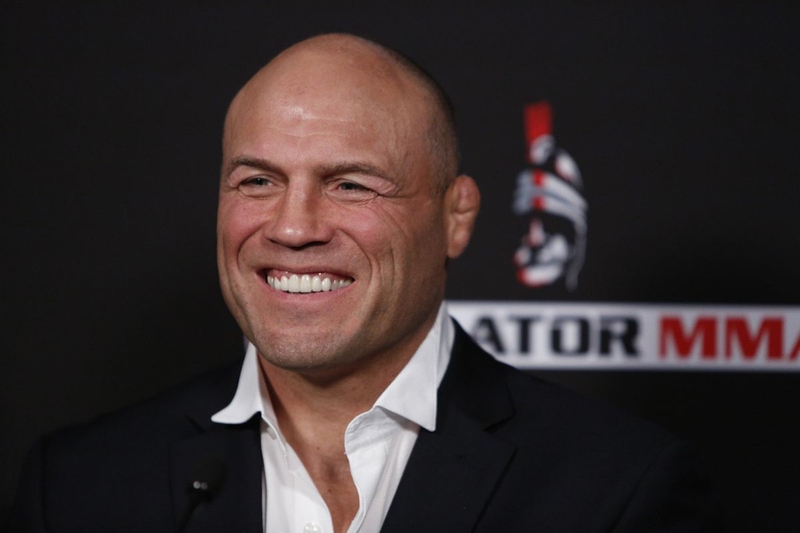 Don't f*** with Dana White! Randy Couture is an absolute legend, and he basically started the light heavyweight division on his back. This 'double champ' beat the hell outta everybody in his prime, even Chuck (for one of their fights), but Dana hates him. To this day nobody really knows why Randy is so hated by the president, but it must have been his parting ways (to do Bellator gigs) and other stuff that basically disbanded him from the organization. Couture can never be in the UFC Hall of Fame; so petty, such a shame.
#6: Matt Riddle [Multiple Failed Drug Tests, All Cannabis]
Sad but true. Riddle had immense anxiety during his UFC run, and he medicated frequently to help ease the pain.
He was a great wrestler, and yes that is him in the picture placed above Jon 'Bones' Jones in an old school wrestling tournament they competed in together.
Both took very different paths, and Riddle is supposedly a big WWE guy now showing up to events left and right. UFC simply got fed up with his cannabis use, and he got the banhammer for life!
#5: Wanderlei Silva [Running From a Drug Test]
That's right, Wandy ran away from a urine test when he was supposed to re-enter the fighter pool for his match against the American Gangster Chael Sonnen. They filmed an entire season of 'The Ultimate Fighter' in Brazil with both men getting very heated during filming. I left a clip of a serious toss up between the two fighters, and all this chaos just added to the mess that Wandy has become. Dana never liked him anyway...
#4: Paul Daley [The Cheapshot]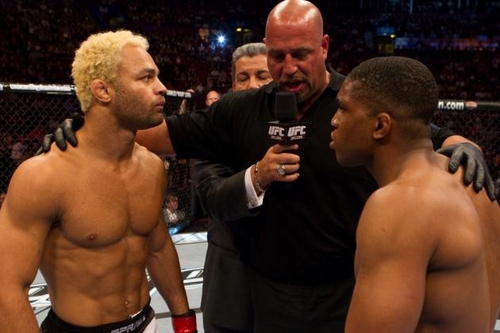 Yep, pretty straightforward. Don't hit after the bell, it's a sport after all! Daley tried to slide Josh Koscheck a one piece after getting dominated by the wrestler for 15 minutes.
Big Dan had to step in and restrain him, but it remains as one of the most unsportsmanlike moments in history.
#3: Renato Sobral [Refusal to Loosen Choke]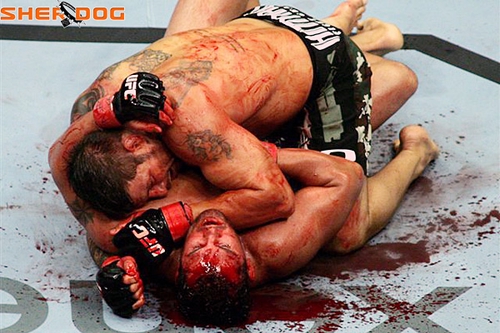 Better known by his moniker 'Babalu', Renato was a true dickhead in the cage. I enjoyed watching him get knocked out by Chuck in his prime, but refusing to loosen a choke once the ref has stopped the fight should be called attempted murder. Sobral was banned after this fight, and reasonably so.
#2: Kalib Starnes [The Running Man]
If you're a professional fighter, it's a good thing to have the heart to fight. It's also a good idea to fight when you're paid to do so in front of millions of people.. but the night Starnes fought Nate Quarry, he met a guy he just didn't wanna engage with. Quarry mocked him throughout the fight doing the 'running man' motion, but Starnes didn't care and spent 15 minutes literally backpedalling. It was pathetic, and the fight should've been stopped for timidity (and yes, that is in the rulebook).
Here is a strange clip of the fight, only thing (legal) I could find an upload:
#1: Rousimar Palhares [The Holder of Limbs]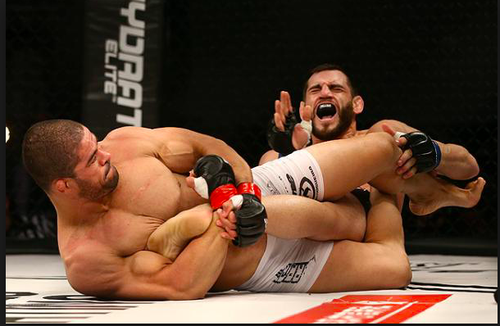 By far the most hated man in mixed martial arts, and still one of the most deadly grapplers of all time. His heel hook is death, and with an arsenal of joint manipulation locks under his (black) belt, he has taken the limbs of many at will.
He has held so many submissions for much longer than necessary, and he is the only man who continually does so and is allowed to compete!
He is a draw to some extent, but I am confused by the companies that still employ him. This guy is a menace, never cheer for him under any circumstance!
Honorable Mentions : Gilbert Yvel, Mario Yamasaki [Only Ref Banned From the UFC for Being a Complete Dufus, Moron, and Unreliable Asshat].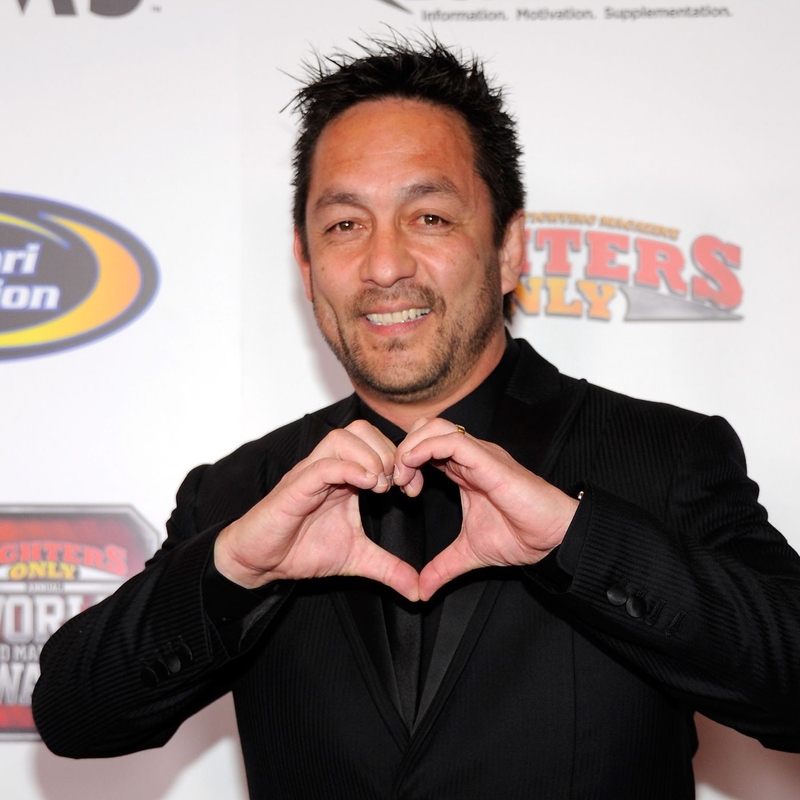 Hope you enjoyed this one, and thanks for coming by!