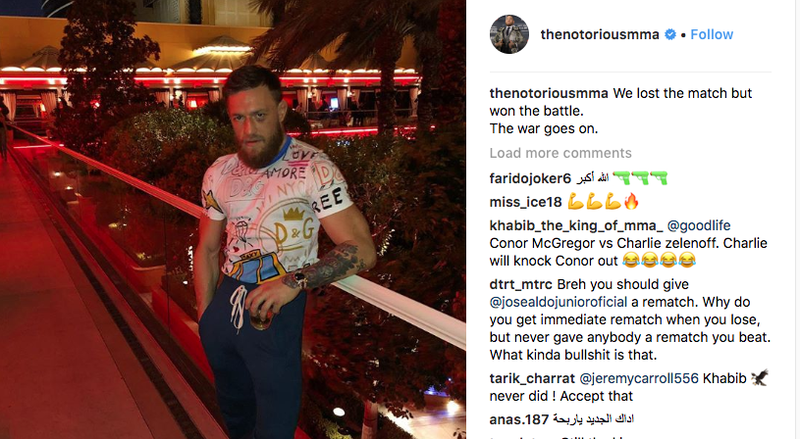 The Russian fighter Khabib Nurmagomedov beat Irishman Conor McGregor from start to finish in the fight for the lightweight world title of the Ultimate Fighting Championship (UFC) that unfortunately ended with a pitched battle. The winner dominated the fight on foot as on the floor, which led to the surrender of McGregor in the fourth round after being subdued with a key by the neck.
'The Notorious' published, on October 8, 2018, his first photograph after the defeat. In this it is observed calm and with the left eye purple. "We lost the fight, but we won the battle, the war continues," wrote the famed fighter with more than 28 million followers on Instagram. Now his professional record is 21 victories and four defeats in mixed martial arts.

'The Eagle', in turn, apologized to the Nevada Athletic Commission and Las Vegas, where the fight was held, for their attitude. He said that was not his best version, but he justified what he did because in the days before the fight he felt that his rival insulted his family, his country and his religion. Nurmagomedov, the undefeated champion with a record 27 wins, is a devout Muslim.

After the triumph, on the night of October 6, 2018, the champion Nurmagomedov lost his temper and began to fight with the challenger's corner to the point that he climbed the mesh and threw himself at the Irish collaborators in the stands. Then a pitched battle arose that had to be controlled by uniformed police and private guards in the coliseum. Even McGregor, after the crushing defeat, received other blows within the octagon by members of the Russian team.

Once controlled the painful situation, the champion left the stage with police protection and sanctions are expected for him and his team. Could it be that a rematch is being carried out? There are people who think that a second fight between both fighters could generate huge income for both and for the UFC company. However, the Russian's superiority was so extensive that for other experts there is no reason for a rematch.

Sources: live fight - social media of the fighters