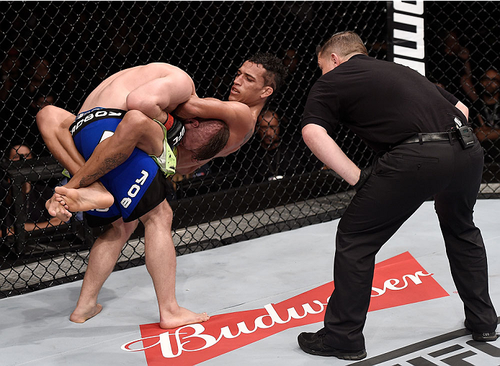 The talented Charles Oliveira has the opportunity next Saturday to tie the submission record of the great Royce Gracie if he manages to subdue Christos Giagos.
Oliveira, who has a 2-1 record since returning to UFC's lightweight division in April 2017, is one of the most prominent Jiu Jitsu specialists in the last 10 years and for his next bout could equal who everyone considers to be the "godfather" of submissions within UFC.
Royce Gracie holds the record for the most submissions within the UFC, with 11 wins per submission. Oliveira is second with 10 wins by submission, ahead of names like Demian Maia, Nate Diaz and Frank Mir.
Oliveira is a black belt of Brazilian Jiu Jitsu under the tutelage of Ericson Cardoso, and has proven to be a force to be reckoned with when it comes to ground level fighting. Next Saturday in the UFC Fight Night 137 will face Giagos, who has not proven to be a threat on the floor, which puts him in an advantageous position to tie the record, as long as the fight gets to the floor.
It should be noted that when I say that Oliveira is a specialist in Jiu Jitsu, I take the word "specialist" very literally, because as a practitioner of soft art and knowing the complexity of many positions, I have seen him achieve submissions from truly incredible positions and angles (as you could see in the video above).

Some facts about Oliveira regarding his excellent Jiu Jitsu:
Oliveira has won 10 of his 11 UFC victories by submission.
Four of his 10 submission victories have been by guillotine, tied first with Nate Diaz for more such submissions in UFC history.
He holds the record for the most submission wins in the history of UFC's featherweight division. (6 submissions)
Oliveira is one of two fighters in UFC's history to win by submission with six different techniques. Frank Mir is the other to have achieved such a feat.
Oliveira is one of two fighters in UFC's history to achieve a victory by submission via Calf-Slicer. Brett Johns also accomplished the feat.
Note: This article is based on the premise of counting Royce Gracie's first submission in UFC against Art Jimmerson, which was credited to him after his opponent surrendered because he could not get out of the position he was in (he did not use strangulation keys or joints). If this submission is not counted, then Charles Oliveira would be BREAKING Royce Gracie's record if he defeats his opponent by submission next Saturday.