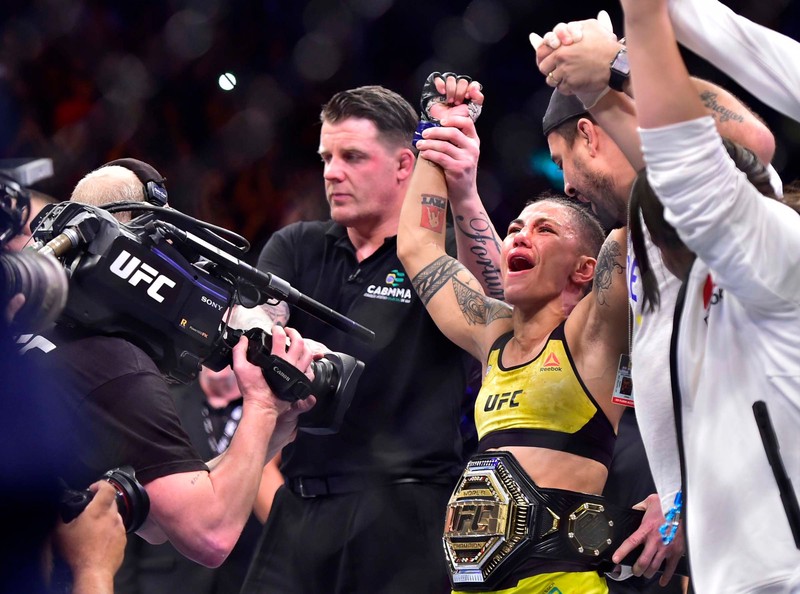 UFC 237: Namajunas vs. Andrade
Rose Namajunas [Champion] vs. Jessica Andrade - Andrade |Decision|
Rose was doing pretty good especially in the first round. Her striking looked crisp and nice footwork avoiding big shots from Jessica. I didn't see Andrade winning via a Slam though. I thought Andadre's pressure would get to Rose at some point and from there onward it's going to be a dominant, pressure-high unanimous decision for Andrare. But wow ..Jessica has got some brute power for women's division/s. I personally would love to see a rematch between Rose and Jessica, but Rose's mindset after the bout, her talk of doing something else rather than fighting, that's suspicious. Anyhow, I am waiting to see how Tatiana performs against Nina Ansaroff, and it would be a fun fight with Andrade if Tatiana gets past Ansaroff with flying colors.
Anderson Silva vs. Jared Cannonier - Silva |Decision|
Anderson is one of the greatest of all time, if not the greatest. BUT unfortunately his prime is way past now. He is still dangerous, he has still got some tricks left, shown by his performance going 3 competitive rounds (most probably he won the 2nd round, and if he had more output rather than doing all the arm-spinning and stuff, may be the decision would have been closer than it was) against the talented current interim-champ Adesanya. But his speed, his movement which he relied on the most to win fights aren't there at that elite level they were. He has been saying that he still has got some fights in the contract. I don't know how his contract works, but I would like him to retire at this point with all the respect. It's not like he is getting KOed unconscious when he fights nowadays, he always fights competitively. When he enters the octagon, no matter whether he is in his prime of not, it's still a spectacle, every hardcore fan loves to see him fight. But at this point I think it should be Anderson's decision.
Jose Aldo vs. Alexander Volkanovski - Aldo |KO/TKO| [Rd 2]

I haven't seen such a below-average performance by the great Jose Aldo since I can remember. I have been following his fights since his WEC days and he has been dominant almost all the time. (let's forget about the Mcgregor fight of course ;)... honestly I still think a rematch would have ended differently against Mcgregor). Volkanovski came with a good gameplan and he stuck to it. Jose completely froze out there. Or may be he relied too much on his one punch KO power. That's the problem most of the time with fighters coming off of one punch spectacular KOs. They rely in that in their next match and when they can't find that shot and when the opponents have more volume, it's a loss when it goes to the judges. Aldo's still got it, it's not like he is completely out of prime. But I think his next fight will be his last according what he has been hinting. Most probably UFC will throw Aldo to Zabit, or Ortega so that the the young prospects can make a name out of the great legend. And for Volkanovki who is now the #1 contender (though Max vs Frankie title match is rumored), I would like to see him face Ortega. Ortega loves the clinch positions and Volkanovski does his good work there. Both of them are hungry and tough as nails. That's going to be interesting.
Thiago Alves vs. Laureano Staropoli - Staropoli |KO/TKO| [Rd 2]
Antonio Rogerio Nogueira vs. Ryan Spann - Spann |KO/TKO| [Rd 1]
Kurt Holobaugh vs. Thiago Moises - Moises |Submission| [Rd 2]
Irene Aldana vs. Bethe Correia - Aldana |KO/TKO| [Rd 3]
Clay Guida vs. B.J. Penn - Guida |KO/TKO| [Rd 2]
Luana Carolina vs. Priscila Cachoeira - Carolina |Decision|
Warlley Alves vs. Sergio Moraes - Moraes |Decision|
Raoni Barcelos vs. Carlos Quiroz - Barcelos |Submission| [Rd 2]
Talita Bernardo vs. Viviane Araujo - Bernardo |Decision|
---
#Most Confident Pick/s:
Raoni Barcelos
Thiago Moises
Irene Aldana
---
Prediction Results : 8 - 4

Perfect Picks (Method & Round) : 2/8
Pick and Method : 2/8
Confident Pick/s : 3/3
Main Event Picks : 1/1
---
OVERALL RESULTS [Since UFC Fight Night Barboza vs. Gaethje]
Prediction Results : 49 - 25
Perfect Picks (Method & Round) : 19/49
Pick and Method : 24/49
Confident Pick/s : 12/13
Main Event Picks : 3/6
---

Best Performance of the Night :-
[1] Jessica Andrade - her crazy pile-drive like slam KO!