UFC 238: Cejudo vs. Moraes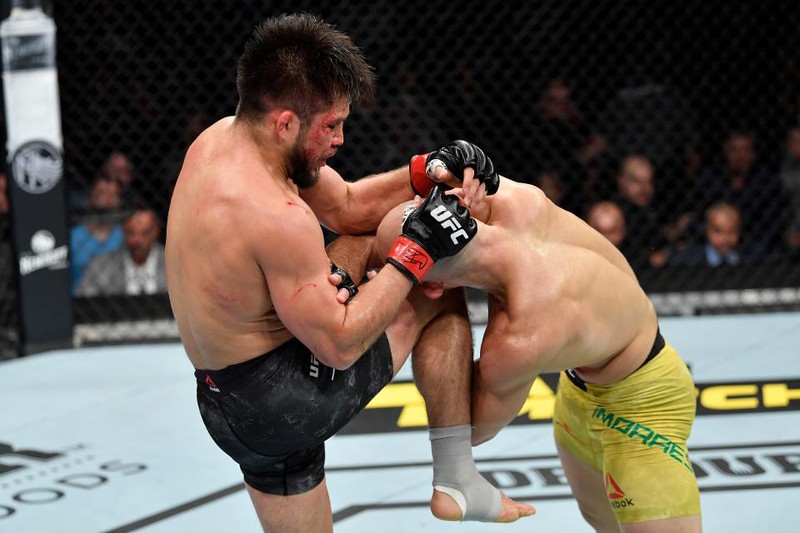 Henry Cejudo vs. Marlon Moraes -Moraes |KO/TKO| [Rd 3]
That was a really impressive performance by Cejudo. He was acting like a jester throughout the fight week, but the adjustments he made after getting out-struck by Moraes, brilliant. He applied pressure, the clinch work was amazing, but to be honest Moraes looked like an amateur for fighter who boasts Muay Thai skills when Cejudo took the Thai clinch. It seemed like he didn't know what to do. But I think Moraes did exert lots of energy in the first round looking for that knockout blow. Moraes was tired at the end of the second round. But still, Cejudo's composure was something to take note of. Mighty Mouse, TJ and Moraes; he definitely should be in the talk of Pound-for-pound fighters in the world today. If he defends both the titles his stock would only go higher in the realm of greatest of all time list. I think what's next for Cejudo should be Aljamain Sterling. Sterling's awkward, unorthodox style would be an interesting style match-up for Henry. He is the Flyweight champion as well, so unless he pulls a Mcgregor stunt and not defend his title (of course he had a title defense against TJ), he should face the winner of Formiga vs. Benavidez.
For Moraes, he looked like a beast on his way to a victory and his conditioning became the problem in my opinion, the managing of his conditioning. He is an extremely well rounded guy, Moraes ... may be the emotions took over him. Moraes vs. Cody Garbrandt would be a fun fight. Two very powerful strikers fighting each other. Moraes vs. Petr Yan sounds good too.
Valentina Shevchenko vs. Jessica Eye -Shevchenko |Decision|
Valentina is scary. The contenders of the division would be thinking twice before fighting her now on. That's one of the scariest knockouts that I have seen in women's mma. I would love to see another Valentina vs. Amanda Nunes, now that they are both in their prime, well established.
Donald Cerrone vs. Tony Ferguson - Cerrone |KO/TKO| [Rd 3]
What can I say about this fight than that Tony MUST get a shot at the title next. The first round was a bit close. Cowboy was landing good shots too, but the second round was all Tony. That pressure put forward by Tony, it breaks elite level fighters. It's really unfortunate the fight ended that way. Tony vs the winner of Khabib vs. Poirier must be the next match to make (it will be disgusting if Dana gives the winner of Khabib vs. Poirier to Mcgregor :/ )
For Cowboy it's a tough loss, he was making progress for another title shot. Fans would love to see a Cowboy vs. Gaethje match though !
Jimmie Rivera vs. Petr Yan -Yan |Decision|
Blagoy Ivanov vs. Tai Tuivasa -Tuivasa |KO/TKO| [Rd 1]
Nina Ansaroff vs. Tatiana Suarez -Suarez |Submission| [Rd 2]
It wasn't the dominant victory everybody expected from Tatiana. But it's good for her career in my opinion. Ansaroff really did impress me. She avoided any major punishment from Tatiana when she was on the bottom positions and managed to even win the third round. If the fight went into the championship rounds, it would have been interesting. Her striking didn't look that impressive, but she makes it up to it with her elite wrestling. She seemed frustrated because she couldn't do any damage from the top though she had the control. Ansaroff did have good takedown defense in the later rounds as well. Jessica Andrade vs. Tatiana Suarez will be the match they will be looking for now.
Pedro Munhoz vs. Aljamain Sterling -Sterling |Decision|
Alexa Grasso vs. Karolina Kowalkiewicz -Grasso |Decision|
Calvin Kattar vs. Ricardo Lamas -Kattar |Decision|
Angela Hill vs. Yan Xiaonan -Xiaonan |Decision|
Bevon Lewis vs. Darren Stewart -Lewis |KO/TKO| [Rd 2]
Katlyn Chookagian vs. Joanne Calderwood -Chookagian |Decision|
Eddie Wineland vs. Grigory Pipov -Wineland |KO/TKO| [Rd 2]
---
#Most Confident Pick/s:
Tatiana Suarez
Valentina Shevchenko
---
Prediction Results : 9 - 4
Perfect Picks (Method & Round) : 6/9
Pick and Method : 6/9
Confident Pick/s : 2/2
Main Event Picks : 0/1
---
OVERALL RESULTS [Since UFC Fight Night Barboza vs. Gaethje]
Prediction Results : 70 - 42
Perfect Picks (Method & Round) : 27/70
Pick and Method : 35/70
Confident Pick/s : 16/18
Main Event Picks : 3/9
---
Best Performance of the Night :-
[1] Henry Cejudo for the adjustments he made after getting out-struck in the first round.
[2] Valentina Schevchenko / Calvin Kattar / Tony Ferguson