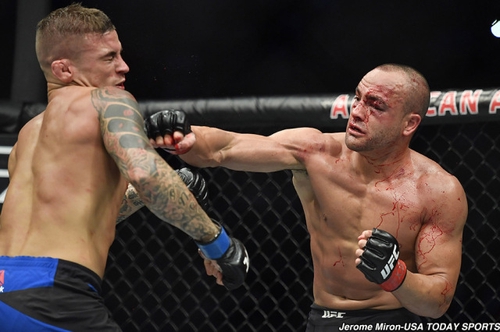 Early Fight Pass Prelims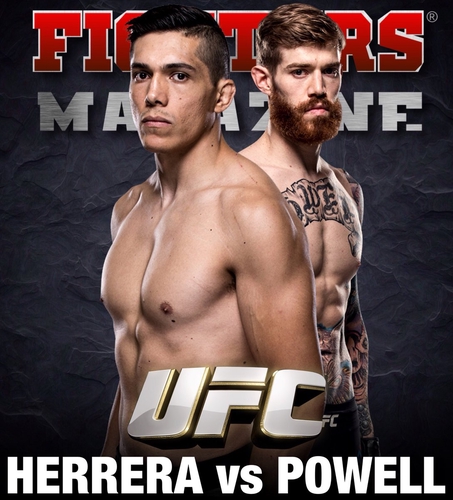 Devin Powell vs. Alvaro Herrera
There's no better way to hype up a card than to pit two guys with a combined UFC record of 0-4 against each other, or so Dana White has always said. While this fight doesn't look good on paper, it may very well still entertain with the shit show likely to ensue.
Devin Powell is the token Canadian in this fight, and was brought to the UFC after impressing Dana White on Dana White Lookin' For a Fight, submitting his opponent in a comeback win. Since then, he has lost back-to-back decisions to Drakarr Klose and Darrell Horcher, respectively. To Powell's credit, both of those guys are legitimate Lightweights, particularly Klose, who looks to be ranked in the top 15 soon.
Powell's preferred fighting style is to stand in front of his opponent and tap them with kicks until they do something. These kicks are good for maintaining range, making use of the very long reach Powell has for a lightweight, but usually just land with the foot and don't do any real damage. His main offense comes from his favorite combination-- a jab-straight followed by a body kick, which would be far more effective if it wasn't the only thing that he throws. On the ground, Powell does have some slick submissions (3 submission wins), but he seems far too content to just sit in his guard if he gets taken to the ground.
What Powell has struggled with in the UFC is pressure: in both fights he was backed up far too easily without throwing anything in return. Drakarr Klose ate his lunch in the clinch when he was pushed against the cage, and Darrell Horcher had success with the same tactic. Powell's striking defense isn't as crisp as you'd like it to be, and while he's shown a chin, he has been rocked in both of his UFC fights, though not finished.
Across from Powell will be Alvaro Herrera, who showed enough potential during his run on TUF: Latin America to be signed to a UFC contract, after winning his TUF fight by a brutal KO in just 30 seconds. Since then, he's been nothing but disappointing, following 2 straight submission losses that only took a combined 5 minutes to secure.
Herrera throws with everything that he's got, and should one of those heaters connect, this fight will be over quickly. Unlike Powell, he's also shown a willingness to throw counters if Powell chooses to throw his favorite combination.
Herrera has never been to the 3rd round before.
Where Herrera struggles is with his horrendous takedown defense, which has cost him in his last two appearances. Once he's hit the ground, he finds it almost impossible to get back to his feet. Herrera also cuts an absurd amount of weight to get to the 156 pound limit. In his last fight, he weighed in just 2 minutes before the deadline. He'll be the larger fighter, but the weight cut is surely going to eat at his cardio, as will the haymakers he so loves.
What Herrera needs to do is press Powell against the cage and use his insane size and power to deal damage in close, where Powell likely will not have an answer. Powell's defense isn't great, so the opportunity for a power shot to land will be there, but he'd better land it early.
Powell needs to drag Herrera into the 3rd round and stay out of range until Herrera tires. While Powell gives far too much ground, he also won't just be there for Herrera to hit. As the fight goes on, Herrera will tire, and Powell will be able to assert his game. Having already gone 15 minutes twice, Powell's cardio will not be an issue.
My Pick: Powell by decision.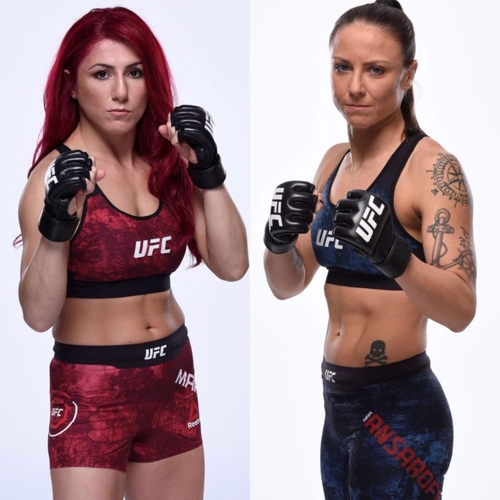 Randa Markos vs. Nina Ansaroff
Randa Markos will be in front of the home crowd, having won a decision victory over Juliana Lima in January. It is, however, worth noting that she has yet to string consecutive wins together since 2013, and never has in the UFC, which includes her last 8 fights.
Markos's game is pretty clear-cut: she wants to take her opponent down to the ground and beat them to a pulp. Markos excels at pushing her opponent against the cage and using excellent trips from the clinch to get them to the ground where she is incredibly tough to shake off, and exhibits some of the hardest ground and pound in the division.
While Markos isn't completely clueless on the feet, it's definitely not the staple of her game. On the feet, she generally tries to use her striking to set up takedown attempts, and spend as little time on the feet as possible. Where Markos has had trouble is with opponents who force her to stand upright and trade with them. If the match turns into a pure kickboxing fight, Markos is well out of her element.
Markos has never finished an opponent in the UFC.
Across the cage from Randa Markos is a fighter who will want to keep the fight on the feet at all costs. Training with Amanda Nunes has done great things for the striking of Nina Ansaroff, all of which she will have to use to take care of Randa Markos.
If this fight is merely a kickboxing fight, this could be a very one-sided fight in favor of Ansaroff. Ansaroff throws creative combinations while keeping distance, and also has some nasty counters to deter Markos from trying to close the gap. In her last fight, she out pointed Angela Hill, a pretty solid striker in her own right. While not known for her ground game as much, she did submit Jocelyn Jones-Lybarger just two fights ago. However, if she goes to the ground with Markos, I doubt she'll have that kind of success.
Markos needs to get Ansaroff to the ground, and quickly. If she can control her on the ground, there likely won't be much of an answer(off). Likewise, if this stays standing, I don't see any way in which Markos wins.
My Pick: Ansaroff by decision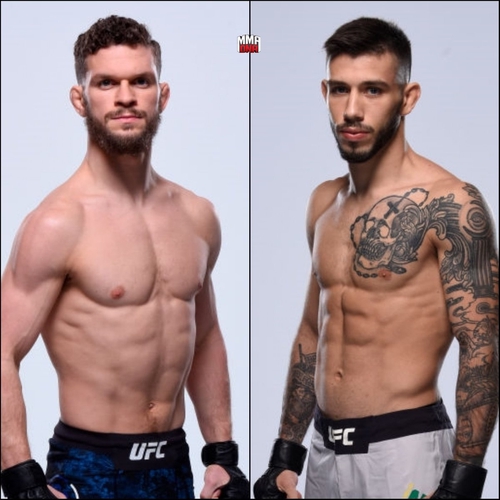 Matheus Nicolau vs. Dustin Ortiz
I'm honestly shocked they tucked this fight away in the middle of the early fight pass prelims. While neither of these guys are huge names, both guys are ranked and bring it every time they come into the Octagon. I expect this one to be a candidate for fight of the night.
Matheus Nicolau is only 25 years old, yet he has already taken two solid wins over John Moraga and Luis Smolka in his last two fights. Moraga was a former title challenger, and Smolka isn't an easy out at 125. Despite his youth, he looks cool and composed in the cage, something he'll need to maintain for every second that he's in the cage with Dustin Ortiz.
Nicolau has crisp boxing that he uses to counter and pick apart his opponent on the feet. His movement is fantastic, even compared to other flyweights. His favorite punch is a counter left hook, a shot that rocked John Moraga and knocked Luis Smolka down one of three times in the first round. While he hasn't finished any of his UFC opponents thus far, he's shown the power and timing necessary to do it.
In 3 UFC fights, Nicolau has yet to be taken down.
That fact doesn't bode well for Dusin Ortiz, a guy who uses his solid wrestling and insane pace to grind his opponents. That strategy worked well for him in his last fight against Alexandre Pantoja, allowing him to come from behind after spending nearly the entire first round on his back. It was only Pantoja's third loss, and the first in 12 fights.
Ortiz brings a kind of movement and pacing that will give any guy problems, and won't be something that Nicolau has faced before. His movement allows him to slip punches well, and step in to throw combinations of his own before his opponent can retaliate. On the ground, he does solid work to sap his opponent's energy, allowing him to get an even larger advantage out of his insane cardio. Ortiz always looks like he has the energy to go 10 rounds if necessary.
Ortiz is hittable, though you'll have to pin him down first. But if there's anyone in the division able to find Ortiz with their hands, it would have to be Nicolau. It won't be surprising to me if Nicolau does struggle a bit with the pressure of Ortiz, as he's more content to feel his opponent out a bit first, something Ortiz rarely bothers with. While Nicolau has yet to be taken down, should he get to the mat, he does have a black belt in Brazilian jiu-jitsu, so Ortiz will need to be careful if he chooses to use his wrestling.
Ortiz needs to make Nicolau fight his pace. Should Nicolau start to feel comfortable and find his timing, Ortiz will be in trouble. Ortiz will be able to bring it for three full rounds without problem, and while Nicolau's cardio is good, it's difficult to say with certainty that it's on Ortiz's level. If Ortiz can tire Nicolau out and use his wrestling to control him, Ortiz could very well come away with a win.
My Pick: Nicolau by decision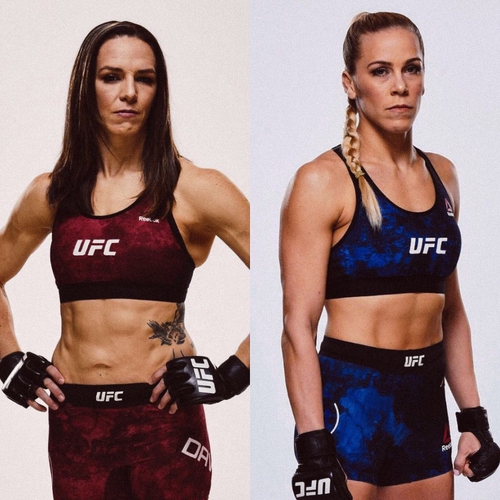 Alexis Davis vs. Katlyn Chookagian
Katlyn Chookagian started off her UFC career with an impressive win over Lauren Murphy, and has continued to run through the division, only dropping one decision loss to Liz Carmouche. Currently ranked #7 at Flyweight, she faces a fellow ranked opponent in #3 Alexis Davis.
Chookagian likes to fight on the outside, and when I say outside, I mean wayyy outside. In terms of managing distance, Chookagian likes to be so far from her opponent that her own punches are out of range. Chookagian's style is an irritating one to fight against, to say the least, throwing a large volume of strikes while she darting from side to side. Her style is very risk-averse, allowing her to win on points through sheer volume. While her punches and kicks don't do much in the way of damage, they add up, especially if they aren't answered. She's most dangerous when her opponent tries to close the distance, since she then is actually in range of her punches and can land with some power.
Davis is someone who likes to take the fight to her opponent, and won't be one to just let Chookagian poke her for 15 minutes without doing anything. Davis comes into this fight with back-to-back wins over Liz Carmouche and Cindy Dandois, neither of whom are pushovers. Davis is a jiu-jitsu fighter, and as such she does her best work on the ground, with 8 submission victories. Should she take Chookagian to the ground, I don't see it ending well for Chookagian.
My main concern for Chookagian is in her ground game. When she's been taken down, she looks almost lost towards what she should be doing. While she hasn't been taken down much in her UFC career, takedowns were major factors as to why she lost to Carmouche. Davis will be by far the best grappler that she's gone up against to date, and unless she shows improvement on the ground, I don't hold much faith in her being able to get back to her feet, should they hit the deck.
Likewise, the major concern for Davis is being able to take Chookagian to the ground. Chookagian is long and moves well, making her difficult to pin down. Carmouche succeeded in slowing Chookagian down with leg kicks, but I'm not sure if Davis has the ability to do the same. Should Chookagian stuff Davis's attempts to take this to the ground, Davis will tire and be at the mercy of Chookagian's volume. Davis will need to have a sense of urgency to get this fight where she needs it to be, which is a concern.
However, I believe she will be able to take at least two rounds through takedowns in a mild upset.
My Pick: Davis by decision or submission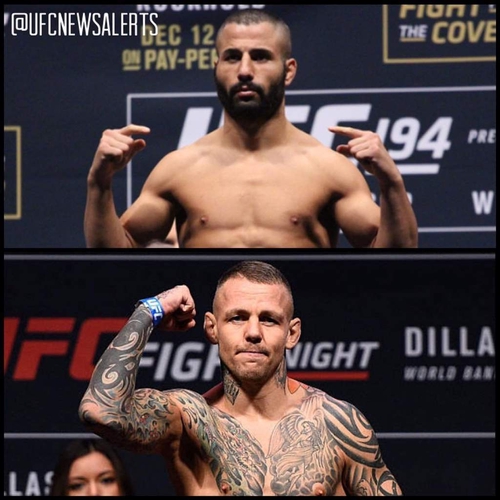 John Makdessi vs. Ross Pearson
The last fight on the early Fight Pass Prelims pits Canadian fan favorite John Makdessi against a former TUF winner in Ross Pearson. While Pearson's UFC career started favorably, he's struggled as of late, losing 4 of his last 5, including a nasty knock out via Dan Hooker's knee.
John Makdessi suffered a highlight reel KO from Lando Vannata in 2016, but bounced back nicely with a win over Abel Trujillo last year. Makdessi is a very skilled striker, just as capable of throwing flashy spinning strikes as he is technical counter punches. He's struggled some with opponents with longer reach than him, but won't have to worry about that against Pearson, as both men are of similar size. Makdessi times his shots well, and is a very skilled defensive striker as well.
Makdessi is 14-2 when fighting at home in Canada.
Ross Pearson is struggling to kindle a career resurgence, and finally managed to pick up a win over Mizuto Hirota in February, his first since 2015. However, Hirota is 36 and far from a world beater, so it had to have been more of a moral victory than anything. Pearson has been vocal about his recent transformation as a fighter, claiming to have been too stale and predictable in the past. He believes that he has transformed his game, and his recent win will give him some confidence.
Pearson is best known for his boxing, and brings a well-rounded fight game to the table. He packs power in his strikes and his leg kicks can slow guys down quickly. Like Makdessi, he is a fairly technical striker, although he doesn't show as much creativity in his shots.
The fighters will be fighting themselves in a way, as both fighters are the exact same age (33) and height (5'8). Both are savvy veterans who've been around martial arts for a long time and have seen pretty much everything there is to see in the cage.
In this fight, I feel like Makdessi has the better striking, and will win trades against Pearson. While Pearson is fully capable of landing his favorite left hook against Makdessi, he'll find it difficult against Makdessi's calculated approach. Makdessi looks poised to improve that Canadian record to 15-2.
My Pick: Makdessi by decision