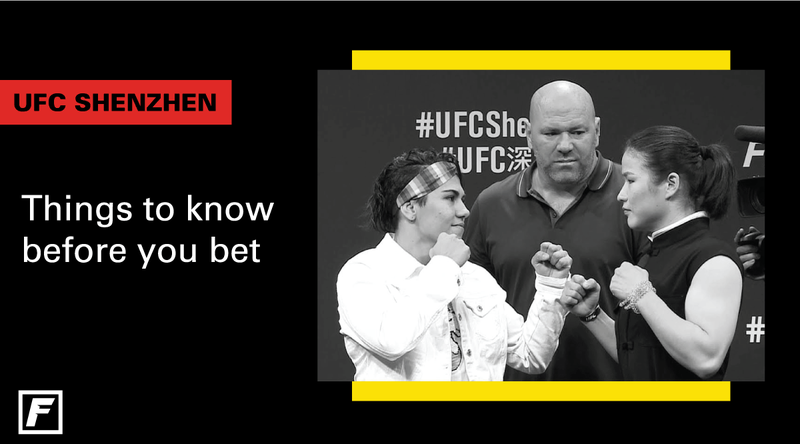 UFC on ESPN+ 15: Andrade vs. Zhang takes place on Saturday, August 31, 2019 in Shenzhen, China at the Universiade Sports Centre. Before you make your bets, these are the things you should know. Also make sure you're getting the best odds by using our odds comparison page.

Jessica Andrade (-190) vs. Weili Zhang (+165)
Zhang fighting in her home country
Elizeu Zaleski dos Santos (-275) vs. Jingliang Li (+235)
Li fighting in his home country
Kai Kara-France (-225) vs. Mark De La Rosa (+185)
De La Rosa moved from Bantamweight to Flyweight (has had previous fights at flyweight).
Movsar Evloev (-950) vs. Zhenhong Lu (+625) - Fight has been cancelled
UFC Debut fight for Lu
Lu fighting in his home country
Mizuki Inoue (-150) vs. Yanan Wu (+130)
Wu has a 5 inch height advantage
UFC Debut fight for Inoue
Inoue moved from Strawweight to Flyweight.
Wu fighting in her home country
Wu missed weight (129 lbs)
Kenan Song (-105) vs. Derrick Krantz (-115)
Song fighting in his home country
Krantz returning from a KO/TKO loss
Anthony Hernandez (-155) vs. Jun Yong Park (+135)
UFC Debut fight for Yong Park
Andre Soukhamthath (-160) vs. Su Mudaerji (+140)
Mudaerji fighting in his home country
Khadis Ibragimov (-260) vs. Da Un Jung (+220)
UFC Debut fight for Ibragimov
UFC Debut fight for Un Jung
Un Jung's last fight was at Heavyweight (has had previous fights at light heavyweight)
Karolline Rosa Cavedo (-120) vs. Lara Fritzen Procopio (+100)
UFC Debut fight for Rosa Cavedo
UFC Debut fight for Fritzen Procopio
Fritzen Procopio hasn't fought in 371 days
Danaa Batgerel (+120) vs. Heili Alateng (-140)
Batgerel has a 5 inch height advantage
UFC Debut fight for Batgerel
Batgerel hasn't fought in 426 days
UFC Debut fight for Alateng
Alateng fighting in his home country
Alateng hasn't fought in 475 days