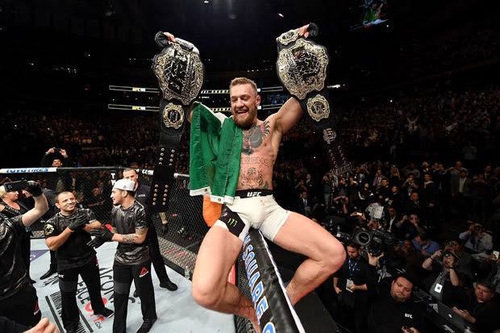 Former UFC featherweight and lightweight champion Connor McGregor, has been playing for Octagon for a year and nine months.
However, McGregor rose to first place from second place in the Light-class rankings released by UFC on Wednesday.. Tony Ferguson, who was in first place, dropped to second place.
The UFC ranking changes according to the results of the competition. The UFC usually reflects the changed ranking on its official website on Wednesday, after the competition.
McGregor and Ferguson have no reason to change their rankings because they haven't been playing for a while.
The returning situation gives some idea of why the ranking had changed.
Fox Sports said the UFC will hold a press conference on Tuesday from Los Angeles, where UFC 227 will be held. It is a huge news conference with more than 12 fighters. "
Many people assume that UFC will make a big announcement at the press conference. Fox Sports said this could be a match between McGregor and Meadov.
Rumors are already circulating in the U.S. that the two players will play in UFC 229 in Las Vegas in October.
The two players broke their silence recently and mentioned the possibility of a match.
" If we play McGregor, we will only finish the game by grounding, " McGregor said, " We are closing the game with Tamargo Medoff. "
McGregor also posted a photo on his Instagram Friday where he trained in green UFC pants, saying " Honey, I'm home. " Green UFC pants was worn when McGregor was playing in UFC. It's like his symbol.
Raising McGregor to the top may be an attempt to create a picture where the lightweight No. 1 ranking and the champion compete.
The fighters are also guessing the atmosphere. Dustin Poirier, who moved up to third place from fourth place in the Light-class ranking after beating Eddie Albarez on June 29.