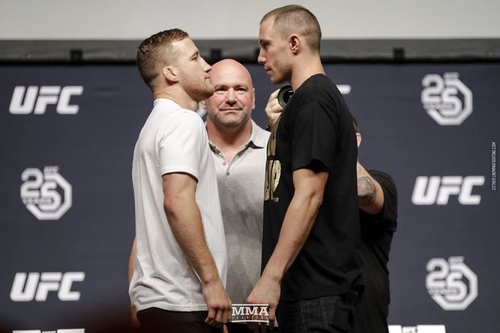 Justin Gaethje of the prestigious championship maker has won a splendid KO victory.
Justin Gaethje beat out James Vick in the first round of the first round 27 seconds with 135 Maine Night at Pinnacle Bank Arena in Nebraska .
With the win, Justin Gaethje cut the chain of two consecutive losses, while Vick won one after four consecutive wins.
In the first round, Vick, 191cm tall, pulled a jab and kick from a long distance to keep the gait (180cm).
However, Justin Gaethje took a full body step and pushed Vick into a cage. Then he hit a lightning-like light hook. Vick fell on his side like an old tree. He lost his nerve.
Justin Gaethje stepped on the cage and made a tumbling serum and roared. However, he showed the dignity of a winner who immediately approached Vick and said a consolation speech.
I also booked a bonus. Justin Gaethje won four bonus (publicity of the Night, Fight of the Night) in the previous three games (Michael Johnson, Eddie Alvarez, and Dustin Poirier).
"I will retire if I lose to Vick," Justin Gaethje said. Unlike his avowed past matches, he won without a single match.
"I want to face Tony Ferguson," shouted during an interview with Octagon after winning. Competition for the title of "Lightweight" is increasing.