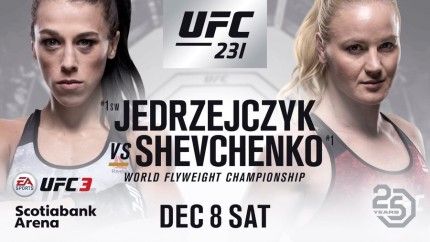 We met again. This time it was on a mixed martial art cage. Two strikers shevchenko and jedrzejczyk who were competing in the entry-level struggle ring will compete for the UFC flyweight title.
UFC will officially play the title of "Balentina Shevchenko and Joanna jedrzejczyk in Toronto, Canada on December 8
The two fought several times with a friendly fight. Shevchenko also had a showdown with Yendreich in Busan. "I've all won three games."
Shevchenko Record 15 wins and 3 losses against the all-time mixed martial arts. She challenged Amanda Nune, the female Bantamweight champion of the UFC 215, but lost her decision in September last year.
jedrzejczyk succeeded in defending the fifth women's Strope title, but was followed by Rose Namayunas in November and April last year. He has accumulated a record of 15 wins and two losses against 17.
The first female flyweight champion was Nikko Montano, who won the TUF 26 championship last December. However, she lost this title as she collapsed during a reduction in the UFC 228 on Thursday and lost his title due to the failure of his showdown with Shevchenko.
The current championship title is vacant. The winners of the games between Shevchenko and Yendreich will be the second champions.
If jedrzejczyk wins, she will become the sixth UFC weight champion in UFC history after Randy Curtour, BJ Pen, Connor McGregor, and Georges Saint Pierre and Daniel Coyer.
The UFC 231 Maine Vent will be a featherweight title match between champion Max Holloway and challenger Brian Ortega. It is still before the official announcement.