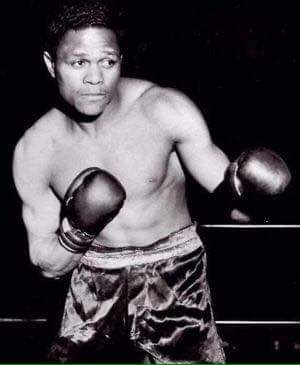 One of the most underrated boxers of all time but man he was good. He was a great boxer who beat many legends.
To many young ones, the name would not ring a bell. He never even won a title. He is very seldom mentioned in fantasy fights or any talk about great boxers which is quite unfair. Now to have a quick look at how talented the man was and how advance his game was, please watch the video first. Please note that the man started his awesome career in the 30s.
If you finished the whole clip, you now have an idea how good his boxing was. He had good jabs. He had that lunging left hook to the body or to the head that rocked or put many opponents to sleep. The left also had a good pair of a strong right hand.
The man had very good head movement. In an era where most played it in the inside planting each other's head into each other's chest, he knew distance very well. He knew when to time his nemesis coming it. He knew how to counter in a heated situation. He also had brilliant footwork. Not as flashy as say Ali or Pep but it got him where he needed to both in defense and offense.
So what type of men did he beat? He beat many top contenders, all time greats and Hall of Famers. His best win is his destruction of Ezzard Charles where he made the Cincinnati Cobra visit the canvass 8 times though team Ezzard claims Charles was not 100 percent. Great win for Marshall nonetheless. He beat a man many would have on their top 10 all time pound for pound.
If you're not convinced how good he was yet. He also beat Charley Burley, another member of the Black Murderers Row I consider second greatest boxer not to win a title only behind the legendary Sam Langford. "The roughest fight I had was Lloyd Marshall. He was a light-heavyweight. I lost a decision to him, and he's the only one who knocked me off my feet [with a] straight right hand in the first round" said Charley Burley.
Marshall in his awesome career fought 12 men who would at some point hold a world title. Gotta keep in my mind that there was only one champ per division back when only 8 divisions mattered unlike today where we have 5 major belts and total of 17 weight classes. It is really sad that he was never given the chance to fight for a title. He was avoided. He was too good for his own good just like his brothers at Black Murderers Row Charley Burley, Bert Lytell, Aaron Wade, Holman Williams, Cocoa Kid, Eddie Booker and Elmer Ray.
Lloyd Marshall also defeated Hall of Famers, legends and greats Ken Overlin, Lou Broulliard, Teddy Yarosz, Jake Lamotta, Holman Williams, Joey Maxim and Jack Chase. This badass also fought Bobo Olson, Archie Moore, Jommy Bivins, Eddie Booker and Ceferino Garcia. I can't see any reason why anyone would not have him at least top 25-30 all time. His resume is stacked. He was very skilled. Many greats of his time held him in high regard. So what's your thoughts about the man?