Hello Everyone!
UFC 234 is in the books. We had a main event cancelation whenever Whittaker was rushed to emergency surgery due to a hernia. There were rumors and offers for replacement all over. This included Donald Cerrone coming in, as well as Bellator supposedly granting Chael Sonnen permission to step in and fight Anderson Silva.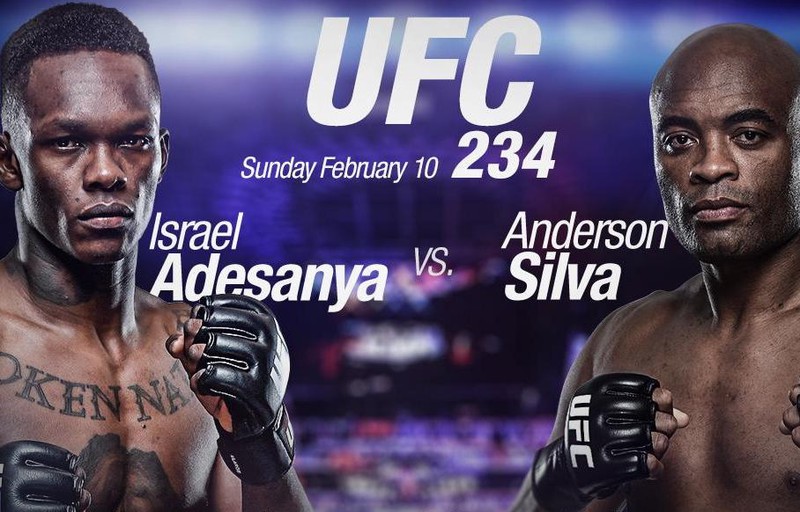 The fights were very entertaining. Here are the results:
Main card
Israel Adesanya def. Anderson Silva via unanimous decision
Lando Vannata def. Marcos Mariano via sub (kimura) (R1, 4:55)
Ricky Simon def. Rani Yahya via unanimous decision
Montana De La Rosa def. Nadia Kassem via sub (armbar) (R2, 2:37)
Jim Crute def. Sam Alvey via first-round TKO (2:49)
Undercard
Devonte Smith def. Dong Hyun Ma via first-round TKO (3:53)
Shane Young def. Austin Arnett via unanimous decision (30-27 x3)
Kai Kara-France def. Raulian Paiva via split decision (28-29, 29-28 x2)
Kyung Ho Kang def. Teruto Ishihara via submission (RNC) (R1, 3:59)
Jalin Turner def. Callan Potter via first-round KO (0:53)
Jonathan Martinez def. Wuliji Buren via UD (30-27 x2, 29-28)
UFC 234 Fantasy Pick Em Results and Winner of 200 Scorum Coins!
Thanks for playing guys. We do have a clear cut winner, so the tie breaker match was not needed. I did decide that the tie breaker can not be picking a fight winner, it needs to be something with a higher % chance that most will choose a different answer. The next card will have choosing the second a fight ends. With 60 seconds, the chances of two tied players choosing the same answer are very slim. The chances of two tied players picking the same winner is high.
Players: @brandonk, @cayelispor53, @ludispundit, @sunsethunter, @yefet, @jokersports411
cayelispor53 - 14 points
ludispundit - 12 points
sunsethunter - 13 points
brandonk - 12 points
yefet - 15 points Winner!
jokersports411 - 10 points
You can view the spreadsheet for points here.
Congrats to the winner @yefet. You can follow him here:
https://scorum.com/en-us/profile/@yefet

He has been rewarded 200 Scorum Coins.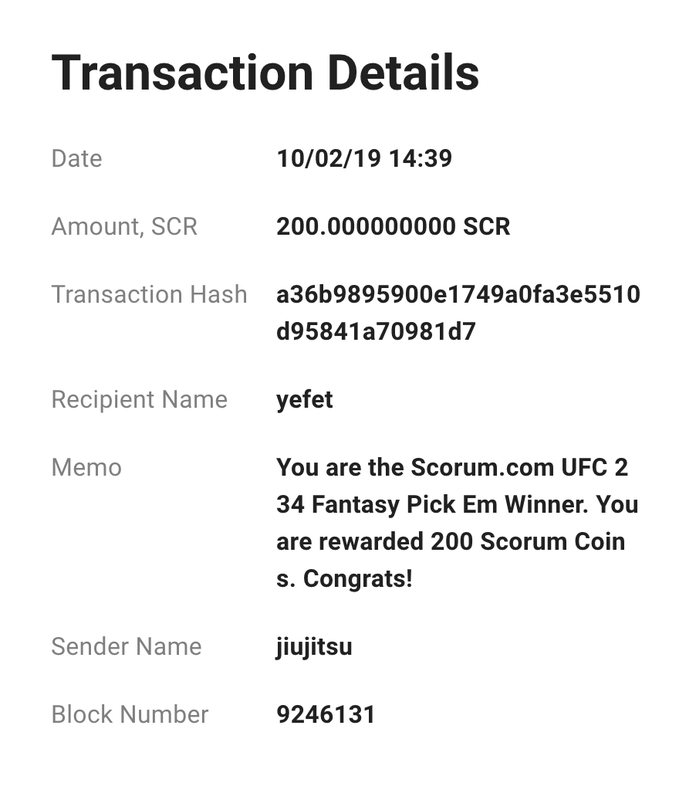 I'll be back for on UFC on ESPN: Ngannou vs. Velasquez (also known as UFC on ESPN 1) Sun, Feb 17, 8:00 PM. The Scorum.com post to pick em will be posted soon.