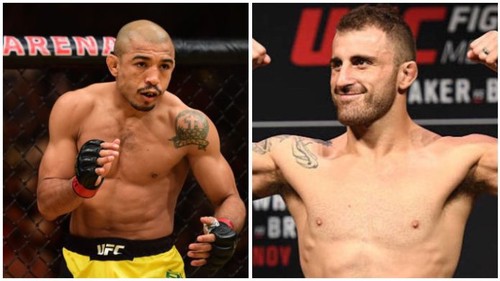 It has been anounced that Jose Aldo will face Alexander Volkanovski as co-main event on UFC 237 Namajunas vs Andrade, in Rio de Janeiro, Brazil on May 11.
Hell of a fight to already an amazing card. Jose Aldo's recent resurgence has him in talks for another shot at the title and this fight could very well be winner gets the shot at the interim featherweight belt or the "real" belt.
Arguably one of the greatest mix martial artist of all time and featherweights of all time, Aldo has been on a tear of back to back stellar performances against Jeremy Stevens and Renato Moicano. He looks like himself again and this sport still needs him. He was previously being written off by fans and media after losing to McGregor and Holloway in devastating fashion. People were saying that he was done, but they can not say that anymore. Aldo is as dangerous as ever and he wants his title back!
The number 4 ranked featherweight in the UFC is Alexander Volkanovski, and from his ranking alone, He is not one to play with. Volkanovski is on a 16 fight win streak and 6-0 in the UFC. He recently beat Chad Mendes in another amazing performance. Volkanovski can wrestle and strike, he is a very well rounded fighter. He brings pressure to his opponents in the octagon in every fight.
Will Volkanski's pressure faze Jose Aldo?
This fight will be an amazing fight no doubt about it, but I think we will get another vintage performance from the king of rio, Jose Aldo. Volkanovski is no joke surely, but this is his first big test. He has not fight the likes of Jose Aldo. Aldo has faced nearly everyone in his division, cleaned them out, reined champion for at least 10 years. Aldo has been in the fire and up until McGregor and Holloway, he has come out victorious every time. Jose Aldo will win!