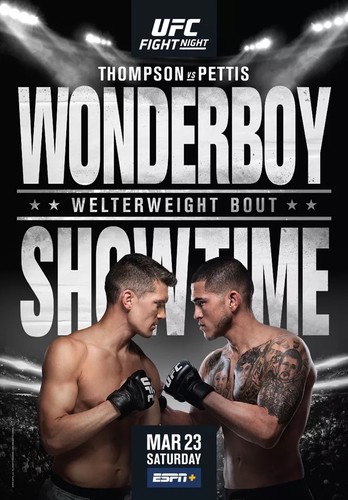 Thompson vs Pettis
Lets Go! A super fight between "Wonderboy", Stephen Thompson and "Showtime", Anthony Pettis. Showtime is coming up from lightweight to fight wonderboy at welterweight. This is going to be one hell of a fight, sleeper for fight of the year in my opinion because it is going to be none stop striking. Do not expect this fight to be like the stalemate between Thompson and Till. That is not Pettis' style. Stephen Thompson has got a kickboxing, karate background which is why he uses alot kicks in his striking combinations. He does have a Brown belt in BJJ and mostly uses it when the fight goes to the ground. This is wonderboy's chance to put himself in title contention again, with TWood out the picture as champion, wonderboy has a opportunity for a title fight in the very near future if he can get this win. Thompson is no joke and is a very dangerous fighter in this division. One can argue that if it was not for Tyron Woodley, Thompson would have been Champion, he was cleaning up the division before he was unsuccessful in claiming the title twice, loses via majority decision and draw. The Till fight was very close for the first four rounds and in the last round Thompson got clipped by Till. The fight was in UK and with the knockdown for Till, you can see why Till got the decision win.
Showtime is a former UFC Champion, he has a background in boxing, taekwondo, muay thai and a Black belt in BJJ. Pettis is more of a highlight reel than wonderboy, best believe this fight will not go the distance. Pettis is a warrior, he will leave it all in the octagon. Whats in it for him? If Pettis wins this fight, he may be in contention for the title due to the disarray at lightweight right now. Pettis is very well rounded and he has a plethora of finishes in his resume. Showtimes's last fight was a classic against Tony Fergusson, until the second round when Pettis broke his hands and could not continue anymore. I am a big fan of Showtime Pettis but I think wonderboy pulls ou the victory. Thompson is a supreme striker he really is and I feel it is time for him to get the title. Thompson will have to use his kicks and reach to keep pettis at a distance, wonderboy can definitely knockout Pettis with a kick. Pettis has a history of injuries and has taken alot of punishment because he is always in a war when facing high level opponents. Showtime will have to pressure wonderboy and catch him with power and submit Thompson. The issue with that is Thompson is very illusive man! He is in and out, slick movement ans slippery like a snake.
Blaydes vs Willis
Razor Blaydes against Big Pretty Willis, this fight is a very interesting matchup. Blaydes was on his way to the title fight until he got caught by Francis Ngannou with a nasty over hand KO. That pretty much set back his championship aspirations, and now he is fighting Justin Willis. Willis is on a eight fight win streak, he does not really have power in his hands like the Predator, and up until the Ngannou fight, it is arguable that Curtis Blaydes has a pretty good chin. Another interest aspect of this fight is that Big Pretty Willis has yet to be takendown. Curtis Blaydes is a collegiate wrester and once he gets his opponents to the ground, it is razor sharp elbows from hell ergo "Razor" Blaydes. Justin Willis is a former collegiate linemen who transitioned to MMA, he is very short for the Heavyweight division but he is quick on his feet. Mark Hunt is really the biggest name on Willis' resume and you could argue Mark Hunt needs to retire at this point. Big Pretty has to catch Blaydes with a overhand and test that chin again or make this an uncomfortable fight for Blaydes by stopping takedowns and out-striking him. In this fight, I am leaning towards the more experienced fighter in Curtis Blaydes. I think Razor Blaydes will be the first to takedown Big Pretty and win via TKO.
Makdessi vs Pinedo
This fight here I am picking John Makdessi by TKO. Pretty simple, Makdessi has way better striking and is a very seasoned fighter. He has fought way tougher opponents and it is not even close. Pinedo's chance of winning this fight is to make it ugly and wrestle all night and I do not see Makdessi allowing that to happen. Pinedo is very wild in his striking, he is green and a very young prospect who has ways to go.
Formida vs Figueiredo
This one could be fire! Both fighters are extremely well rounded and higly ranked in the flyweight division. If Thompson vs Pettis does not go the way I see it or meet the expectations of fight fans, well this one could be fight of the night! Figueiredo is the better everywhere statistically. He has Boxing, BJJ and Muay Thai. Very diverse fighter using all the tools in his tool box. He is 4-0 in the UFC, the former bricklayer and hairdresser has quickly climbed the ranks in the division and is in position to compete for the flyweight title if he can win this bout. Figueiredo comes from very humble beginnings and I like rooting for guys like that. Formiga has a Black Belt in Judo and Brazilian Jiu-Jitsu. He has been in the UFC for a long time and has fought the best of the best in this division. He can get this win then most likely the title fight is next. Tough call, but I am going with the more experienced fight in Formiga, he has fought way better competition. I see him winning by decision. He will wear down Figueiredo like he did Sergio Pettis.
Pena vs Peterson
Peterson may have submission on his resume but I see him as a banger. Luis Pena is the more well-rounded and skilled fighter in this bout. Peterson is all heart, he eats a lot of punches and takes way too much damage for my tastes. He is one of those fighters that do not give up and is very hard to finish, honestly that could work to his advantage in this fight because if Pena cannot get the finish, he may get frustrated and Peterson could surprise KO! Pena struggled mightily in his last fight and he credit that to his lack of power in fighting at 155. This guy is 6'3" and trying to make 145. If he can make weight, I think the 145 division is the division for him. He can feel stronger at this division, focus on developing his skills and talent. Pena via decision.

Barber vs Aldrich
JJ has 3rd degree Black Belt in Taekwondo and Brown Belt in BJJ. She is on a three fight win streak and is no joke by any stretch of the imagination. My concern here is JJ is moving up from strawweight and I do not believe she can handle the relentlessness of Barber. Maycee Barber is a prospect with a lot of potential. Her debut was one hell of a performance and I think this is a setup fight for her to dominant and build her up. Expect to see some mean striking, ground and pound whooping. Barber via TKO.

Vera vs Saenz
Frankie Saenz is a division I NCCA Wrestler and Blue belt in BJJ. Regardless of his age, he looks really good in his last two fights. He has got ok hands and mixes well with the wrestling. Vera has a Black Belt In BJJ and has won his last two bouts via finishes and Vera is very well rounded. He has to prove himself against a well-seasoned veteran. He shouldn't lose this fight if he wants to be taken serious in this division. Chito Vera with a submission in this fight.
Mitchell vs Moffett
Mitchell has very nice footwork, in and out movement. He uses his kicks very well and he can defend himself off his back as well as get the takedowns himself. Mitchell has the better striking in this matchup, he should try to keep it standing as much as possible, even if it goes to the ground, do not let Moffett transition easily and set up the submission. Both fighters are submission specialist so we can expect to see this fight on the ground at some point early in the fight. Moffett is really good on the ground, he knows how to get out of trouble off his back and he uses his hands very well. At soon as Mitchell uses his kicks, expect wolfman to take him to the ground and lay some Ground and Pound and possibly submit Mitchell. Moffett should be looking to prove that his win over Chas Kelly was no fluke or gift by the Ref in his last bout.