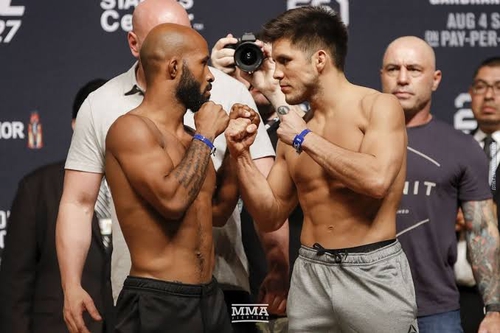 Demetrious Johnson who lost to the UFC 227 1-2 and handed over the UFC flyweight belt to Henry cejudo, did not demand a rematch immediately. Health comes first. " After I finish treating my injuries, I will think about the following.
However, I could not hide my regret at the referee's decision. He got ahead of him in the number of hits, and the judges didn't really reflect it.
[Dr.Johnson / former UFC flyweight champion] Based on the batting data, I think I overwhelmed the world. However, the verdict was as follows. The judges don't seem to know how to score the psychic mark. What can I say?"
Scoring is rights specific to the Judges. Even though the scores are given in consideration of the number of hits, the number of hits, the level of offense, and the flow of the game, the three judges will decide on the basis of their subjective judgment. So, in a close game, a decision is no different from a coin toss.
Kang Kyung-ho's " Mr. Perfect. " Kang Kyung-ho gave Hikardo Hamos a 1-2 victory, even though he was ahead of the number of hits.
This is why some point out that it is a problem to use the same pro boxing scoring system in UFC. Unlike professional boxing, which runs from 10 to 12 rounds, UFC plays from 3 to 5 rounds.
The problem is that the authority to change scoring is in the Sports Council, not UFC. This is an inevitable reality, so Dayna White always says, Don't pass the key to victory on to the referee.