Last night I had two of my best buds over and spent my Saturday watching UFC 226 on pay-per-view. I had been waiting for Stipe vs. DC for months but life caught up with me and I totally forgot it was around the corner. After not really embracing Stipe in the beginning, the humble Croatian started growing up me. I've never liked DC so I was actively rooting for the perennially underrated Stipe to knock Cormier's Triple-XL ass out cold. Prove the haters wrong! Holy shit, after that fight I'm still in a state of complete shock and awe.
Most of the fights leading up to the main event were complete stinkers. ESPECIALLY the historically putrid Co-Main Event Francis Ngannou vs. Derrick Lewis. The commentators and audience were all in a bewildered state during and after the match. While it was happening in real time, I knew for sure that I had never seen such a timid, boring fight. It was a mix of an injured Derrick Lewis and a mentally broken Francis Ngannou. The result was an excruciatingly slow bout with a scarce amount of strikes thrown. After that eye-gouge-worthy performance, everybody was just hoping this Stipe Miocic/Daniel Cormier main event would live up to whatever price we paid for the tickets or pay-per-view. And oh my god. Between the final fight and the antics that ensued, it made that $70 fee seem like money well spent.
The program brought up the obligatory graphic comparing the player's stats like height, weight, and reach, which made me feel even better at Stipe's chances. He had healthy advantages in reach and height, so I thought if he played it smart he should be golden. I'm not a hardcore MMA follower at all, but I've been watching the big events somewhat regularly for the last four years. I've seen Cormier fight several times and knew that as an Olympic Wrestler, he was most dangerous when he was on top of you on the mat. If Stipe could keep this an upright fight I thought his chances looked good. But if Cormier pulled this out he would be only the second person ever to hold different belts at the same time.
The fight started and we were underway! Stipe tried applying steady pressure to Cormier with his excellent range, and I remember Cormier defending it pretty well. DC often outstretched his hands like he was trying to hug Stipe, but the extension set him up to get some nice-looking, sharp jabs in on the Croatian. He wasn't doing it with a closed fist though, and there even came a point where the ref had to stop the action because Stipe got poked in the eye. After a brief intermission, he was cleared back into the fight. Cormier stayed pressing the heavyweight champ though, getting lick after lick in on his jaw.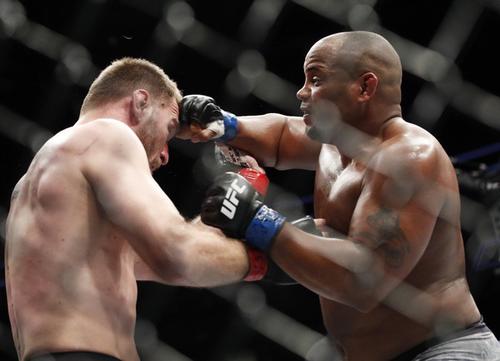 In the end, it wasn't Cormier's wrestling chops that propelled him to victory, but an overwhelming, massive, thick brick of a right-hander that damn near sent Stipe to the other side for a brief few moments. Stipe's body wiggled up like a piece of linguine as he crashed to the floor. It was followed by a barrage of hammering blows from Cormier, and the ref intervened to call the fight to the shock of us all! Daniel Cormier knocked out the three-time defending heavyweight champion in his very first fight back in the heavyweight division since 2013! He's now the beltholder of the Light-Heavyweight and Heavyweight divisions.
Joe Rogan came out to congratulate Cormier who was beaming like a little kid. He was so genuinely overjoyed to be the Heavyweight Champ that I actually felt good for him for the first time ever. I give the man a ton of credit for leveling a fighter of Stipe's caliber in the very first round. I'm still incredibly sad for Miocic…so I hope he gets a chance to redeem himself in the future.
One reason I never rooted for DC before was that I never liked the way he always grabbed the mic postgame and called people out. I thought it was obnoxious. Just shut up, take the W and focus on the next fight. But the same tactics that turned me off before actually came across as funny and entertaining in the aftermath of UFC 226. After he finished explaining how grateful he was to be champion, he told Joe he needed to take the mic…and I think we all know what was coming next!
After a bunch of huffing and puffing, Cormier goaded Brock Lesnar into joining him in the cage. Brock Lesnar ran into the god damn ring and pushed the mother fucker!!! And then Lesnar proceeded to call every other heavyweight a piece of shit en route to telling DC he was coming for him! As that moment was unfolding I knew there was going to be a large part of the MMA community that was not down with this WWE kind of shit, thinking it discredited the authenticity of the sport. That may be true. Brock Lesnar was waiting right by the cage entrance as they were announcing winners and as DC grabbed the mic. Whoever is controlling the strings of these productions either planned for this to happen or set the stage for something along the lines of a Lesnar-Cormier confrontation.
My gut reaction to the shenanigans was HOLY SHIT HE FUCKIN RAN INTO THE CAGE AND PUSHED HIM HAHAHAHAHA I FUCKIN LOOOOOVE THAT. Who better to pull some kind of stunt than the roided-out WWE Universal Champion Brock Lesnar. I was totally on board for the show! But this is definitely a polarizing moment for die-hard followers of the sport. After scouring Twitter and talking to a couple MMA friends, people who have followed the action from the early days aren't down with this kind of theater. Things can totally snowball from here. What if this leaves the door open for other, even more ridiculous post-fight WWE interactions like this? We all know these kinds of things bring eyeballs to the sport, but is it the kind of attention that we want? The UFC is a business that has to generate revenue at the end of the day, so it makes sense to believe they're 100% on board with the bullshit. If Lesnar ever gets in a ring with Cormier though, I think I'll actually be rooting for DC to strike down another, even more imposing giant.
I wanted to get all your opinions. What do you guys think of the theatrics? Are they entertaining or a disgrace to the game?