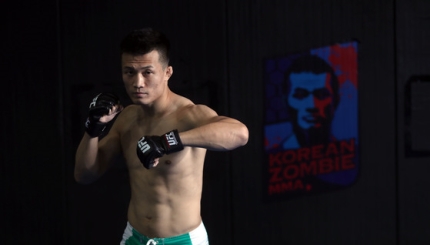 " Korean Zombie " is coming back. Jung Chan-seong (31), ranking ninth in UFC featherweight (65.77 kg), will return to the game against Frankie Edgar (37) for the first time in 21 months.
The mixed martial arts group UFC announced that Jung Chan-sung and Edgar's match was decided as the UFC FIGHT NIGHT 139 mainstream event at Pepsi Center in Denver on November 11.
Jung joined the army in 2015 and won the game against Dennis Bermudez (32) in February last year. Afterwards, he planned to play Ricardo Ramas (36) of the U.S. but his game was cancelled due to an injury in the cross-hands of his knee.
Jung Chan-sung, who has been training for rehabilitation, expressed his desire to play against Edgar, ranking third, through social media in April. And a showdown between the two actually took place. Edgar was a strong man who won the lightweight championship in 2010. His record is 23 wins (7 knockout, 4 mission) and 6 losses, more than that of Jeong Chan-sung (4 knockout and 8), who won 14 games in 18 games. After coming down as a featherweight, he lost the title against Jose Aldo, but he is still showing strong performance. Although wrestling is basic, it is showing a strong performance in the fifth round due to its excellent batting skills and physical stamina. Experts are predicting Edgar's superiority. However, if Jung defeats Edgar, he will have a chance to win the title.