Hey guys, new to Scorum. I will be blogging about everything MMA. Been a long time fan and bettor, I have also trained for a while too. If you like what you read, please follow and upvote, I plan on being really active on here as far as doing breakdowns and making picks as well as covering current events in MMA. Comment your thoughts and picks below, lets get a conversation going!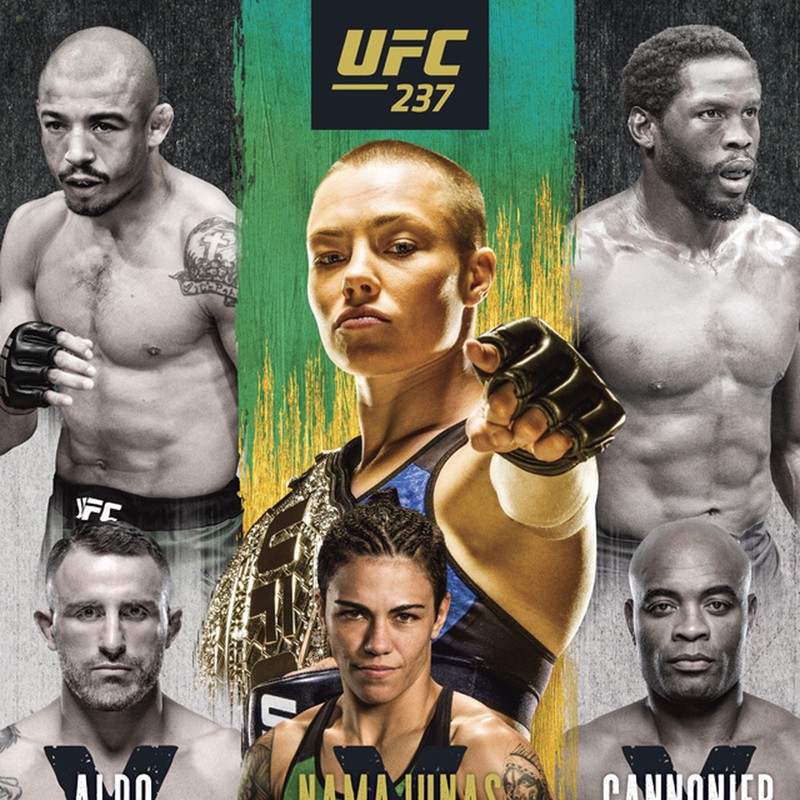 EARLY PRELIMS
Talita Bernardo (6-3) (-400) vs Melissa Gato (6-0) (+325)
BREAKDOWN: I think this fight is pretty straightforward. At the time of writing this Talita is a pretty big favorite at -400. Gato is sitting at +325. I don't see anything special in either of these women to be honest. Most of their wins have come against low level competition with losing records. Gato is undefeated (6-0) making her UFC debut. Her last fight was a decision win in September 2018. Talita is also coming off a decision win over Sarah Moras in October 2018. Before that she has lost both her UFC appearances, dropping a decision to Irene Aldana and being TKO by Marion Reneau in her UFC debut. Both fighters wins have either come by decision or submission. Neither of them are particularly dangerous or skilled in the stand up department.
PICK: (TALITA BERNARDO BY UNANIMOUS DECISION) I think Talita's UFC experience will win her this fight. Women at this level of MMA can be highly unpredictable and inconsistent in their performances, but I don't think Gato can win this fight . However, the fact that Talita has faced tougher girls in the UFC should give her the edge here. I think she will cruise to a decision victory in a fairly uneventful and unexciting fight.
POSSIBLE BET: (No Bet)
Raoni Barcelos (13-1) (-450) vs Carlos Huachin (10-3) (+360)
BREAKDOWN: I was really looking forward to the original matchup of Said Nurmagomedov vs Raoni Barcelos. However, Said has pulled out due to an undisclosed reason and Carlos takes this fight on less than 2 weeks notice to make his UFC debut. Carlos is riding a six fight winning streak that have been all finishes and he recently won the INKA FC bantamweight belt in his last fight. Raoni is also on a six fight winning streak and he is currently 2-0 in the UFC. Both of these guys are finishers. Out of Raoni 13 wins, he has finished 9 of those fights and has finished both of his opponents in the UFC. Out of Carlos 10 wins, he has finished all of them with 8 KO/TKO and 2 submissions. Raoni's single loss has been by submission 5 years ago. Carlos hasn't lost in 4 years and has never been finished.
PICK: (RAONI BARCELOS BY 1st ROUND TKO or SUB) Currently, Carlos is the second biggest underdog on the card and rightfully so. The way I see it, Raoni is just a higher caliber fighter at this point in their careers. He has an advantage anywhere this fight goes. I expect him to make quick work of Carlos and finish him for the first time in his career.
POSSIBLE BET: (RAONI BARCELOS WINS INSIDE THE DISTANCE) and I think he will likely win in the 1st or 2nd round
Warlley Alves (12-3) (-140) vs Sergio Moraes (14-4) (+120)
BREAKDOWN: This should be a good fight between two exciting Brazilian fighters. This isn't an easy fight for either guy. Both men are looking to rebound off a loss. Sergio Moraes dropped a decision to Anthony Rocco Martin in his last outing in May 2019. Before that,he managed to put together a 2 fight winning streak after being knocked out by the current champion Kamaru Usman. Warlley Alves is coming off a TKO loss to James Krause in August 2018. Similar to Moraes, he also was able to put together a 2 fight winning streak after losing a decision to Kamaru Usman. Both of these men are very strong grapplers. Half of Alves wins have come by submission. 60 percent of Sergio's wins have come by submission as well. However, I give Warlley the clear advantage in striking. Sergio's striking offense is very basic, he flails his punches out there with his chin in the air. He usually just uses his punches to try and get his opponents to put their hands up so he can initiate a clinch or bodylock to get the takedown and then get the submission. His record backs this up, as he only has 1 win by TKO/KO. He also doesn't have great striking defense. In half of his losses he was finished by strikes. Warlley on the other hand, has proven he is capable of beating much more dangerous strikers as he has wins over Alan Jouban and Nordine Taleb. James Krause was the first person to finish him in his career.
PICK: ( WARLLEY ALVES WINS BY DECISION) Simply put, I think Warlley has the grappling chops to hang with Sergio. As I said before, I give him the edge in striking I think he is a bit more technical. Also, Alves is the younger fighter by 8 years and I believe he is in better shape. I didn't like Sergio's cardio in his last fight, he seemed to gas pretty badly after the 1st round. I see Warlley outpointing him on the feet and defending takedowns to win a decision.
POSSIBLE BET: (SERGIO MORAES BY DECISION) If you think Sergio wins, then I would recommend taking him by decision. Even though he is a great submission artist, Alves is very skilled on the ground as well and he has never been submitted in his career. I give Sergio no chance at finishing him by strikes.
Priscila Cachoeira (8-2) (+145) vs Luana Carolina (5-1) (-165)
BREAKDOWN: It has a been a tough ride for Priscila Cachoeira in the UFC so far. She came in undefeated and had to make her debut against none other than Valentina Shevchenko. As expected, she was dominated in that fight. Her next fight came against Molly McAnn, it was a good fight where both fighters had their moments, but Priscila ended up losing a decision. Luana lost her very first professional fight and has gone on to win five in a row since then. Her most recent win was on Dana Whites Contender Series, where she won via decision. Priscila has long arms and looks to primarily keep her opponents on the end of her punches and pick them off at distance while keeping the fight on the feet. She has no wins by submission and has only been submitted by Valentina. From what I can see in her most recent fight, Luana's standup game is absolutely terrible. She closes her eyes and charges forward while wildly swinging her arms to try and get her opponent to back up to the cage. Against the cage, Luana can do decent work with knees and short strikes. When she does manage to get the fight to the ground she seems to stay heavy on top and maintain decent pressure.
PICK: (PRISCILA CACHOEIRA VIA THIRD ROUND TKO) Dont get me wrong, neither of these girls have a bright future in the UFC. Both of them dont really shine anywhere, and seem to be lacking in most departments. However, I am picking this fight based on both fighters most recent performances. In Priscila's last fight, she did show some promise with her straight punches especially at distance. She BUSTED Molly McAnns eye up, and I think the doctors could've stopped that fight in the 3rd round when they came in to look at it. The fact that Molly was a UK fighter and that the fight was in London leads me to believe that's the only reason the fight wasn't called off, I am positive there was no way she could see out of that eye. Regardless, I see Priscila being totally unthreatened by Luana's striking. Luana will charge forward throwing terrible punches and eating right and left straights non-stop. Priscila will be able to circle and keep firing her shots while avoiding being backed up against the cage. At first, I was leaning towards a decision win. But now that I think about it, if Priscila puts the same kind of damage she put on Molly on Luana earlier in the fight, she will likely be able to find the finish in the last round or get a doctors stoppage. An added motivation for Priscila is that she may be fighting for her job, since she has already lost two in a row in the UFC.
POSSIBLE BET: (PRISCILA IN A PARLAY) At +145 at the time of writing this, I don"t see much value in straight up betting Priscila. I am also unsure if she will win by decision or get the stoppage. However, I am fairly confident she will win. Therefore, I like playing her in a parlay with some more skilled favorites on the card in this spot.
PRELIMS
Clay Guida (34-15) (-550) vs BJ Penn (16-13) (+425)
BREAKDOWN: Why UFC, WHYYYY????? These are easily two of the worst fighters in the UFC right now. Both have seen their best days and both should be retired. Starting off, Clay Guida has basically been trading wins and losses for the last 8 years. When he has won, it has been mostly by decision. When he has lost in recent years, he gets finished every single time, a mix of knockouts and submissions. Clay is a very aggressive forward moving fighter with below par striking offense and defense. However he does have decent wrestling, and when he does connect with a good shot on the feet, his punches have some pop behind them. His best performances have come when he can mix his striking and grappling together. He does have some impressive wins on his record like RDA, Anthony Pettis, and Nate Diaz. But those are wins from many years ago, and he cant even come close to competing with any of those guys today. His last fight he lost to Charles Olivera by submission in the first round. Before that, he managed to put together a two fight win streak against Joe Lauzon and Eric Koch. BJ Penn requires no introduction, he is one of the legends and pioneers of this sport who was a great fighter in his time. But we all know his time is long gone. BJ has not won a fight in NINE YEARS and is on a six fight losing streak. The fact that the UFC is still booking him is sickening. He has been brutally finished in 3 of his last six losses. The other 3 where he has made it to decision, he was beat up pretty badly. BJ's best skills are on the ground, either securing position and landing strikes or finding the submission. I believe the UFC gave him his most favorable match up possible in his last fight against Ryan Hall. Ryan is absolutely no threat on the feet and has a 100 percent jiu-jitsu based attack. BJ, being a decorated black belt for many years, should at least be able to compete with him on the ground and also give him some problems on the feet. Unfortunately, he was submitted in under 3 minutes by a rolling heel hook. I see no path to victory for BJ in this fight other than Clay somehow injuring himself in the cage. He is the biggest underdog on this card, and rightfully so.
PICK: (CLAY GUIDA VIA TKO/KO IN ROUND 1) As I said, outside of Clay injuring himself in the cage, I see no way for BJ to win this fight. I see Clay catching him early with a shot on the feet and finishing him on the ground. Another possibility is that Clay scores an easy double leg takedown and pounds him out from inside guard or from top mount.
POSSIBLE BET: (CLAY GUIDA WINS IN ROUND 1 VIA TKO/KO)
IRENE ALDANA (9-4) (-265) vs Bethe Correia (10-3) (+225)

BREAKDOWN: Irene Aldana is currently 2-2 in the UFC. She came up short on two decision losses in her first UFC fights. She is currently riding a two fight win streak with both victories also coming by decision. She is primarily a striker and she throws great punches and elbows. In the grappling department she has shown some submission skills in her past fights, as well as great top control and ground and pound. Bethe Correia will be returning after almost a 2 year layoff to fight in her home country of Brazil. She is primarily a striker although she does occasionally look for takedowns off of bodylocks. Her striking is at an amateur level to say the least. She charges forward extremely aggressive with her chin high and wings punches at her opponents. 80 percent of her wins have come by decision, so her punches don't carry much power and she isn't a finisher in the least. She has been fairly inactive and hasn't won a fight in almost 3 years. She is also 35 years old compared to her opponent Irene who is 31, so her best athletic days are likely behind her.
PICK: (IRENE ALDANA BY 2nd OR 3rd ROUND TKO) I dont see Bethe being able to hang with Irene in any way. Irene's striking is many levels higher and she probably has an advantage on the ground too. Bethe approaches fights the same way every time and just doesn't have a very high fight IQ in general. Irene will blast her with all kinds of punches and elbows and keep the fight standing. If it does go to the ground I see Irene being the one to secure dominant position. Irene probably doesn't want this fight to go to the judges in Brazil, and I believe she will put enough damage on her to get the stoppage win here. Although even if it does go to the judges, I see Irene putting on such a dominant performance that it will be impossible to award the Fight to Bethe.
POSSIBLE BET: (IRENE ALDANA WINS INSIDE THE DISTANCE VIA TKO/KO)
Thiago Moises (11-3) (-140) vs Kurt Holobaugh (17-6) (+120)
BREAKDOWN: This fight is very close and its hard to pick. Both fighters are skilled everywhere and both fighters are finishers. Each of them are extremely tough as well. In 23 professional fights, Kurt has only been finished twice, once by KO and once by SUB. Both of those finishes have come in the UFC where he is currently 0-2. However he has been put against top prospects like Raoni Barcelos and Shane Burgos. Thiago has never been finished in his 14 fight career so far and he is 0-1 in the UFC. He made is debut against Beneil Dariush, which is no easy task for anyone. Beneil was able to take him down and control him but wasnt able to submit him like he has been able to do to his other opponents, which is a testament to Thiagos ground game. I see this fight being even on the feet. Both men are technical and both are powerful. Surprisingly, even though Kurt has more submission wins, I give Thiago the edge on the ground. I feel many of Kurts wins by sub have come due to his striking first. Whereas Thiago has more submission wins that come from purely grappling. He has a beautiful win in RFA where he elevates his opponent with a butterfly guard straight into an armbar from the bottom. I recommend everyone go check that out.
PICK (THIAGO MOISES) Not sure of a method of victory here. I believe this fight will be a close contest. Both fighters throw heat on the feet so either of them could land a good shot to end it. Kurt was just submitted by Burgos who is known as a striker mostly, so I can see Thiago getting a submission win here as well. Thiago is 8 years younger, and he is fighting in his home country. Both fighters are coming off losses so both will be looking to make a statement. If Thiago doesnt get a submission, I see him slightly edging out Kurt in the exchanges and taking a decision in a close fight here in Brazil.
POSSIBLE BET: (NO BET)
Antonio Rogerio Nogueira (22-8) (+125) vs Ryan Spann (15-5) (-145)

BREAKDOWN: Antonio Rogerio Nogueira is a legend everyone who is a true fan of MMA knows. He is older now at 42 and isnt as active or as skilled as he once was. He has won two of his last 5 fights in the past five years. Sadly, those wins were over terrible opponents like Patrick Cummins and Sam Alvey. Nogueira looks to strike mostly, but he is very decorated on the ground as well obviously. In recent times, his punches have looked slow and sloppy to me. But when he does connect he has power. Both wins in the last 5 years have been knockouts. Ryan Spann is a young prospect at light heavyweight. He is 15 years younger than Nogueira, 3 inches taller, and has a significant 4 inch reach advantage. Spann has serious power in his hands and throws good combinations and countershots. He is surprisingly good at snatching up necks on the feet. He has 10 submission wins, and 6 of them are via guillotine choke. He lost to Karl Roberson in 2017 on Dana Whites Contender Series. However, he managed to fight his way back into the UFC where he is now 1-0 and riding a 5 fight winning streak with 4 finishes.
PICK (RYAN SPANN BY KO/TKO IN ROUND 1) All Noguiera has going for him in this match up is that he is in his home country of Brazil. At this point, I see Ryan Spann having every other possible advantage. He is younger, faster, stronger, and more technical. If this fight wasn't in Brazil, I believe these odds would favor Spann even more. The judges in Brazil will be looking for any reason to give the fight to Nogueira, and Ryan knows this. I believe Ryan will hurt him and hurt him early. He will probably finish Nog with strikes, but don't be surprised if he grabs a hold of his neck and gets the submission.
POSSIBLE BET: (RYAN SPAN WINS INSIDE THE DISTANCE UNDER 2.5 ROUNDS)
MAIN CARD
Diego Ferreira (15-2) (-165) vs Francisco Trinaldo (23-6) (+145)
BREAKDOWN: Diego Ferreira is a skilled mix martial artist and does solid work in all aspects of the game. His only losses have come to Dustin Poirier and Beniel Dariush, two top talents in the lightweight division. All other opponents he faced, he either finished or won a unanimous decision. Dustin was the only man to finish him and before the finish came I thought Diego was holding his own against him. Out of his 15 wins, 6 have come by decision, 3 are TKO/KO, and 6 are by submission. He puts together combinations decently and when fights hit the ground he is constantly hunting for the finish. Francisco Trinaldo is mainly a striker. He does have some submission skills but he hasn't won by submission in 6 years. He is actually quite crafty on the feet. His last fight he finished Evan Dunham with a beautifully timed knee to the body. Both of these fighters will look to keep the fight standing. Both also have pretty good striking defense at around 60% each according to UFC stats.
PICK: (DIEGO FERREIRA BY UNANIMOUS DECISION) Diego is 6 years younger than Trinaldo and will have a 4 inch reach advantage. I just see him being the fresher fighter in this spot, and outworking Trinaldo on the feet to get a decision.
POSSIBLE BET: (DIEGO FERREIRA BY DECISION)
Thiago Alves (28-13) (-105) vs Laureano Staropoli (8-1) (-115)
BREAKDOWN: Thiago Alves is a long time veteran of the UFC, he has been with the promotion for 14 years. He is a striker with powerful punches and knees. He hasn't been very consistent in recent memory. Alves has basically been trading wins and losses for the last 10 years. I also think his chin at this point in his career isn't what it used to be. His last fight he won a split decision over Max Griffin in Brazil. I thought he lost that fight pretty clearly. The fact that he is Brazilian played a huge part in that decision I believe. Laureano is also a striker, making his second UFC appearance with a record of 8-1. He has decent counterpunching and he will have a slight height and reach advantage in this matchup. What worries me about him is that most of his wins are against guys with losing records in small promotions that have don't have much talent. Sometimes, this prepares fighters for the big stage and gives them confidence. Other times, when they get a big matchup, it makes them freeze up and have a bad performance. So I am always hesitant to pick guys like this.
PICK: (THIAGO ALVES BY UNANIMOUS DECISION) I see Thiagos experience in the UFC and fighting in Brazil making a difference here. Staropoli will hold his own, but I see Alves doing just enough to get the unanimous win at home.

POSSIBLE BET: (THIAGO BY DECISION)

Jose Aldo (28-4) (-140) vs Alex Volkanovski (19-1) (+120)
BREAKDOWN: I AM LOOKING FORWARD TO THIS FIGHT THE MOST! Jose Aldo is one of my favorite fighters of all time. He is also the greatest featherweight of all time in my opinion. His only losses in the last decade have been to two MMA elites Conor McGregor and Max Holloway. Aldo is a brutal kickboxer. He throws everything with bad intentions. When he is at best, he puts on a vicious attack to the legs, body, and head. On top of all this, it is pretty difficult to hit him clean and nearly impossible to take him down. According to UFC stats, he has 68% striking defense and 92% takedown defense. In a career that has spanned over a decade between the WEC and the UFC, those stats are pretty incredible. Alex Volkanovski is an impressive up and comer in the division and is facing his toughest test yet in Aldo. Alex is riding an impressive 16 fight winning streak. His last performance against Chad Mendes was absolutely phenomenal. The fight was very close, I thought Chad was edging him out a little bit. However, Alex showed that ability to kick it into high gear and take Chad's best offense, then still be there to finish him. Alex has solid skills everywhere. He has shown the ability to take a good shot. He can wrestle offensively and defensively. Alex has also shown great cardio and ability to fight at a high pace.
PICK: (JOSE ALDO BY UNANIMOUS DECISION) Lets face it, the book to beating Jose Aldo is out. You have to be a long rangey striker with perfect timing and placement on your punches. Volkanovski is a lot of things, but he isn't that. To be honest, I see Alex as a fresher version of Chad Mendes and Frankie Edgar. We all know Aldo beat both of those guys pretty handily.......twice. This is nothing Jose hasn't seen before. Alex will need to finish Aldo or put on a one sided dominating performance to get the win here. I don't see either of those things happening. He is very tough though, so unless the ref stops the fight pretty quickly, I don't see Aldo getting the finish. Look for this to be a great showing by both men with Aldo coming out on top in his home country.
POSSIBLE BET: (JOSE ALDO BY DECISION)
Anderson Silva (34-9) (+130) vs Jared Cannonier (11-4) (-150)
BREAKDOWN: Anderson Silva is the longest reigning most dominant middleweight champ in UFC history. He is also considered to be one of the greatest of all time. He is at the tail end of his career, but what a career it has been. With a win, I expect this is likely his last fight here in his home country of Brazil. Silva's style can only be described with one word: unique, especially to MMA. He fights with his hands very low and relies on footwork along with head movement as his main source of defense. Offensively, he does his best work when he can time and counter his opponents. His boxing is great, but he really shines with his kicks and with his knees. He has made his whole career off of making his opponents miss and making them pay. In recent years, Anderson has undoubtedly slowed down. His opponents haven't been missing as much as they used to, and he definitely hasn't been making them pay. The Spider hasn't had a stoppage win in 7 years. Regardless of his age, it is always a show when Anderson Silva is fighting and that's a fact. Jared Cannonier is a massive fighter who actually started his career as a heavyweight. The fact that he is fighting at 185 now is pretty incredible and he looked to be very big and very strong for the weightclass in his last fight. Cannonier's game is simple, he looks to swing and he swings hard. Unlike most fighters with this style, Jared actually has shown good ability to counter his opponents and to pace himself. He showed this best against his last fight with David Branch. Cannonier had a tough first round, where he was trying to land his shot on the feet, but was continually taken down by the black belt Branch. He didn't let this get to his head though, because in the 2nd round, as soon as Branch tried to close the distance again, Jared drilled him with a beautiful straight punch that put him down. Silva will be Cannoniers greatest test as to whether he is calculated enough to find his shot against someone as elusive as Anderson.
PICK: (ANDERSON SILVA BY UNANIMOUS DECISION) My original pick for this fight was Cannonier, especially after his last performance. But after thinking about it, David Branch never had and never will have the type of defense Anderson has. Neither do any of Jared's previous opponents. Bisping, Weidman, and Adesanya showed that you have to paw at Silva for a while to land something significant. Throw in volume, let him slip the jabs and the quick shots, to finally land a big one on him. I don't see Cannoniers striking to be at that level at this point. I see him headhunting too much while Anderson point fights. Every time he will look to load up, Anderson will get out of the way and reset. Jared's only chance is a big shot to put Silva's lights out and I don't see it landing. Anderson wont do anything crazy or get an impressive finish, but he will put on a fun show and get the decision win.
POSSIBLE BETS: (ANDERSON SILVA BY DECISION) OR ( JARED CANNONIER by KO/TKO)
Rose Namajunas (8-3) (+105) vs Jessica Andrade (19-6) (-125)
BREAKDOWN: I am a hardcore MMA fan and it wasnt till writing this that I realized Rose only has 11 pro fights, and she became a UFC Champion in her 10th. Thats pretty incredible. It goes without saying, Rose is a top talent in womens MMA right now. She has an amazing submission and grappling game. Her striking is also world class as she has shown in her last performances. She dropped Michelle Waterson with a head kick before finishing her. Then she went on to knock out the dominant champion Joanna in 1 round which was a huge upset. Then she stood toe to toe with Joanna in a rematch and beat her again. She is taking a big risk taking on Jessica Andrade in Brazil as her second title defense. Jessica Andrade is an absolute powerhouse, and that's rare to say for a five foot two 115 pound woman. From the opening bell, she is looking to finish anywhere the fight goes. If you stand with her, she is throwing hooks and straights full force at you. If she doesn't feel like striking, she has POWERFUL takedowns where she just slams girls to the mat and unleashes brutal ground and pound. She is riding a 3 fight winning streak after losing to the previous champ Joanna. Andrade is trying to make the most of her second chance at gold in her home country of Brazil and she will have the whole arena rallying behind her.
PICK: (ROSE NAMAJUNAS BY SUBMISSION) This is a very close fight. Andrade is an absolute tank and she has onslaught offense along with double the pro experience Rose has. However, Joanna showed that if you can weather the storm she brings and stay defensive and technical, she is pretty beatable. I think Rose can do the same here. Outpoint her on the feet while avoiding big damage. Even though both of these girls have a great ground game, I think Rose is better. Andrade relies a lot on her strength and power whereas as the champ is more technical. At some point, I see Rose making a smooth transition to taking the back and eventually sinking in the choke, upsetting the Brazilian crowd.
POSSIBLE BET: ( ROSE NAMAJUNAS WINS INSIDE THE DISTANCE) or (JESSICA ANDRADE WINS BY DECISION) I dont see Jessica getting a finish here, so if she puts on a strong performance or the fight is close, she is likely to win a decision in her home country.
THANKS FOR READING GUYS, IF YOU LIKE THIS TYPE OF CONTENT PLEASE UPVOTE AND FOLLOW. LET ME KNOW YOUR PICKS/ THOUGHTS/ COMMENTS/ SUGGESTIONS. ENJOY THE FIGHTS EVERYONE!