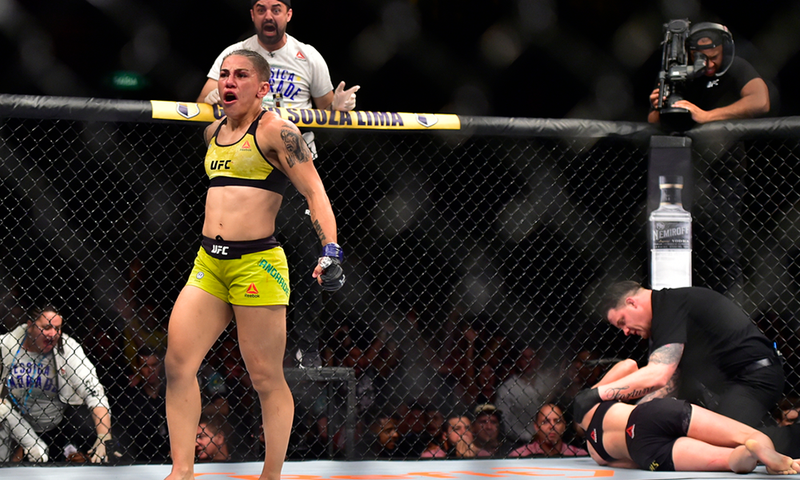 Wow, what a crazy/ fun night of fights. I will be recapping the event and my thoughts on the fights and my picks. Also, what I think should be next for some of the fighters. Sadly, not my best night. I am bummed out I went 7-5 on my first post on Scorum. I was hoping to do better. I felt good about my picks and thought I broke down the fights in a logical way. But, if you guys actually follow along I was 7-1 going into the main card, those last 4 fights in a row just did not go down how I thought they would which really messed up my ratio. No excuses though, I will stand by what I put out there.
FIGHT PICKS: 7-5
POSSIBLE BETS: 4-6 (Not too bad for prop bets)
FIGHT RECAP
*Talita Bernardo vs Vivianne Araujo: I wasn't able to update my pick on Scorum in time after this fight was announced. But I did have Araujo dominating this fight. As you guys will see I did play her on DraftKings. The more I watched Talita the more I hated her skills. As I said in my original breakdown when she was fighting Gatto, both fighters are pretty terrible. I just thought Gatto looked a lot more terrible lol. Regardless of short notice, I watched tape on Vivianne and I saw she just looked better than Bernardo everywhere. I knew she had the skills to beat her pretty handily. Beautiful KO win, I look forward to watching her compete again.
*Raoni Barcelos vs Carlos Huachin: Not much to say about this fight. Raoni did his thing. Carlos looked good with his hands in the first round, but in the second Raoni found his shot to drop him and bring him into his world. Barcelos gets the win inside the distance like I said he would. I would like to see him fight a top 15 opponent next.
*Priscila Cachoeira vs Luana Carolina: Terrible showing from both ladies in my opinion. The only thing technically sound in this fight were Luana's kicks. Good timing and technique on those. Other than that, just sloppy work from the both of them. I picked Priscila because I thought when Luana charges in she would be able to make her pay with power shots. She was able to bust her up and catch her with a few of those, but she let her off the hook and allowed her to run away every time. Priscila's distance control and range on the feet was absolute crap. Luana gave up position pretty easily on the ground and didn't look great to me on the feet outside of her kicks. I suspect we likely wont see Priscila in the UFC again, this is her 3rd loss in a row. As for Luana, I dont see her going too far, especially with her current skill set.Clay gets it done like everybody predicted he would. I predicted he would finish BJ, and I am really frustrated because I thought he could've on many opportunities. Every time he hurt BJ and busted him up on the feet, he looked to clinch and take him down. The sad thing is, he didn't even look like he was working that hard to get him down, and BJ didn't even look like he was trying to defend much. Just a sub par performance from both guys. I think both should hang it up, neither of them have anything left to prove nor do they have a bright future in the UFC.
*Clay Guida vs BJ Penn: Clay gets it done like everybody predicted he would. I predicted he would finish BJ, and I am really frustrated because I thought he could've on many opportunities. Every time he hurt BJ and busted him up on the feet, he looked to clinch and take him down. The sad thing is, he didn't even look like he was working that hard to get him down, and BJ didn't even look like he was trying to defend much. Just a sub par performance from both guys. I think both should hang it up, neither of them have anything left to prove nor do they have a bright future in the UFC.
*Warlley Alves vs Sergio Moraes: I picked Alves to win this by avoiding the grappling and being the better standup fighter. This is pretty much exactly how the fight went down. I didn't think Alves would fight aggressively enough to put Sergio away. But he really did turn it up in that third round and got a really nice uppercut KO off a missed flying knee. Sergio didn't look good at all, again he seemed to tire pretty quickly and his striking just wasn't there offensively or defensively. He just winged out a lot of his punches trying to headhunt and ate a lot of shots from Alves. Solid performance by Warlley.
*Thiago Moises vs. Kurt Holobaugh: I had Thiago winning this fight. I really thought it would be more closely contested. Kurt really under performed here in my opinion. A lot of head hunting with poor striking and take down defense. Not to mention really bad offensive wrestling. He went for the same single leg over and over. When it didn't work, Kurt just seemed stuck and didn't really have anything else in his arsenal to go to. Thiago did what he needed to do. He had solid defense on the feet with good counters and attacks, he also landed his take downs consistently when he needed them.
*Antonio Rogerio Nogueira vs. Ryan Spann: This fight went the best for me as far as picks and bets I recommended. Very one sided. Ryan was just the stronger, younger, better fighter in there. He was able to take down Noguiera at will. He even threatened his neck like I said he would. Fight goes back to the feet and Spann puts him out with an uppercut in the first round just like I predicted. Easy work for Ryan Spann, great finish.
*Irene Aldana vs. Bethe Correia: Another fight that went down almost exactly how I thought it would. Irene is just an all around better fighter than Bethe. Bethe's style is just too basic and lacks technique to get her anywhere. I predicted Irene would finish her with strikes, and I thought the finish was coming that way. However, Bethe chose to engage in grappling and Irene was able to easily scramble to an armbar for a nice submission win.
*Thiago Alves vs. Laureano Staropoli: Here is where things started going downhill for me on this card. I think I based my pick too much on Thiago's last fight. He lost pretty clearly in my opinion, but it was in Brazil and he had decent moments in each round, so he ended up getting the decision. I thought he could do the same here, and he did. Thiago landed some good shots and scored a takedown. I thought things like that would be able to sway the judges towards him if he didn't get finished. Guess not. I agree with the decision, Laureano was the aggressor for the majority of the fight and was able to land on Thiago more significantly. Overall, wasn't impressed with either fighter.
*Jose Aldo vs. Alexander Volkanovski: Going into this fight, I predicted Aldo would win because Volkanovski wasn't anything he hasn't seen before, and I still stand by that. Apparently, Aldo was close to pulling out of this fight a few weeks ago due to health concerns. I am not sure if this affected his performance or not, but he just didn't seem like himself tonight. I liked Aldo's defense for the most part. He showed good head movement and slipped a lot of Alex's offense. He was only tagged clean a few times. I really liked Alex's leg kicks. Unusual to see someone do that to Aldo. Volk also put together his combinations well. I wasn't a fan of either fighters work against the cage. Alex just kind of leaned on him for the most part and Aldo stayed there for too long before trying to reverse or get out. Lackluster fight considering what we all thought it would be. I think Alex should wait for a title shot. However, Ortega and Zabit is supposedly a done deal. I think if one of those fighters wins impressively (especially Zabit) they might supersede Alex to the title shot. Volk didn't make a big enough statement tonight like he should've. As for Aldo, I think he can still hold his place in the top 10 considering we have seen what he can do recently when he puts his offense together. I would like to see him fight the loser of the Ortega-Zabit matchup.
*Jared Cannonier vs. Anderson Silva: In this fight I knew Jared was a game opponent. I just overestimated Silva's abilities. I realize this fight was stopped due to injury, but the way it was going, I could see Silva being finished or losing a decision. His defense and countering abilities just aren't there anymore. He was barely throwing any offense, and when he did Jared was just able to walk through it. Jared was pressuring and landing clean shots on Silva. He looked to be very prepared for this fight and in great shape. I would like to see Jared fight the loser of the Romero-Costa fight or Jacare or maybe even Weidman. If he can win any of these matchups he can secure his place in the top 5. As for Silva, his long career in this game has obviously taken a toll. His body just cant hold up anymore and his skills are starting to diminish too in my opinion. However, a fighter of his caliber doesn't deserve to go out like that. If he is able to make a full recovery, I would like to see him fight Elias Theodorou next. Last week, Elias showed us what a garbage fighter he is. I respect everyone that steps into the cage, but honestly that guy is just terrible. As long as Silva can avoid being held against the cage the whole fight. I think he can beat Elias and look good doing it. After that, I would like to see him hang it up and end his legendary career on a high note.
*Rose Namajunas vs. Jessica Andrade: This fight was great. First round Rose performed even better than I thought she would. I predicted Rose would be sharper on the feet and eventually win this fight by submission. She was really giving Andrade hell early on. Rose hurt her multiple times and busted her up. Every time Andrade looked to grapple, Rose immediately went to her submission game. Both times she was able to use that to escape and get back to the striking. Unfortunately, the success she had early attacking the submissions is what cost her the fight. She was able to defend Andrades takedowns in the first round with a kimura grip. In the second round, when Andrade looked to go for another takedown, Rose went right back to that kimura. Except this time, Andrade was able to elevate her a lot higher than her first few attempts. Rose chose to stay committed to the kimura. Jessica was able to slam her and with Rose having both her hands occupied with the grip, there was nothing to break her fall except her head and she was knocked out. Thats all she wrote #ANDNEW. Great win for Jessica Andrade. As for whats next for both of these fighters, I am not totally mad at a rematch here. Rose showed she can get the better of Andrade for the majority of this fight, it was just that one mistake that cost her. When we look at the division, there aren't many more compelling fights for Andrade. Outside of Rose, Joanna and Tatiana Suarez are the only good fights I see. Anyone else Jessica will run through in my opinion. Id like to see Tatiana and Joanna fight for the title shot. In the meantime, I am fine with Rose getting a rematch or Andrade just sitting out till there is a clear #1 contender.
MY DRAFTKINGS RESULTS
I enjoy playing DraftKings a lot. I usually play 1 to 4 entries per event. I pick 2 or 3 locks, then build different cards around them depending on the possibilities of how I see the fights playing out. I played 2 entries this week, one built around Rose and Aldo, and the other built around Andrade and Volk. Spann, Guida, and Araujo were my locks. Below is my best entry where I went 6 for 6 and scored 588.5 points landing me at 103rd place out of 11.7k people. First place was a 35 way split with 618.5 points. With a finish from Guida, I think I could've been a part of that split for sure.
AS ALWAYS, THANKS FOR READING GUYS! LET ME KNOW YOUR THOUGHTS ON THIS CARD IN THE COMMENTS AS WELL AS HOW YOUR PICKS/BETS WENT. I WILL BE POSTING MY PICKS AND BREAKDOWN OF NEXT WEEKS CARD IN A FEW DAYS.