Hey guys, making my breakdown and picks for UFC Fight Night 152: Dos Anjos vs Lee. Hardcore fans know this card has some great matchups on it and I am looking forward to a lot of them.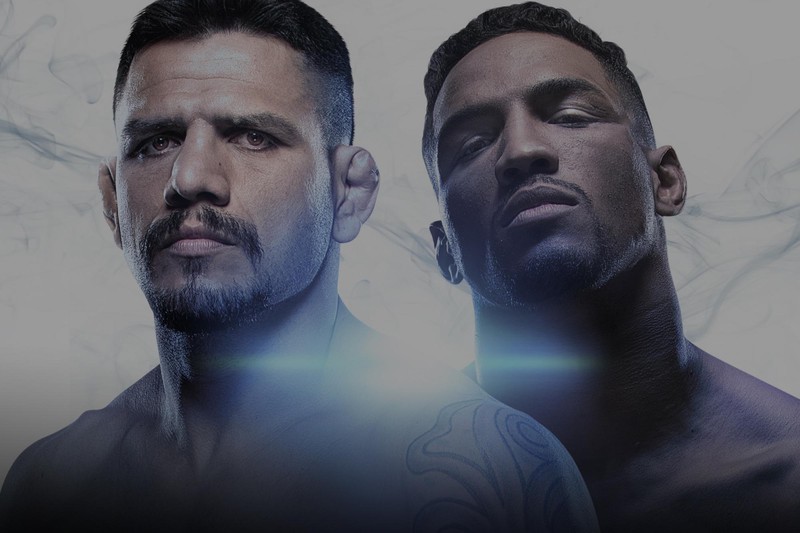 PRELIMS
JULIO ARCE (15-3) (-500) vs JULIAN EROSA (22-7) (+400)
BREAKDOWN: I have been watching Julio Arce closely since making his UFC debut and I am really impressed with his skills. He is 2-1 in the UFC so far, coming off a split decision loss to an extremely game opponent in Sheymon Moraes. Julio is a very well rounded fighter, he shines most with his boxing on the feet. This is no surprise due to the fact that he is a Golden Gloves champion. I really like his distancing and range control. He has the rare ability to slide in and out with his striking. Similar to fighters like McGregor and Holloway. He comes in with his offense and as soon as his opponents look to counter he is back out, and THEN back in to catch them as they are bringing their hands back up. Extremely precise and great hand speed. He also mixes up his attack well, working the body and the head with straight punches as well as hooks and uppercuts. He doesn't necessarily look to bring the fight to the ground, but he is capable to and has a good ground game. He has 5 submission wins, 95% takedown defense, and has only been submitted once in his pro career. Julian Erosa isn't a great fighter in my opinion. He is 0-2 in his current UFC run. He was knocked out in under 1 minute in his debut, and was dominated by Grant Dawson in his last outing. I will give him credit though, he is a finisher. Out of his 22 wins, only 3 have gone to decision. He has a solid mix of KO and submission wins on his record. But these performances have come against terrible competition. There really isn't much I can compliment Erosa on. He is very open to being hit (5.5 significant strikes absorbed per min. less than 50% striking defense). He is also somewhat open to being taken down. His biggest advantage I would say is he is 6'1 and has a 75 inch reach which is pretty big for a featherweight.
PICK: (JULIO ARCE BY UNANIMOUS DECISION) Julio has the advantage everywhere here. I predict he will put a clinic on Erosa in a standup fight that wont be close. If the fight hits the ground it will be because Arce takes him down or knocks him down. In all aspects this, is Julio's fight to lose.
POSSIBLE BET: (JULIO ARCE BY FINISH) Some people say Julio is a little undersized for the weight class, I somewhat agree. Does he have the pop in his punches to put Erosa out cold like Devonte Smith did? Likely not. But against a very hittable fighter like Julian, the finish could come due to just sheer volume and precision. Erosa has never been submitted, but I wouldn't put it past Arce to find a submission here either.
ZAK CUMMINGS (22-6) (+125) vs TREVIN GILES (11-0) (-145)
BREAKDOWN: This fight is pretty close in my opinion. Both fighters have similar styles. Each of them like to wrestle and throw big punches on the feet. I think Zak is better in the grappling department as half of his wins come by submission. Trevin has a clear advantage in the striking and wrestling department. By UFC numbers, he lands at a higher and more accurate rate than Cummings in the striking, all while getting hit less than him too. He also scores more takedowns per fight and has a 100% takedown accuracy. Both fighters are coming off wins, Giles is undefeated. Zak has been more active, he last fought in December 2018, while Trevin hasn't fought in almost a year and a half.
PICK: (TREVIN GILES BY TKO) I like Giles here. I just see him being the younger and fresher guy in this spot. Zak is 34 now, and he just hasn't looked great to me in his recent performances. He seems slow and more susceptible to being hit. Look for Trevin to be sharper on the feet and eventually secure top position and pound Zak out.
POSSIBLE BET: (TREVIN GILES INSIDE THE DISTANCE) Odds seem to lean towards Trevin winning by finish here, I agree. He has finished all his fights in the UFC so far, I think that trend continues on Saturday.
DANNY ROBERTS (16-4) (-255) vs MICHEL PEREIRA (21-9) (+215)
BREAKDOWN: This fight is very simple to breakdown. Danny Roberts is a skilled fighter, and Michel isn't. Danny is smooth on the feet and experienced in the UFC. His only losses have come to other very experienced fighters like Nordine Taleb and Claudio Silva. He was caught early against Taleb, and was actually hanging with Silva till the fight was stopped controversially. He has also lost to Mike Perry but that was a brawling style fight which plays into Perry's game. Other than that, he has looked powerful and composed in his other performances. Michel is a terrible fighter. He has a sloppy "flashy" style. Hands very low, choppy footwork, and tries ridiculous techniques in the cage. Most of the guys he has beaten are bums, and he is also lost to and been finished by a few bums himself.
PICK: (DANNY ROBERTS BY KNOCKOUT) Michel doesn't belong in the UFC. I am not sure why he is being given a shot here. I really don't see any matchup where I would pick him to win. The odds should favor Roberts even more. Michel is overly aggressive in his attack is wide open to being countered, especially by an experienced guy like Roberts. Outside of a ridiculously lucky strike landing, look for Roberts to put this guy to sleep fairly easily.
POSSIBLE BET: (DANNY ROBERTS BY KO IN THE FIRST TWO ROUNDS)
PATRICK CUMMINS (10-6) (-240) vs ED HERMAN (23-14) (+200)
BREAKDOWN: Both these fighters are over the hill to be honest with you guys. Both are almost 40, and both are on losing streaks. The matchup is simple: boxer vs wrestler. I hesitate to call Ed Herman a "boxer" because he is extremely stiff when he throws and he isn't light on his feet. He does swing for the fences though, his punches do have a lot of power behind them. Patrick Cummin's game is simple, he looks to wrestle and grind out his opponents for the most part. He hasn't won by finish in 4 years. This fight weirdly plays into both fighters games. Most of Patrick's losses have come by KO, and most of Herman's losses have come by submission or decision. It comes down to whether Herman can keep the fight standing or if Cummins can get the takedown.
PICK: (PATRICK CUMMINS BY DECISION) I don't think Ed is fluid enough to catch Patrick coming in. Nor do I think he can stop the takedown. Therefore, by default, I pick Cummins to win this fight. He will get his takedowns each round and not do much, just doing enough to win and get the decision.
POSSIBLE BET: (NO BET) STAY AWAY FROM BETTING THIS FIGHT! If you put your money on Cummins there is a solid chance he gets caught and slept. If you bet on Herman there is a solid chance he gets taken down repeatedly. Both are unpredictable and underperformers. Neither is worth risking money on in my opinion.
DESMOND GREEN (22-8) (-550) vs CHARLES JOURDAIN (9-1) (+425)
BREAKDOWN: I think this fight is closer than the odds make it out to be. From what i can see, Charles is actually pretty skilled. He is a technically sound kickboxer who has a decent submission game as well. He is making his UFC debut at 9-1 with all his wins coming by finish and his only loss coming by decision. Desmond Green is currently 3-3 in the UFC. But honestly, he has had some really tough matchups. His losses in the UFC have been to Mairbek Taisumov, Michel Prazeres, and Rustam Khabilov. None of these fights are easy nights out for anyone. Desmond trains at Hard Knocks 365 where many world class fighters currently reside. He has a solid overall game and looks to mix his hands in with his wrestling. He hasnt been finished in 5 years and he has never been stopped by strikes. Before his last fight where he knocked out Ross Pearson, he hasn't won by finish in 3 years. This fight will take place in his hometown of Rochester.
PICK: (DESMOND GREEN BY DECISION) Two key factors that will win Desmond this fight: size and experience. Firstly, Charles has competed at featherweight for most of his career. This fight is at lightweight. Green is a big strong guy with a large frame. I see Charles being way undersized here. Green also comes from a mainstream camp, where he mixes it up with big UFC names daily. That experience plus the experience of already having 6 UFC fights under his belt, will help him greatly in this matchup. I see him using his size to easily out grapple Jourdain, and have success on the feet. Green will be too much for Charles in there, he gets the unanimous decision win in his hometown.
POSSIBLE BET: (DESMOND GREEN WINS INSIDE THE DISTANCE) Oddsmakers seem to have Green winning by decision here, understandably so. However, he is fighting in his hometown. A lot of times this motivates fighters and they come out and look to put on an incredible performance. If you think this is going to be the case with Desmond, I am seeing odds as high as 2.5 to 1 for him winning by finish. That's not a bad bet at all in my opinion especially for how big of a favorite he is.
GRANT DAWSON (13-1) (+125) vs MICHAEL TRIZANO (8-0) (-145)
BREAKDOWN: I AM REALLY LOOKING FORWARD TO THIS FIGHT! Both guys are highly skilled up and coming prospects. Trizano is a very skilled undefeated fighter. He is solid everywhere, but for the most part he looks to keep the fight standing and is very skilled at striking. He has precise punches and quick powerful kicks. Very good movement and defense as well. Grant Dawson is an extremely skilled grappler. He constantly pressures forward and gets inside to score his takedowns. On the ground he is absolutely relentless. Constantly looking to advance, score with ground and pound, or submit. His UFC debut was the only time he went to a decision. His pace and will in his fights are also pretty incredible, if he loses position or you manage to get him off of you, he is right back on you in an instant looking to drag you down again. I give Trizano a clear advantage in the striking while Dawson has a clear advantage in the grappling. This is a true 50/50 fight between two young talents!
PICK: (GRANT DAWSON BY DECISION) This fight really could go either way. However, I really like the underdog Dawson here. Trizano is highly skilled, no doubt. I just don't think he has been in there with fighters that have the grappling pace of Dawson. I see Dawson forcing too many scrambles and hunting for so many takedowns that Trizano cant keep up. This fight will be closely contested through the beginning and the middle, but I see Dawson finishing strong to take home a decision.
POSSIBLE BET: (DAWSON BY DECISION) Both of these fighters are really tough I dont see either of them getting finished. So I like a bet on Dawson by decision at +250
MEGAN ANDERSON (9-3) (-150) vs FELICIA SPENCER (6-0) (+130)
BREAKDOWN: Another grappler vs striker matchup. Megan is a very long and tall kickboxer. She will be half a foot taller than Felicia and have a significant reach advantage. Megan is very good at using her length to keep her opponents at bay and put together her combinations with straight punches and hard kicks. Felicia looks like an absolute novice on the feet to me. From what I can see, even her takedowns aren't that great she really only has one move in her arsenal which is an inside trip. Against an opponent as tall as Megan that's actually one of the better takedowns to use. Once the fight hits the floor, Felicia is good at attacking submissions, but she gives up position easily. In all honesty she is another fighter that I dont think belongs in the UFC. Womens featherweight is pretty scarce though, so I guess they are willing to take whoever they can get.
PICK: (MEGAN ANDERSON BY TKO) I really don't understand why these odds are so close. Megan was outwrestled by Holly Holm, but Holly is so much better than Felicia they cant even be compared. I see Megan getting a TKO here. This is too big of a step up in competition for Felicia. Megan will either put it on her on the feet and eventually score with a big strike that will end it. Or Felicia will make a mistake and lose position leaving herself open to be pounded out.
POSSIBLE BET: (NO BET) I am shocked by the odds on this fight. They are too close and I cant see why. It is womens MMA, and there are very few blue chip consistent performers among the women unfortunately. But on paper, I dont really see Megan losing this fight. I actually see her winning by a landslide. Regardless, I might be missing something here so I am not going to recommend a bet.
MAIN CARD
DAVI RAMOS (9-2) (-445) vs AUSTIN HUBBARD (10-2) (+355)
BREAKDOWN: Davi Ramos might be one of the most dangerous grapplers in the UFC right now. He is 3-1 with the promotion, all of his wins coming by submission. He has over 10 jiu jitsu championships to his name. He has very slick back takes and once he gets on your back the fight is basically over, you aren't getting him off and he will eventually sink the choke. I really like his patience in the grappling department. What I mean by this is, a lot of times when we see really experienced jiu jitsu guys in MMA, they like to create a lot of scrambles and keep the exchanges going. Davi takes his time after scoring a takedown or advancing position. He establishes heavy top pressure or secures a body triangle and has no problem staying there landing short shots till you give up your neck. He wont try and transition to an armbar or change position to give his opponent a chance to escape. He also has decent standup, not great, but he does have a lot of power in his punches and he throws hard leg kicks. Austin Hubbard, from what I can see, is a pretty decent fighter himself. I think he is a little bit sharper and more technical on the feet. He also has pretty good takedowns and good top pressure. He likes to strike for a bit with his opponents, then take them down and pound them out. He is making his UFC debut coming from LFA.
PICK: (DAVI RAMOS BY SUBMISSION) This is just a terrible matchup for someone making their UFC debut. Where Austin really shines is when he can take opponents down and beat them up. Trying to wrestle or grapple with Ramos is a terrible idea. Hubbard may look decent on the feet in this fight, but look for Davi to get the choke here. Either a guillotine if Hubbard shoots on him, or Ramos will take him down himself and take his back to the end the fight fairly quickly and easily.
POSSIBLE BET: (DAVI RAMOS WINS BY SUB UNDER 2 ROUNDS)
CHARLES OLIVEIRA (26-8) (-365) vs NIK LENTZ (30-9) (+305)
BREAKDOWN: Charles Oliveira is an experienced UFC veteran, and thats pretty crazy to say since he is only 29 years old. Its no secret, he is a submission specialist. 18 of his wins coming by sub and 13 of those in the UFC. When you look at his losses, he has really only lost to top 10 guys, everyone else he has finished. He has good takedowns and great transitions, this guy can attack submissions from anywhere at anytime. His striking is actually really good too. He has a classic Muay Thai style, he loves his knees and elbows. Charles in my opinion is the perfect gatekeeper. He isnt lacking anywhere, but he is beatable everywhere if you are a real talent.Cub Swanson, Max Holloway, and Paul Felder finished him with strikes. Ricardo Llamas and Anthony Pettis submitted him. Its been the story of this guys career, he puts on great performances to get himself a big name opponent, then he loses and goes on to finish a few other lower level guys. Nik Lentz doesn't stand out to me anywhere really. To sum it up he is just average in my opinion. His striking is ok, but he gets outstruck by better strikers. His wrestling is ok, but he gets outwrestled by better wrestlers. His submissions are ok, but he gets tapped by better grapplers. As a newcomer, there is nothing wrong with this. But at 34 years old with a lot of UFC fights, I don't see this guy improving or doing anything great.
PICK: (CHARLES OLIVEIRA BY FINISH) For those that don't know, this fight happened already, this is a rematch. Charles submitted Lentz four years ago. In that fight, Lentz really didnt have many moments. Charles was beating him everywhere honestly and eventually found the choke. Since then, Oliveira has only gained more experience and more skills, I cant say the same about Lentz. I think this fight goes the same way, only even easier for Charles.
POSSIBLE BET: (OLIVEIRA BY FINISH UNDER 2 ROUNDS)
ANTONIO CARLOS JR (10-2) (-185) vs IAN HEINISCH (12-1) (+160)
BREAKDOWN: Antonio Carlos JR is very comparable to a fighter like Davi Ramos to me. He is ok on the feet, nothing special, throws all his strikes with a lot of power. But he really shines in the grappling. He is on a 5 fight winning streak with 4 of those wins coming by submission. Ian Heinisch is a solid strong fighter as well. I wouldnt say he is a specialist in anything, he is skilled in all facets of the game. He is a technical striker, with decent counterpunching ability. His wrestling is also solid he is very strong and is capable of taking guys down. When the fight hits the mat he has really good ground and pound, along with a decent submission game.
PICK : ( ANTONIO CARLOS JR BY SUBMISSION) I see a lot of people picking Heinisch in this matchup. I am not really sold him on yet. I am aware this fight can go either way. The losses speak to me more than the skills here. Carlos Jr was TKO'd by Daniel Kelly, who is a terrible fighter known for his judo not for his striking. So thats worrisome. I am aware this occurred on the ground, but Antonio wasn't really hit with any hard shots he was just covering up and looked like he quit. Even though that was 3 years ago and he hasn't lost since, if a fighter like Kelly can make him quit in the 3rd round, a younger stronger Ian definitely can too. Same deal goes with Ian. In his only loss he was submitted by Markus Perez. That was also 3 years ago and he also hasn't lost since. Perez is now in the UFC submitting guys just like Antonio is. Its a tough call, if it goes late into the 2nd and 3rd Heinisch can take over and possibly get a late finish. But I see Carlos being too aggressive really early on and just dragging Ian down one way or another to get the submission win.
POSSIBLE BET: (NO BET)
ASPEN LADD (7-0) (-290) vs Sijara Eubanks (4-2) (+245)
BREAKDOWN: Aspen Ladd is definitely a prospect to look out for. She is a well rounded fighter. Her boxing is her most spectacular skill though. She has that Mexican style where she stays technical but isnt afraid to take a shot to give a harder one back, or two or three back for that matter. That really showed in her first fight with Sijara. Eubanks would tag her with something but Aspen would stay tight in the pocket and hit her back harder. Sijara is a black belt in jiu jitsu. Her striking is fundamentally sound, she throws punches the right way and keeps her hands up. However, she doesn't have confidence and fluidity. Her eyes are halfway closed a lot of times when she is throwing. Her striking isn't at a level where she can put good combinations together and land nice countershots. If she does have a path to victory in this fight it would be to get a hold of Ladd and take her down and keep here there, which is no easy task.
PICK: (ASPEN LADD BY DECISION) I see this fight going down the same way the first one did. Aspen repeatedly gets the better of Sijara in the exchanges. Eubanks is tough though so I don't think she will put her away.
POSSIBLE BET: (SIJARA EUBANKS) Despite her losing to Aspen Ladd once before, I don't think Sijara is a bad underdog play here. Both of these girls don't have much experience, less than 14 pro fights between them. At this level, it could go anyone's way on any given night. Also, Eubanks is moving up in weight and we know it was a hard cut for her at 125. We don't know how much that diminished her performances. If Sijara can find takedowns in this fight it could interesting. I don't like any of the lines on Ladd, so if you are going to bet this fight, I would say take a gamble on Sijara.
DERRICK KRANTZ (22-10) VS VICENTE LUQUE (15-6)
BREAKDOWN: I was really looking forward to Luque fighting Magny because that would've moved Luque up in the rankings. Unfortunately, Magny tested positive and had to pull out. For the record, I had Vicente destroying him with ease. Vicente is a FORCE at welterweight. This guy is one of the most savage strikers in the division with power in all his strikes. He can hurt you with punches, kicks, knee's, and elbows. On top of that he has a nasty submission game. He is 8-2 in the UFC. All of his wins have come by finish and his only losses have come by decision. Luque is really coming into his stride, and if he stays active this year, I think he can be a serious contender going into 2020. I am not going to spend a lot of time breaking down Derrick Krantz. From what I can see, he is just an average physically strong fighter and he is definitely beatable.
PICK: (VICENTE LUQUE 1st ROUND SUBMISSION) Easy work for Luque, thats all I can say. Look for him to put on a show and hurt this guy early, then snatch up his neck and get the tap.
POSSIBLE BET: (VICENTE WINS IN THE FIRST ROUND)
RAFAEL DOS ANJOS (28-11) (-115) vs KEVIN LEE (17-4) (-105)
BREAKDOWN: Kevin Lee is moving up to 170 to face RDA and I really like this matchup for him. At 155, despite some losses, Kevin was a problem. He is a massive guy and he is really strong. He came into the UFC with great wrestling, but his striking has really come a long way. He is coming off a loss to Al Iaquinta. He started off really strong in that fight, but I think towards the end he just abandoned his gameplan and let Al steal the fight from him. Before that he beat the brakes off of Edson Barboza, just battering him for over 20 minutes before doctors finally called off the fight. Kevin has really sharp boxing and he is a workhorse. He can continually score powerful takedowns and land heavy strikes from the top. His submission game is pretty good too, almost half his wins are by submission. RDA is a great fighter in his own right. After losing the belt at 155, he moved up to 170 where he is now 3-2. He has lost his last two to interim champ Colby Covington and current champ Kamaru Usman. Dos Anjos is pretty well rounded. He has a Muay Thai style standup game, his kicks being the best tool in his arsenal in my opinion. He has decent wrestling and grappling but he isn't a "wrestler" or "grappler" by trade. What I mean by that is he will take the submission or the takedown if they are available, but he doesn't go into the fight looking for them most of the time.
PICK: (KEVIN LEE BY TKO AFTER THE 2ND ROUND) I have to say, the odds on this fight are absolutely nuts. I expected Kevin to be at least -190, if not a bigger favorite. The fact that they are this close is crazy in my opinion. The book is out on RDA guys, and its been out literally since the BEGINNING OF HIS CAREER. Anyone that cant outwork him and cant beat him in the wrestling, loses. Anyone that can outwork him and can outwrestle him, wins. That simple. Kevin is the perfect candidate to do this. He will be bigger, stronger, and younger than RDA. Dos Anjos cant hang with him in the slightest in the wrestling department. He might have a very slight advantage on the feet but is he a more dangerous striker than Edson Barboza? Absolutely not. Kevin totally nullified Edson. I see him dumping RDA onto his back and beating the crap out of him and putting damage on him from the opening bell. I am really confident in this pick. Not only because of the matchup, but because in RDA's last two fights (fighters with a very similar style to Kevin) I really saw him get demoralized and quit before the fight was even over. Kevin will put him back in that same mindset real quick and use him to make a statement in his 170lb debut.
PREDICTION: (KEVIN LEE WINS UNDER 3.5 ROUNDS)
THANKS FOR READING GUYS! LET ME KNOW IN THE COMMENTS WHAT YOU THINK ABOUT THIS CARD AND WHO YOUR PICKS ARE!