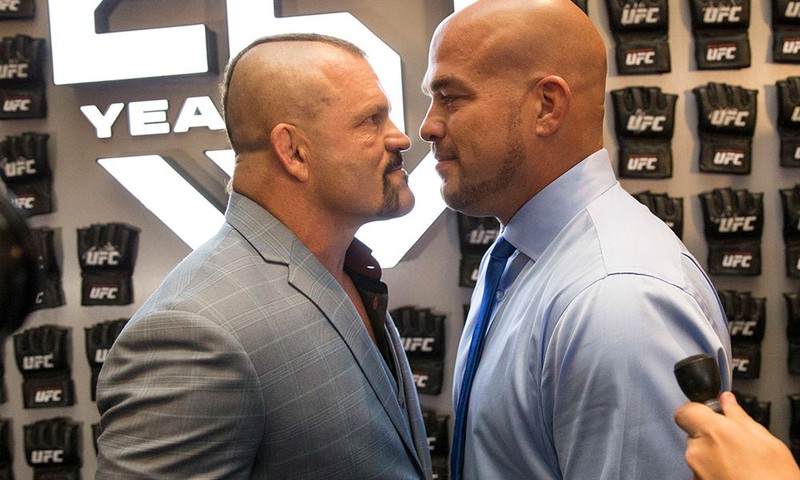 Now this will be a great fight for all those who have followed UFC for sometime, Chuck has been an Brand Ambassador for the UFC since suffering his third Knock out(in a row) to the Hands of rich Franklin back in 2010.
"The Bad Boy from Huntington Beach California" Tito Ortiz on the other hand announced his retirement fight only last year in January, When he submitted Chael Sonnen. Although Ortiz has still been fighting and Chuck Hasn't, the stats between the two former training partners turned heated rivals sit with Chuck winning once by KO and the other time by TKO.
The second win over Ortiz gave Liddell seven straight wins, and at the time made him arguably the biggest star in the sport. However after this, his lost to Quinten "Rampage"Jackson began one of 5 losses in his remaining 6 fights, four of those being by knockout!

My oldest son Loved Chuck Liddell, and wanted the haircut to match, I always admired his ability, Chuck was able to Land some powerful punches from some awkward and unusual or unexpected positions. Although he is a bit older now, This is fucking Beautiful, Coming out of retirement for a round 3.... I am really looking forward to this match up.
If you could pick a battle or a rematch you would like to watch, from all the fighters throughout history... who would you like to see? forget about weight classes or anything else... just 2 fighters thrown in the ring, who would you pick? you can mention a few I don't think I could put it down to just one. But this is right up there!