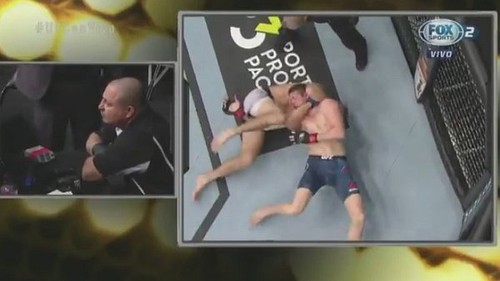 It is well known that the VAR, in many cases, can be beneficial for football, although there are still details to be corrected. One of the rules modified in the UFC is that now the referees can go to the video assistance to observe details of the fight and be able to make a decision.
This time, in the co-feature bout of the UFC Denver preliminaries, there was a fight for the featherweight category between Chas Skelly and Bobby Moffett, which would go down in history as the first time VAR would be used in the largest company of mixed martial arts.
During the second round, Moffett submitted with a hanging D'Arce Skelly and the referee decided to stop the fight immediately. However, the subject did not agree with the decision, stood up and quickly recriminated the decision. To his misfortune, the referee, after seeing all the action, kept his decision and Bobby Moffett was the big winner of the fight.
The VAR and its sporting significance
France and Croatia in the final of the 2018 World Cup in Russia, two teams that will make history this Sunday in Moscow and lift the cup a new European team. This World Cup leaves us with some positive data, in sports, but what stands out, in my opinion, is the use of the VAR (videos assistant to the referees), clearing certain doubts of the difficult appraisals and marking history in the sport world.
Would the VAR serve for other sports? I think so, but it depends on the situation that is used and the method for its implementation. In the case of sports such as tennis and volleyball, the videos are used exclusively to observe if the ball or ball fell into a good zone, with some differences with the VAR and the request of the player or captain of the team can review it. The taste or not will be in sports fans and their implementation beyond considering whether technology and the development of sports science will affect the results of events, creating a before or after in the sports era.