Russian fighter ready to break Irish athlete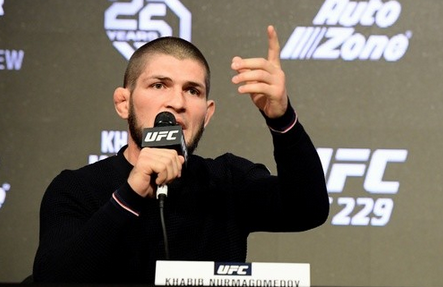 The champion of the Absolute Fighting Championship (UFC), Russian Habib Nurmagomedov, promised to crush Irishman Conor Magregor in the title fight. The Russian fighter said this at a press conference.
"I'll just crush him," said Nurmagomedov. - His fight is no good, does not meet any standards. I'll just go out and break his face. And then he can return to boxing. "
The press conference took place on Thursday in New York. In April of this year, between the athletes there was a conflict, during which McGregor attacked a bus with athletes, where Nurmagomedov also was. Later the Irishman appeared before the court and was sentenced to public works.
McGregor is one of the most popular fighters of the UFC, he had 24 fights in mixed martial arts, having won 21 victories (18 ahead of schedule) and having suffered three defeats, he won the first title of UFC champion in 2015. McGregor was the first UFC fighter in history who had two titles in different weight categories (featherweight and lightweight) at the same time, however on November 27 of last year it was announced that the Irishman is deprived of the title of champion of the UFC featherweight. In January of this year, McGregor was also stripped of his belt in lightweight for passivity (he did not fight since 2016).