Cerrone put on another great performance on Saturday night!
Cowboy vs Ragin' Al!
What a good fight this was. Cerrone really put the pace on Al and landed more shots than he has in any other fight of his long career! Al has a great chin, as does Donald! Both men took massive shots, Al taking the more damaging ones by far. Cerrone almost finished Al at least 2 times. Cerrone sure did put a beating on him in the later rounds.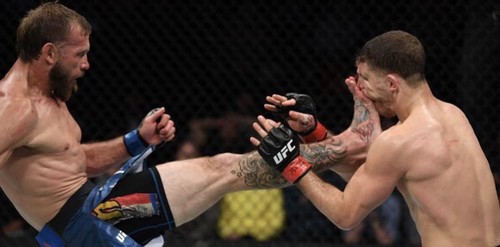 One thing I did notice, is that Cerrone looked HUGE. He looked like a big dude compared to Al. Much taller and bigger, looked like he had a good 15lbs on him...
Either way, this was another great performance from Cowboy against a tough durable Al.
What is next for Cowboy?
Really, it is only 3 people that come to mind, as Cowboy doesn't take lots of time off. However, he did say he would wait if it is for a title shot. None the less, Cowboy won't wait until December time for a title shot in my opinion, he will fight around July.
He wants Conor McGregor, who I don't see coming back to fight. But, Conor vs Cowboy does make sense, probably the most sense out of anyone else, so I do hope this happens!
Tony Ferguson - This man just deserves a title so I don't personally want to see Tony fight anyone unless it is for the belt. Tony to fight the winner of Khabib vs Poirier hopefully around November time.
Justin Gaethje - this would be awesome, but again, I kind of want to see Justin fight Khabib. Justin is powerful and crazy, I think he might be a bit too explosive for Cowboy...
So, I think Conor is the only fight that makes sense! Not sure what to do with Justin in this case....
Either way - this lightweight division is so stacked!