I'm starting to like this guy!
Since Colby's last fight against RDA, in which he dominated for 5 rounds, he is the interim Welterweight champion. After which could have been one of the biggest welterweight fights in modern times, Tyron Woodley fought 2 other opponents, beating Darren Till and then loosing to Kamaru Usman. Now, we have another big and great fight on our hands with Colby vs Usman.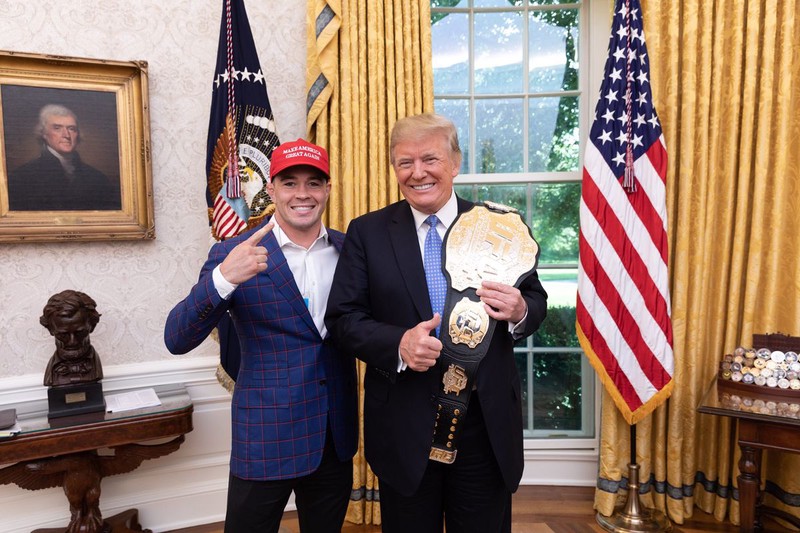 Colby, the peoples champ, does what he does to make a name for himself, and sure he can be annoying or offensive to some, but he is a fighter after all and at least he is doing something to try and make something of himself!
I'm actually beginning to find Colby pretty funny, I must be honest. In this recent interview with Ariel Helwani he has gone from calling Usman 'Marty Snoozeman' to 'Marty FakeNewsman'! This guy is a joker haha!
The FakeNewsman comes from Usman allegedly faking an injury, and now he is trying to make Colby beg for a title shot... come on Usman, just fight him. It's what you said you wanted and the fans want it. Colby really should be next and i'm sure he will be. It's looking like this fight will happen around August time, hopefully earlier!
After Usman beat Woodley, he and his manager Ali (which I really do not like, at all) pretty much attacked Colby in public. This was pretty out of order. We all know what Colby is doing to get his name out there, you don't have to be a genius to see he is playing on his character as part of his persona and act. Well.. I guess some are far from intelligent enough to see this.
Also, watch the video of Colby Covington vs Jorge Masvidal in a one hour wrestling match. Colby has serious wrestling skills and cardio. Training out of ATT he is getting some of the best training out there!
Him and Usman are similar fighters, but it's one I am looking forward to happening!
What do you think of Colby Covington?
So I have liked Colby since the RDA fight, and really thought he was going to fight Woodley, which I wanted to see! Bad! I find him pretty funny, and I get what he's doing. I think it is hilarious that he put the belt on Donald Trumps desk! He is the ultimate Troll and all of these fighters playing right into it!
I want to see Colby vs Usman for the unification!