DC has stated he is ready and wants to wait no more!
Heavyweight champ DC has been eyeing a fight with WWE superstar and former UFC champ Brock Lesnar since he won the HW title by knocking out Stipe Miocic.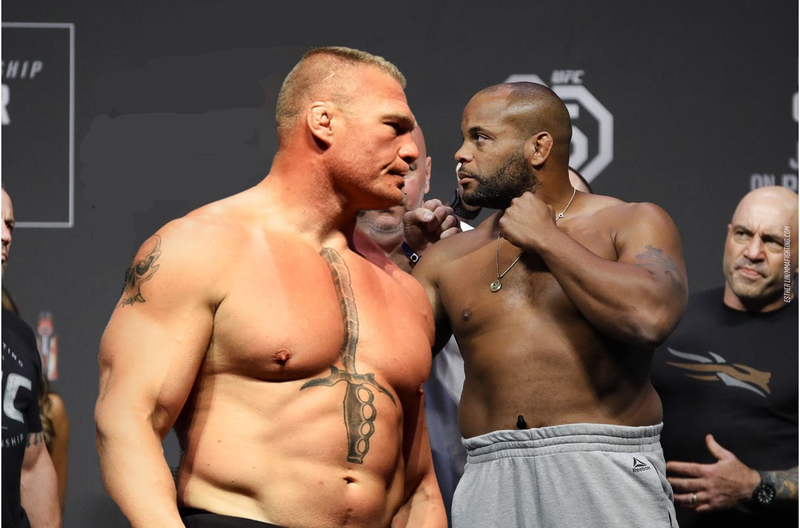 We all had our own opinions about this fight, but now it seems that the two will finally meet, and it could be soon!
Brock lost at wrestlemania last weekend which I hear could mean he is free to fight in the UFC now. (I don't know how, or anything about WWE).
DC told Brock to lick his wounds, and he has some brand new ones waiting for him!
Here is a link to the new TMZ interview with DC:
DC vs Lesnar and controversies
Brock sure does have the size advantage! By a long way too.... but, DC is a short and stocky heavyweight. I do believe that Brock cuts to 265, whereas DC sits around the 245-250 range. Brock has been looking 'smaller' recently - hopefully that is due to the testing pool.
There have been rumours that for Brocks last fight at UFC200 in 2016 against Mark Hunt, that he did not actually make weight. To be honest, Brock and Mark both weighed about 265 and Brock was MASSIVE in comparison. I would have thought this is nonsense, but, I do believe the UFC knew about Brocks failed test before the fight, but corruption meant they kept him on for the draw and card. Mark Hunt had a massive lawsuit against the UFC for ages about this, and he is very outspoken about cheaters!
I think DC can smash Brock, but, Brock is a seriously good wrestler, so this will be very interesting. DC is the much better striker and MMA fighter, but I don't think this is the easiest matchup for DC.
Still, I think DC smashes him!
Who you got?