It was quick!
The Predator strikes again! He has now taken out 2 massive names and absolute legends in UFC HW history in Cain Velasquez and now JDS.
JDS sure is one hell of a fighter and a true vet. Not many more left from his era - and with all due respect, maybe his time is up.
Francis Ngannou's last 3 wins have all been within 1 minute.
His previous 4 wins were within 2 minutes. The power is real!
The fight
Francis landed some massive leg kicks, JDS followed up with a big one of his own. Before we know it, JDS swings a massive overarm right, and Francis counters with a big right sending JDS down. It was all over!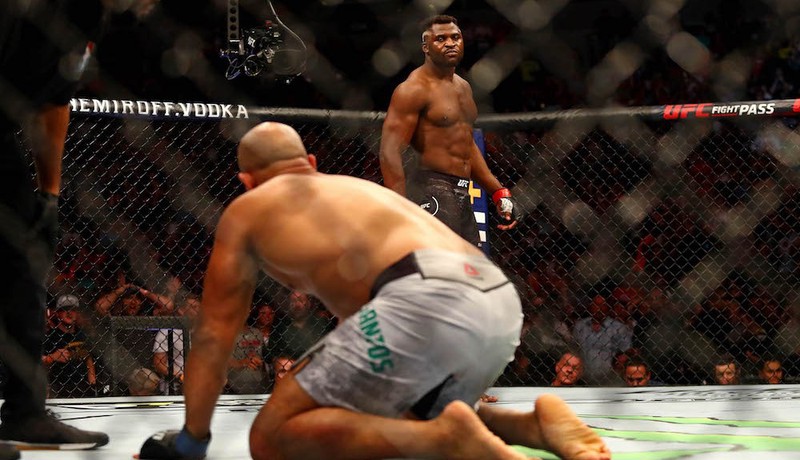 We all know Francis lost to Stipe Miocic, and then lost to Derrick Lewis. After the Lewis 'fight' many believed Francis' hype train and career was over. He has come back and really made improvements in his game and confidence.
What is next for Francis? Well... it can only be the winner of DC vs Miocic. However, if DC wins, I can't see him fighting Ngannou.
Francis has mentioned he is interested in a Jon Jones superfight, which would be amazing. Jones is looking pretty big now too, I imagine he cuts quite a bit these days. Looks a solid 240. Ngannou is only about 255 which is crazy, he looks huge (cut to 265) to me, but he is lean.
Personally I would prefer Jon Jones vs Stipe as a Heavyweight super-fight, but let's see how everyone's next fights play out.
What is next for JDS? Would anyone be interested in a Cain vs JDS 4? I personally feel that Cain put a serious beating on JDS in their 3rd fight and he hasn't quite been the same since. Damaged.
If this is it for JDS - thank you for always being a warrior! Thank you for the amazing fights, and thank you for always bringing excitement to the heavyweight division over the years!

Either way, let me know your thoughts fight fans!
Who do you want to see Ngannou fight next?