One of the GREATEST to ever do it will announce retirement tomorrow.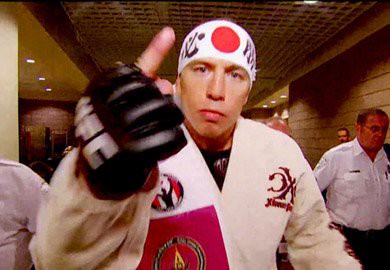 GSP has stated that he will officially retire from MMA. He will have a press conference tomorrow (Thursday 21th February) in Montreal.
Welterweight king GSP took an indefinite hiatus back in 2013 after defending his title for the 9th time against heavy hitter Johny 'Big Rig' Hendricks. This left fans continuously wondering when, or if we would ever see Rush return to the octagon.
But then he did! In 2017, GSP moved up a weight class to face then middleweight champ Michael 'The Count' Bisping, and finished him in the 3rd round via rear naked choke.
He then relinquished the MW title weeks after winning it.
GSP looked so good against Bisping, we have all been waiting for his next move! The most recent move that had been rumoured was a title fight with Khabib at 155 - this would put GSP potentially where no UFC fighter had ever been before; Triple Champ status.
UFC president Dana 'Uncle' White (lol) has been vocal about not wanting GSP to jump the line in the stacked lightweight division, and then retire if he won the belt. I can understand this, as if GSP won he would retire as the champ and ride off into the sunset.
Khabib has just posted a statement to GSP, showing his respect and an offer: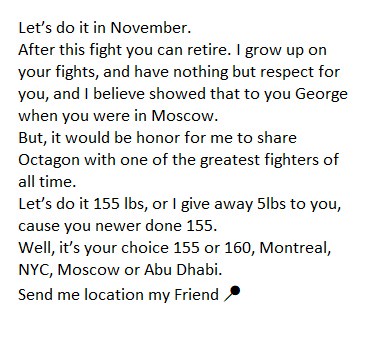 GSP has stated he will address all of this tomorrow in the press conference.
I would love to say that I think GSP is holding a press conference to announce a fight with Khabib, but he has also said he is retiring as a 155lb title shot is unable to come to fruition. I do believe this is it for GSPs amazing career. Let 's tune in tomorrow and find out.
GSP always carried himself as a true martial artist!
Where do you rank GSP on your all-time great list?
My top 3 favourite fighters of all time are The Spider, The Iceman and Rush! I will be tuning in to his press conference with respect, happiness and sadness!
We love you GSP! Thank you for everything!
Image references:
1 - https://www.google.com/search?q=GSP&source=lnms&tbm=isch&sa=X&ved=0ahUKEwjYweeVjsvgAhUv1-AKHRfADi0Q_AUIDygC&biw=1536&bih=747#imgrc=WtaVqQcdoB5pfM: