UFC Fight Night 147 Main Event was CRAZY!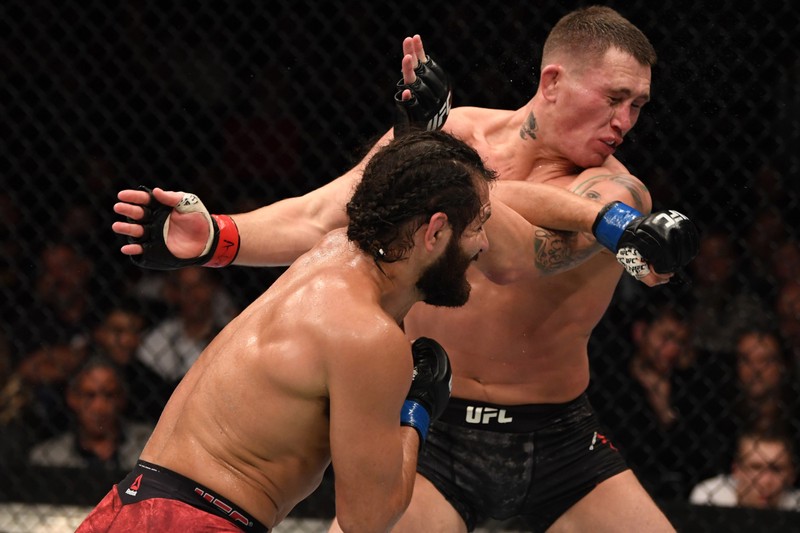 What a FIGHT! What an Atmosphere!
Fights in England are always amazing, and this one was no exception!
Round 1 - As SOON as the bell rings Jorge sprints at Darren Till and catches him with a groin shot. The action is paused for a moment, and when it resumes Till DROPS Masvidal with a huge left hand! It could be over, but after a scramble they are back up exchanging shots! Darren looks huge and powerful, Jorge looks like he is his usual old school self and is swinging, but with skill and landing some shots... they don't seem to be phasing Till so much...
Round 2 - We see Till taking and giving some shots. He never really bobs and weaves too much, I guess this is due to his Muay Thai background. Both fighters look sharp, but I feel that Till had the advantage. Then, Masvidal started to land some great combinations. Each time Till threw a left had Jorge would answer with a flurry. Masvidal looking sharp. Till looking huge. Then, Masvidal explodes with an unorthodox Tyron Woodley style switch left look and BLASTS TILL! TILL IS OUT! OUT COLD! IT IS ALL OVER!

Wow that was one HELL of a fight, I was so excited the whole time. Gamebred is here and he is wanting UFC gold!
Darren Till was absolutely out cold, for a while. I hope he is ok. One of the more vicious KOs I have seen in a while.
The aftermath
Jorge was in an interview whilst Leon Edwards began to talk to him from a distance, telling him "I'll see you soon" or along the lines of this. Jorge walks over to him and before we know it begins to blast Leon with shots! Fast powerful shots! He CUTS LEON open! Video below!
I can't condone this - but gamebred does not mess around at all. He is a proper fighter who has had many street fights. Leon was cut from it worse than his whole 3 round fight with Gunnar Nelson.
I don't know what Jorge will receive for this but I am guessing a fine and a ban.
Jorge explained that he walked up to Leon with his hands behind his back and he saw Leon put his hands up. To Jorge, this means let's go, and he did just that!

What an exciting event!
Will we see Edwards vs Masvidal? I don't think so, but we may see them street fight - Jorge is GAME and doesn't mess around!
Leon Edwards had an impressive win over Gunnar Nelson and wants the fight!
My next post will be regarding the winners and losers of this event and what could be next for them all.
Let me know your thoughts, fight fans!