Never count out Jose Aldo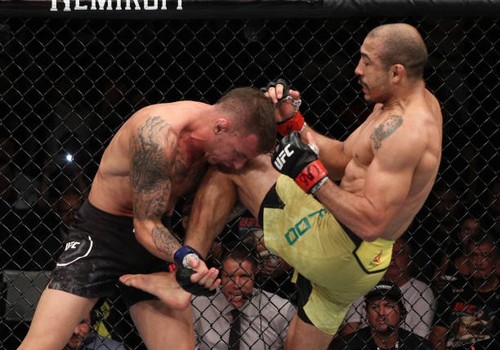 As we all know, Aldo is the greatest 145er to ever do it. He held the belt for 10 years before loosing it to McGregor.


Aldo did recently get beat twice by champ Max Holloway, and some, including me may have thought it was the end for Aldo...


But finishing Jeremy Stevens with a BRUTAL body shot, and now VIOLENTLY finishing Moicano last weekend begs the question - "Just how good is Jose Aldo?" - Extremely good is the answer.

He really is the king/GOAT/greatest FW!
What's next for Jose?
I personally don't think a rematch with Max is the best idea, I think Max is the new era, and could be on his way to greatest of all time status. I also think if a 165 division opens up then in 3-5 years Max could be competing there too. He walks around at about 180....
I also can't see Conor dropping back to 145 to rematch Jose... not yet anyway. Maybe in 2 years or something but not yet.
Brian Ortega? I think that makes sense!
Jose Aldo
He has said that 2019 will be his last year competing at the highest level of MMA. He may have a boxing match, but is this the last year we see Jose compete? With his recent performances, I don't think so!
We have always loved and respected you Jose! You have blessed us with some of the greatest fights and brutal warrior heart!
Who remembers Jose vs Uriah Faber? LEG KICKS FROM HELL!
Here is a Jose Aldo highlight reel for you to enjoy