UFC 230 has come around super quick! Lots has happened since UFC 229, including the announcement of the 230 main event.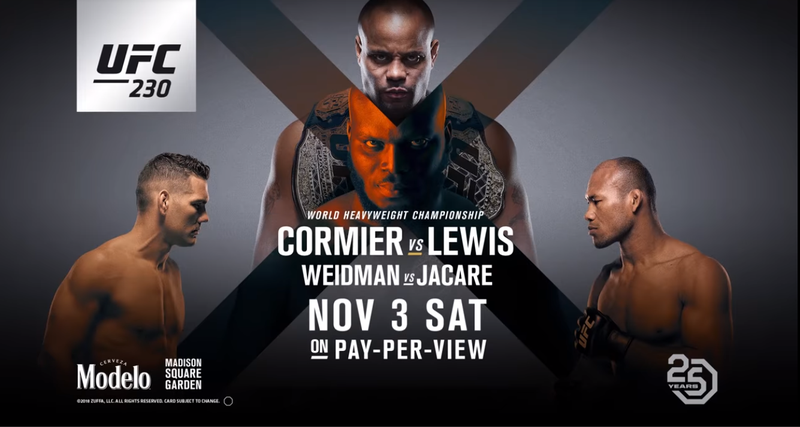 Here are my picks for this weekends card
DC vs Lewis
I'm pumped for the main event! This is the kind of fight where I want both guys to win as I am a fan of both. However, I do feel that DC is a much better overall fighter and competitor than Lewis. He for sure has the advantage everywhere, apart from size and 1 punch power. But the grind! So, I have DC for the win, I'm going to say by round 3. However, we can't count out that bomb from Lewis....
Weidman vs Jacare
This is a tough one to call. I can see Jacare winning from a brutal stoppage, and I don't know if I can see Chris finishing Jacare. However, Chris is looking in great shape, and he seems determined to get a win and his title back. It's his last chance. I kind of want Chris to win, as at one point he really did look great. But, has he seen the same since the Luke and Yoel fights? I think they both took a big part of Chris away with them.... Anyway, despite what I have said, I'm still going to go with Chris by submission in the 2rd!
Branch vs Cannonier
Well, I dont know much about Cannonier, and only a bit about Branch. Branch has something to prove, that he belongs fighting the top fighters in the MW division. So I'm going with Branch K.O win round 1!
Robertson vs Marshman
I'll be honest.... who tha fook are these guys?! Haha... sorry and no offence! But I don't know much about either fighter. So.... I'm going with a double knockout!
Brunson vs Adesanya
The should be the co-co-main event! We all love this fight, move it on up UFC! Well, we all know Adesanya is super confident, has lots of hype and skills to back it up. Brunson now getting into the veteran stage of his career. I do see Israel beating Derrick, but I love an upset and some hype derailment so lets go Brunson! I am a fan of both, and I REALLY like Adesanyas style, and love to watch him fight. Nevertheless, I'm going with Brunson win by k.o round 2 haha! Call me crazy if you wish...
What are your picks?