What a great load of technical fights, well, some of them!
Let's begin with the main event!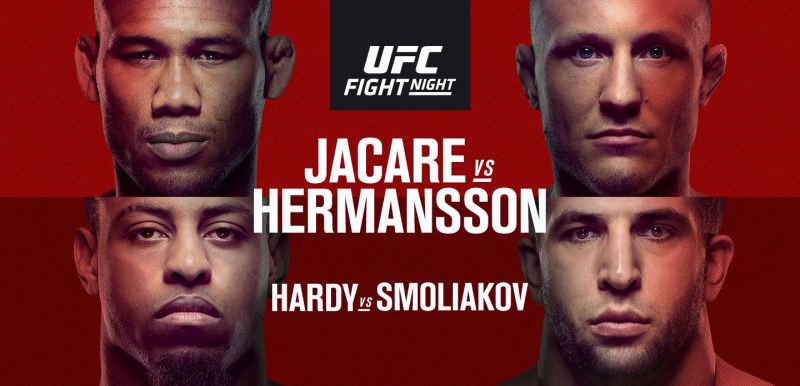 Jacare vs Hermansson
Jacare was set to fight Yoel Romero and Hermansson stepped up to save the card. Jacare had expressed his feelings of fighting number 10 ranked Jack, but was still confident. Maybe he overlooked him? Either way, there is no easy fights in the UFC, especially in the top 10!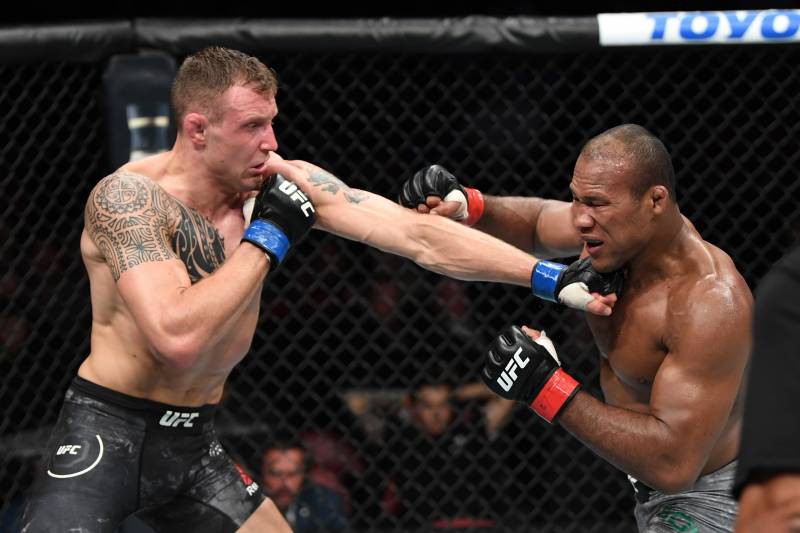 Hermansson really impressed me, again! His volume, speed, pressure and IQ was amazing. He threw an insane 460 stikes! He also took Jacare down 3 times and is the only man to have done so. He almost caught Jacare in a guillotine but Jacare is one of the best at jujitsu so he displayed excellent defence here.
Jacare was looking for that bomb the whole fight, whereas Jack showed a more rounded game. However, Jacare almost caught him a few times and looked dangerous right up until the end! Jacare is a monster, he can just walk through everything and is really hard to hurt. The dude is a beast. I hope we do see him vs Romero next. It is a shame for Jacare as he was promised a title fight if he won this fight.
I think Jack needs a top 5 guy next! He only beat David Branch 4 weeks ago!
Greg Hardy vs Dmitrii Smoliakov
So, I will start by saying Hardy won, via tko in round 1. But, come on. What the hell was this? Ok.. I shouldn't be like this as its a tough sport for sure and I respect everyone. But it sure did seem like Dmirtii just wanted out. He even landed a shot at one point. Either way, Hardy pressed forward and landed some bombs, and finished the fight with Dmitrii covering up on the floor.
I don't think the fight was fixed.... honestly. I don't but.... it just seemed a bit odd. Anyway, Hardy look like he could be a serious force!
What's next for Hardy? How do you think he would do against a Mark Hunt, or Tai Tuivasa, or Derreck Lewis? Or Andrei Arlovski? Note - Andrei lost today.
Alex Oliveira vs Mike Perry
Platinum gets the win! This was an awesome fight! Exciting, and both fighters looked good. I think Alex won the first round and then Mike showed a more patient fighter and timed his shots better. He is still super young at 27, I thought he was about 30 by now.
Alex dislocated his toe at the end of round 2, where Mike was landing some heavy ground and pound! Loved it! Both powerful and explosive fighters. I did think Alex was going to get the win and he landed some massive shots on Mike. But, overall, Mike got the better of him and it was a good performance!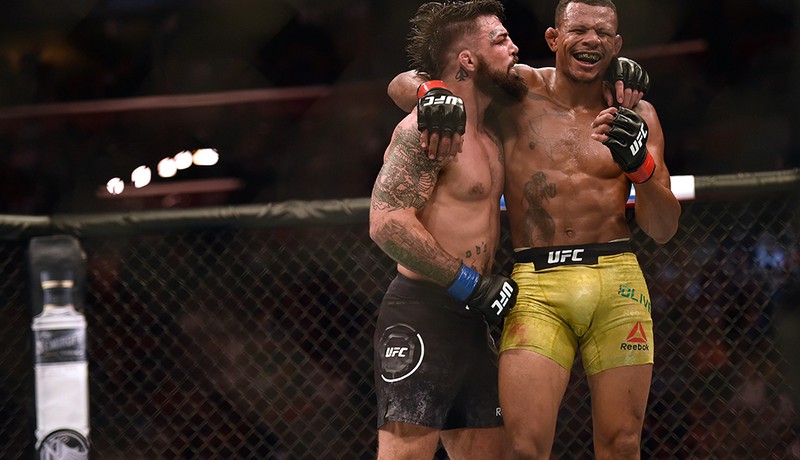 Mike kind of called out Darren Till after the fight. What do you think about this match up?
Glover Teixeria vs Ion Cutelaba
Glover did not like the disrespect at the weigh ins! He survived an early onslaught from an explosive Cutelaba and began to open up! Trading heavy shots with each other Glovers experience and skill took over. He put the beating on Ion and ended it with a rear naked choke in round number 2! Loved it! Love Glover! He is almost 40 and still amazing. Great to see him win!
A few very nearly illegal shots were thrown by Ion too....
Let me know your thoughts, fight fans!
I just want to add that after being a big MMA fan for many many years, we are really seeing some of the best overall and complete fighters now. This really is a great time to be an MMA fan!