Now the dust has settled, let's talk about what is next for some of the fighters of UFC London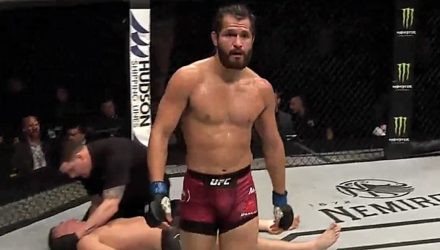 Darren Till
After suffering a severe knockout, Till will be needing to take some time out for sure. That was one of the most brutal KOs I have seen in a while, in terms of how Darren was out cold and his head bounced hard off of the canvas. I hope he is ok as that could be a damaging one, he is still very young.
It is hard to say what is next for Till, but, even though this was a solid shot he took, I hope his chin and confidence isn't diminished from this KO.
Once Till is ready to come back, I think he should still fight a top 10 opponent. Maybe even RDA? I think that could be a good match-up. Robbie Lawler? I don't like that match-up for anyone.. How about a Wonderboy rematch? Hmm....
Leon Edwards beat Gunnar Nelson and will probably fight Masvidal next. But, I do think Till vs Edwards could happen, and it would be good, and make sense. Even Neil Magny could be Tills next fight. What do you think?
As for Masvidal, I think it will be Leon Edwards or Ben Askren. That is if he doesn't go to jail for assault haha! I think he may receive a fine or suspension.
I am not too sure where Gunnar Nelson will go from here. I didn't expect him to get dominated by Leon Edwards like that. I was actually very impressed with Edwards.
Volkan Oezdemir Vs Dominick Reyes
Well... Robbery? I think so. From watching the fight, I do think that Volkan was winning pretty easily. He seemed to hurt Reyes pretty bad a few times, and was pressing forwards. I think Reyes was out matched and hurt. I also think that Volkan took round 3 off which didn't help him, and I would give round 3 to Reyes.
Do you think Volkan was robbed?

Volkan is now on a 3 fight loosing streak. He is only 29 and I'm sure has lots left, once he gets his next win he will begin to rise again. I also don't think Reyes will stand a chance against Jones after that performance, and neither would Volkan.
Nathaniel Wood
Another impressive win from the young Englishman! With Brad Pickett as his head coach, his overall game is awesome. I'm impressed with the level of wrestling from fighters like Wood and Edwards, seeing as usually UK fighters "can't" wrestle. I think give Wood a top 10! Let's move him up! Cody Garbrandt? That probably wouldn't happen but it would be cool for both fighters!
Let me know your thoughts, fight fans!