The Dust has now settled after the eventful UFC 235 last weekend; time to start looking forward!
I am going to give some potential matchups for what I would like, and what I feel could be next for everyone.
Let me know your thoughts! Agree or Disagree!
Jon Jones
Who Knows what could be next. Is there anyone in the LHW division that can match him? Taking a look at Jon's resume, and the "star power" in the LHW division certainly isn't there for those huge fights... So, as a fight/matchup I can only say Thiago Santos makes any sense in the LHW division for Jon.
OBVIOSULY there is DC! If DC chooses to go down to LHW and fight Jon, again, this is the toughest fight for both men and by far in the LHW Division. I feel that Jon might move to HW very soon, just as the bigger and badder fights are up there! If Jon/the UFC want a huge fight, it's either DC or a move to HW for Jones.
What do you think?
Anthony Smith
Lionheart sure showed his toughness against Jones, but, let's be honest, he never looked like he was in this fight. He didn't do anything and I would have been surprised if the corner threw in the towel. I know this doesn't happen much in MMA but... I think give him Jan Blachowicz. Or Volkan Oezdemir vs Dominik Reyes winner?
Who do you think is next for The Lionheart?
Kamaru Usman
The NEW WW Champ, will fight Colby Chaos Covington next! Excited for this one, as, agree or disagree with me, I think they both have very similar styles. Also, after seeing Usman beat Woodley, I think Colby would have done the same... we will never know! But here we have 2 pressure fighters, high level of wrestling, super high pace. This will be fun!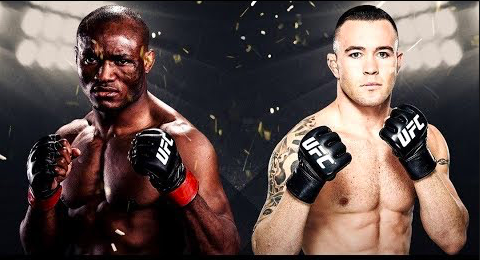 Does Chaos have what it takes to beat The Nigerian Nightmare?
Just to add - it looks like Usman and his manager Ali tried to start a fight with Colby... I hate that guy Ali he is always talking shit and starting shit - you're not a fighter stay out of it! Here is a video:
Tyron Woodley
I think Woodley might have to wait for the Usman vs Covington match and fight the winner. I can't think of anything else for him to be honest. I can't see him retiring just yet either. But, he is getting towards the end of his career. I don't think the UFC will ever set-up the Wonderboy fight again, besides, Wonderboy fights Pettis next.
Ben Askren
The UFC want to run it back with Robbie Lawler, and rightfully so! Ben has no interest, and doesn't want to fight Robbie again. I think they might have to... Herb could have stopped that fight early from Robbie basically KOing Ben! What a crazy fight. I know Ben won the fight and showed insane toughness, but I don't actually think he looked that impressive. It was a wild fight though!
Ben is going to London next week to try and get a fight with the winner of Darren Till vs Jorge Masvidal.
Robbie Lawler
He looked awesome, he looked like he was out, but wasn't, and he is one hell of a warrior! Rematch with Askren ASAP in my opinion.
Tecia Torres and Weili Zhang
Weili Zhang is just into the rankings, but I think she should fight another top 5 next. She is awesome and I think has a bright future. 19 fight win streak!!
For Tecia, 3 losses in a row, so I am not sure what is next. But maybe another tough fight and see how she does, she is a warrior and shows no quit, but I am not sure what is next.
Cody Garbrandt
Cody has now lost his last 3 fights, by way of Knockout.
After Cody absolutely dominated the dominator, Dominick Cruz, I don't think any of us would have predicted Cody to go 0-3. If I'm honest, I wouldn't be surprised if Cody hangs it up... he has a son, lots of money, a huge following and sponsors... I do think we will see him fight again, but he can't keep taking these heavy losses.
Has his punch resistance gone? Maybe, but he just leans into his opponents punches and gets cracked with hard shots that would floor anyone. What would you think about a rematch with Dominick Cruz? As for Munhoz, a top 5 guy.
Other mentions
Zabit needs a top 5 guy!
Johnny Walker needs a top 5 guy - get this dude moving! We need more exciting LHW's!
Diego Sanchez - he could now walk away on top, but he wont. Whoever Diego fights next will be as exciting as ever!
What do you think? Let me know your thoughts, fight fans!