The last round of July is upon us and once again @yefet is dominating in this contest! I thought that his result in June will be very hard to repeat in the future but he is on track to set the record once again.
Standings after the 3rd round:
1. yefet (4/5; +18.195,84) - 69.859,84
2. tadas (Q; -50) - 34.850
3. fallen.angel (Q; +2.080) - 14.090
4. grof (Q; +900) - 2.700
5-8. analyzesport - 0.00
5-8. brandonk - 0.00
5-8. dazed - 0.00
5-8. nikoskol - 0.00
*In the brackets are 3rd round's results and how many bets you made (out of 5 necessary to be eligible to win the prize) Q - you are already eligible.

UFC 240 - Holloway vs Edgar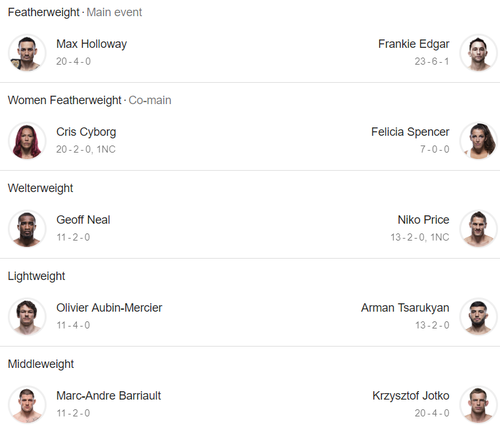 In this round you can choose from these fights:

Holloway M. (1.26) - Edgar F. (3.96)

Cyborg C. (1.16) - Spencer F. (5.32)

Neal G. (1.30) - Price N. (3.58)

Aubin-Mercier (2.48) - Tsarukyan A.(1.55)

Barriault M. (2.40) - Jotko K. (1.58)

---
UFC Nostradamus rules
This is a long term contest with 4 UFC events (rounds) from which you can pick your winners;
Every participant starts with a 10 000 u. (units) bankroll and uses that bankroll to place bets on the given fixtures;
You will be given a list of fights to choose from with real market odds in each of 5 events. You don't need to choose a winner from each fight or even each event. The only requirement is to place at least 5 bets on 5 different fights with at least 1000 u. to be eligible to win the contest;
The participant with the biggest bankroll at the end of the contest (after UFC 240) will win the contest and 100 SCR;
The best result of the round will receive my 100% upvote, 2nd place - 75%, 3rd - 50%, every other entry with a positive result in the round - 20%, every other entry - 10%
---
Write your picks in the comment section until 5 PM CST (of the fight day). Picks after that will not be eligible.