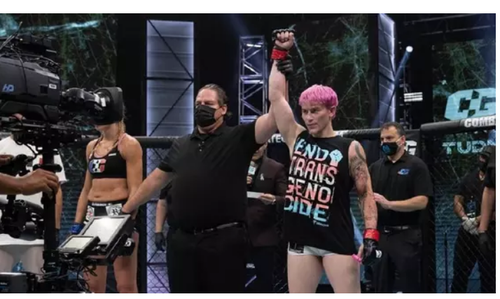 Once again, transgender people appear on the main pages of the world's sports publications. This time, a participant in the scandal "woman" Alan McLaughlin. This is an MMA fighter who made her debut at the Combate Global tournament. Again, the former strong man defeats the woman. Men, unable to fight the same as themselves, are trying to assert themselves at the expense of the weaker sex.

Alana McLaughlin's first fight in MMA as a woman
A former man entered the ring against a real woman, Frenchwoman Celine Provost. Frankly, the result was known before the start of the fight. A former American special forces soldier could not lose to a woman. Even if they are professionals. Yes, the Frenchwoman is a fighter. She insists that losses are inevitable.
It's one thing when you're fighting a woman like yourself. But if you enter the ring against a man, you will not be able to tune in to an "equal" fight. In this case, it is important that a professional soldier who fought in the hot spots of the World goes against a woman!
A few words for the ex-man
This man was born a man. Everyone knew him like Ryan. He stated that already in early childhood he felt like a girl. He asked his parents to have an operation. Say, he didn't want to be a man. Ultimately, to get rid of childhood psychological trauma, Ryan is sent to the army. Moreover, not just a soldier there, of whom there are millions, but in special forces.
Six years of service in one of the most elite divisions in the World! This is not an easy walk in the park in military uniform. Ryan becomes the hero of many troubles. Awarded with 8 medals. In 2007 he fought in Afghanistan. Ultimately, he resigns. After that, the 38-year-old man becomes a woman. Ryan's name is Alana now.
But, if he quietly changed sex and lived somewhere in the forest, and did not touch anyone, then everyone would not care about him. But this guy, who turned out to be not as tough in life as he would like, becomes an MMA fighter.
He steps into the ring against women! Do you think that every woman, even being a professional fighter, can fight on equal terms with a former special forces soldier? Yes, not every professional fighter, a man, will be able to withstand an open battle against a special forces soldier!
So the sport is gradually changing. We do not see normal, classic confrontations between women against women and men against men. Now, the so-called men are trying to assert themselves through victories over women. Gradually, I don't even want to watch sports competitions. They turn into a farce. Another man wins over women!