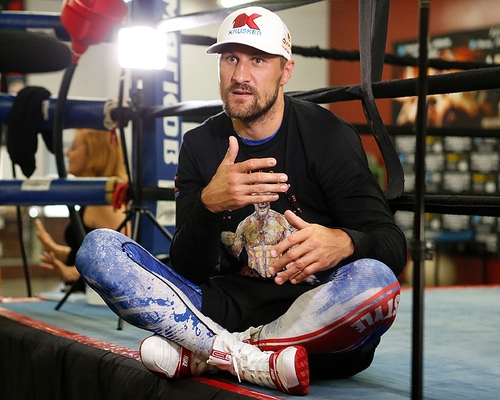 WBO Light Heavyweight Champion Sergey Kovalev (link is external) met with reporters at his training camp in California and talked about preparing for the August 4 fight against Elieder Alvarez (link is external), as well as his further plans.
About his rival Elounde Alvarez
"This is a big test for me. He is very motivated. He is waiting for the fight and is waiting for victory. He never lost. This is not a simple fight, and I need to be prepared for what he can show. He is dangerous. I can not say how I will win - by knockout or by points. This is a good fight for boxing fans. As a champion, as a boxer, I'm ready to fight any opponent. "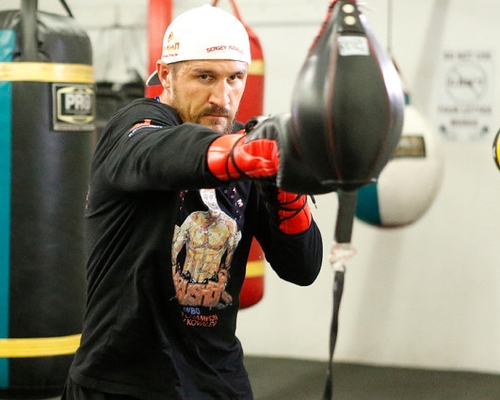 The importance of this fight
"This is not the most important fight in my life, but it's important to me, because this is the next stage of my boxing career."
About the desire to combine titles
"I already plan, I make up my champion tournament in my head. It's complicated. We do not have the opportunity to host the Super Series, which was at Alexander Usik. Congratulations to him and his team. He motivated me. There is no tournament in our weight. But I think about my tournament, my championship title. The desire to combine titles leads me forward. I think about it, about my goals and about winning the title of the absolute world champion. This has already started unofficially. Because every champion wants to unify the titles, I hope. Every champion in the light heavyweight wants to take all the titles. We want to know which of us is the best. "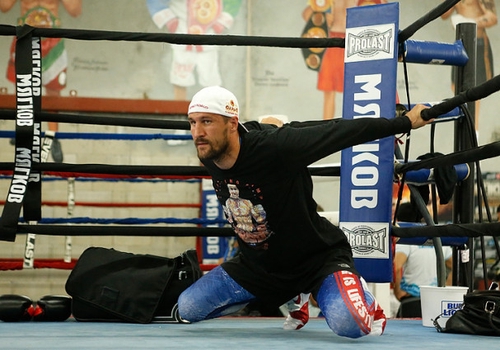 About the preparation for the battle with Elader Alvarez
"I have to prove that I deserve a champion title. I saw a couple of rounds of his fights. I do not spend a lot of time on this. I saw enough to understand his style. But now he will fight differently, because he will be in his best form. I have a plan to fight. I have a strategy and I will be ready for anything he can show, after the first or second round I'm adapting, because I know what I need to do. "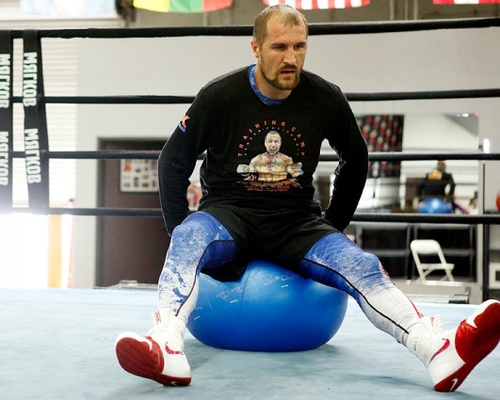 About training in Oxnard (California)
"There are a lot of guys with whom you can posparringovat. It's close to the ocean and the fresh breeze. Just you, coach and training. It's hard for me to train, living at home with my family. You always need to do something, or the son wants to play. Here, just training, sleep, exercise, rest. I'm training on schedule, resting, going to bed. "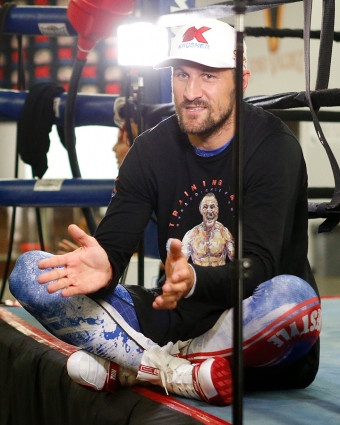 About work with Abror Tursunpulatov
"We work together and understand each other. He trains me the way I trained at 11 years old. It's very comfortable. We speak the same language. I follow his instructions exactly. Before that, I used my amateur experience, before that was enough, but I used all my amateur experience. Now I need the help of a coach, and Abror helps me. "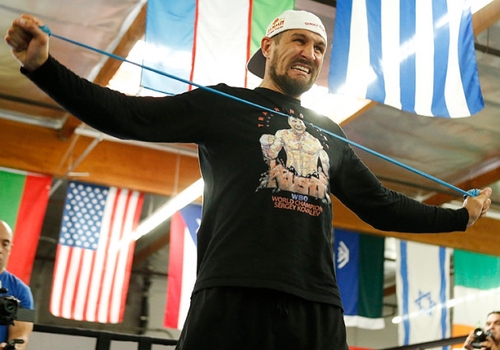 About your thoughts during a fight
"Usually, I do not hear anything in the ring. I'm focused on the fight and the plan for the fight, which we prepared with my coach. Sometimes, if you are in a difficult situation, you can hear something. Sometimes it's even the advice of the audience. I had it three or four times, not in America, in Russia, when I was an amateur. I understand for myself whether it was a good round or not. "
About future rivals
"I will meet with any opponent ready to fight with me. I was never offered a choice - I want to meet this opponent or with another. Egis Klimas or Cathy Duva inform me: "Your next rival, Elader Alvarez." Well, I'm preparing to fight him, because I have to be better than him. I do not think about the next opponent, because now I think only about Alvarez. "
The reluctance of boxers to fight with him
"This means that they are not real champions. They are businessmen. Think of boxers like Mike Tyson, Evander Holyfield, Diego Corrales. I respect them. It's a sport. If you fight like a real fighter, against any opponent, anywhere, if you do your thing - this is real boxing. "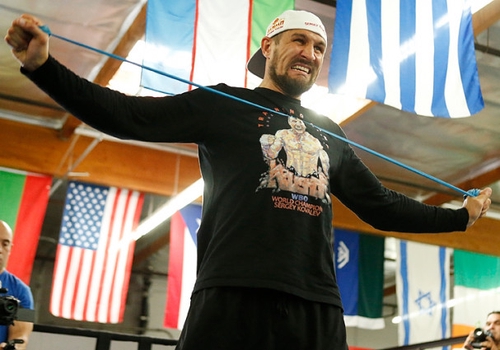 About the desire to improve
"I like some of my fights. Some do not. I do not like my previous fight. Now I try to remove these mistakes and conduct each battle better. I thought I knew a lot, but there was always something new. I get new experience from every fight and every training camp. "
About the next opponent
"I do not want to talk about anyone except Alvarez. Now I have to fight with him, and I treat him with respect. With God's help this fight will take place and will give me an understanding of who I am at the moment. I do not look back, only forward. Maybe one step back and two steps forward. I have already taken one step back, now only forward. "
About visiting the monastery in Greece
"I need to go there every year to psychologically recharge. Everyone should be alone with his faith, his god, two or three days a year. Of course, with God, one must always be. But I spent four days there. It reloaded me. Cleared my mind and body. This is a holy place. I already miss him. Perhaps, if there is an opportunity, I will go there again this year. "
On the place of boxing in his life
"I'm not aiming to become a celebrity. I do not box for fame, not to become a star. I do this for myself. I like the competition. I have an interesting life. I travel a lot, meet a lot of people around the world. I like it. I dreamed about it when I was young.