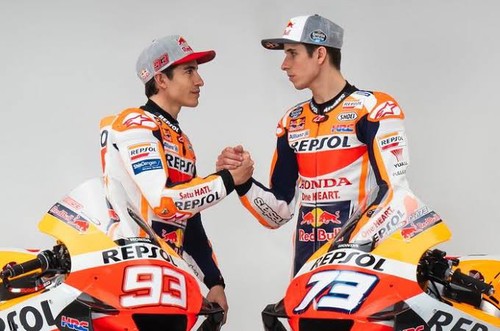 Repsol Honda racer, Marc Marquez, gave moral support to his younger brother, Alex Marquez, who failed to finish for the first time this season at the Teruel MotoGP which was held at the Aragon MotorLand Circuit, Spain, Sunday (25/10/2020).
Alex Marquez is actually able to look beautiful in the MotoGP Teruel race. Alex, who started the race from the 10th starting grid position, was slowly able to advance to the front row, Alex rose to 5th position on Lap 6 after overtaking Miguel Oliveira, Pol Espargaro, Cal Crutchlow, Fabio Quartararo, and Maverick Vinales. He also tried to catch Joan Mir who was in front of him. However, seeing Alex have a promising rhythm, Mir immediately stepped on the gas and overtook Johann Zarco on Lap 11.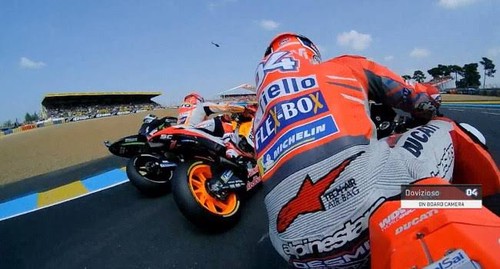 Alex immediately struggled with Zarco, trying to grab position 4. The two of them crossed each other, and Alex was able to move up the position on Lap 12. After that, he even forced to chase after Mir. But alas, he didn't think with a cool head and ended up falling at Turn 2 on Lap 13.
In this race I made a debutant mistake, and I'm very disappointed in myself. I made a mistake and fell. At that time, I was too concerned about getting on the podium for the third time, and as a consequence I was not calm and impatient. I will definitely learn from this mistake, "said Alex via GPOne.
With the results of this failure to finish, Alex also failed to continue his positive trend in the previous two races. In the Catalunya MotoGP and Aragon MotoGP races, Alex managed to come out as runner-up.
"After fighting with (Johann) Zarco, I was too optimistic and too much gas," said Alex as quoted by Speedweek.com.
"A better starting position would have helped me, but I didn't have a good spin that day. Even so, I already had high confidence, overtook well, and moved forward step by step."
Despite failing to finish, Alex revealed that his older brother, Marc Marquez, was not at all disappointed with the results of the race.
"Maybe I could fight for third place on the podium with Joan Mir. However, I made mistakes - I have to learn from him (Marc). It was my first real mistake in racing. Marc said I should be happy with my performance."
"I prefer to make mistakes like that when fighting for the podium, that's the most important thing," he said.
This result was the opposite of the previous week's result at the same track, where he successfully finished second. Even so, his older brother, Marc is sure that the failure to finish this time is understandable and normal, because it includes the learning process during his debut season.
"It's a shame! But this is the world of racing and the learning phase! You will learn from mistakes, the most important thing is to follow your head when you are in front and enjoy riding your bike! Great racing week @ alexmarquez73!" wrote Marc via Twitter.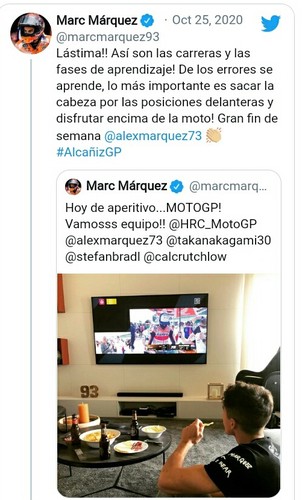 The 2020 Teruel MotoGP was won by Franco Morbidelli from the Petronas Yamaha SRT team. Meanwhile, two Suzuki Ecstar riders, Alex Rins and Joan Mir, finished second and third.
Thus the information I can share about Alex Marquez who failed at MotoGP Teruel and Marc Marquez is not disappointed, instead provides moral support, hopefully this information is useful.
Thank you for reading. Stay safe and Stay Healthy. Health is Wealth.
@aronexxon