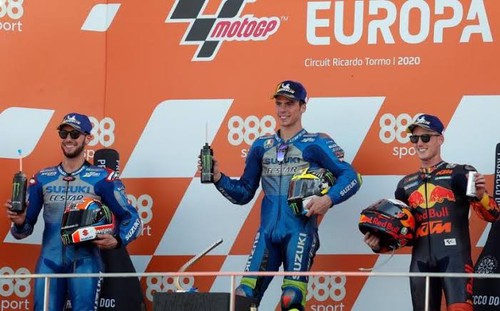 Surprise appeared in MotoGP at the Ricardo Tormo Circuit, Valencia, Spain, Sunday, November 8, 2020. Joan Mir, the Suzuki Ecstar team racer, won his first victory in the world's most prestigious race.
By winning the European Grand Prix, Joan Mir got stronger at the top of the standings until the remaining two races.
Joan Mir managed to become the very first racer to cross the finish line. He was about 0.6 seconds ahead of Rins who finished second. Even though Joan Mir only started from fifth position, she had been on the gas since the first lap. He continued to follow teammate Alex Rins until he overtook on lap 11 to maintain pole position until the end of the race.
After crossing the finish line, Mir looks very emotional. Understandably this is his first victory in MotoGP this season as well as answering doubts about him as the current top standings. Because, before the European MotoGP series, Mir could top the standings without even winning. Mir has a maximum of three runners-up podiums and three third podiums, including in the previous Teruel MotoGP series.
Now Mir can clap the chest for winning his first victory after rising to MotoGP last year. Even if he managed to become a MotoGP world champion, Mir's eligibility will not be questioned anymore.
"This is what I've been waiting for," Mir said after the race, as quoted by BT Sport.
Joan Mir became the ninth winner in MotoGP 2020 while increasing his chances of becoming world champion. Mir is now top of the standings with 162 points, 37 points ahead of Fabio Quartararo and Alex Rins in second and third positions.
With the season leaving two draws to go, Mir could secure the world title at Valencia MotoGP next week.
That is the information I can share about Joan Mir the Suzuki Ecstar racer, and finally he can feel the victory in MotoGP 2020, I hope this information is useful.
Thank you for reading. Stay safe and Stay Healthy. Health is Wealth.
@aronexxon