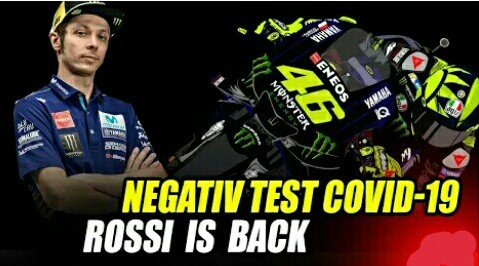 Valentino Rossi conducted a PCR test on Thursday (5/11/2020) in Italy and tested negative for COVID-19. The test results allowed him to end his self-isolation, which he has done since testing positive for the Coronavirus in mid-October.
Rossi will certainly take part in the European MotoGP series. The Doctor tested negative for COVID-19 after undergoing two PCR tests.
He used the opportunity to fly to Valencia, Spain, in the evening. There, the 41-year-old man took another PCR test according to the International Motorcycle Federation (FIM) regulations on Friday (6/11) and the results remained negative.
The two consecutive negative test results allowed Valentino Rossi to rejoin the Monster Energy Yamaha team. The nine-time world champion can also take part in the European MotoGP event this week, the Monster Energy Yamaha team said on Friday night. In an official statement announced via a Twitter account, the Tala Fork team confirmed that Rossi could return to driving his motorbike on the track.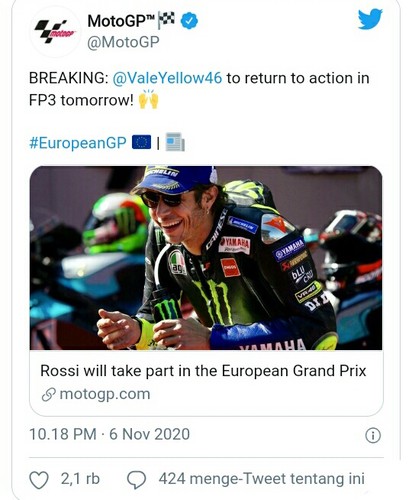 This is it !!! @ ValeYellow46's second PCR test was negative. He will come back to our pit box and will ride again tomorrow! "Read the statement from the Monster Energy Yamaha team.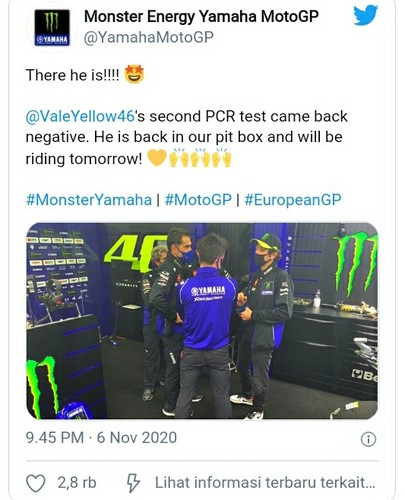 The return of Valentino Rossi to the Yamaha team at the same time canceled the MotoGP Garret Gerloff who was previously plotted as a replacement for The Doctor. In fact, the rider who this season competed in the Superbike World Championship (WSBK) has undergone the first and second European MotoGP free practice sessions today.
That is the information about Valentino Rossi recovering from COVID19 and being able to appear in European MotoGP, I hope this information is useful.
Thank you for reading. Stay safe and Stay Healthy. Health is Wealth.
@aronexxon