Repsol Honda MotoGP rider, Marc Marquez, managed to win the Malaysian GP which was marked by the fall of Valentino Rossi.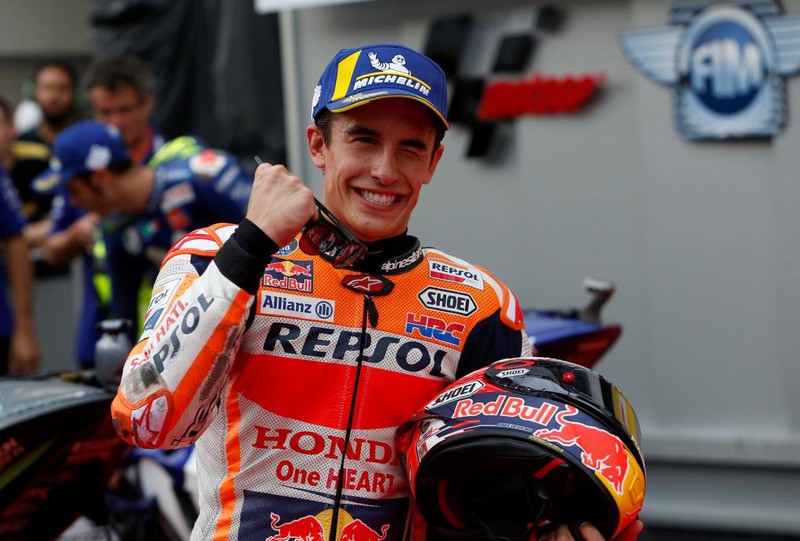 Marc Marquez came out as champion at the 2018 Malaysian GP. Marquez's success was not separated from the fall of Valentino Rossi, who from the beginning led the race. Rossi's appearance did have promises in his action at the Sepang Circuit on Sunday (11/04/2018). The Doctor who started from second place behind Johann Zarco immediately shot. He managed to dominate and leave his opponents including Marquez.
The rider who has confirmed the 2018 MotoGP world title at the Motegi Circuit, Japan managed to finish ahead despite only starting in seventh position. This became the ninth champion podium for Marc Marquez during MotoGP 2018, while making his points gain to 321 in the remaining one race remaining, namely the Spanish GP which will take place at Circuit Ricardo Tormo, Valencia.
Marquez himself was penalized by starting from sixth position trying to put pressure on the driver in front of him. But Marquez, who managed to reach third place, continued to trail Rossi and Zarco. And on one occasion Marquez could take over Zarco's position by finishing second.
After that, Rossi and Marquez's competition could not be avoided. Both drivers continued to press each other even though Rossi was still able to maintain consistency until the 10th lap.
Leaving six laps, Rossi and Marquez were not overtaken by other drivers. Marquez faithfully followed the senior while peering at opportunities to overtake.
Unfortunately for Rossi on lap 16 Rossi could not control the motorbike. He fell at the first corner and gave the opportunity for Marquez to advance alone in front.
However, a mistake at corner 1 when the race left four laps, making Rossi slip and fall. Asa quenched her thirst for victory this season just disappeared. Obviously this failure was a heavy blow to Rossi and the Yamaha team. The reason, Rossi ambitious on the first podium at Sepang considering the last time he felt a champion in 2010.
Although able to continue the race, The Doctor - nicknamed Valentino Rossi - had to settle for finishing in position 18. His team mates themselves, Maverick Vinales was only able to finish in fourth position.
While for Marquez this success completes the 2018 MotoGP title. The trophy at Sepang is also the ninth for the Alien Baby in the season that leaves one more race to take place in Valencia.