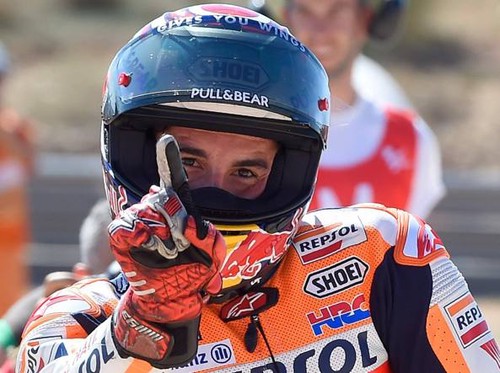 MotoGP Marquez at Motegi victory and title.
Victory at home Honda for Marc, who in addition to the race won his seventh world title. It was a great race, fought to the end, a pity for the slip of Andrea Dovizioso who gives on a silver platter, victory and world title to the Spaniard.
Marc Marquez does not disappoint the expectations of fans and Honda, after all everything was ready for the big party. At the end of the race distributed T-shirts with the nice seventh level writing, referring to a game of video games.
In fact, after the race Marquez ran to a curtain where he started to simulate a game of the famous motor racing videogame.
The seventh of his brilliant and young career, 25 years, whose limits can not be glimpsed.
We said it was a pity for Dovizioso's fall, we were already looking forward to the umpteenth duel between the Spaniard and the Italian, who also started great fights this season.
At the beginning of the race, the two of them together with Crutchlow immediately created a gap with the rest of the group.
Valentino Rossi, at that time the fourth gave the impression of being able to get on the three, but then came a decline that allowed the two Suzuki of Iannone and Rins to overcome it.
Crutchlow also raised the white flag on the final, so Marquez and Dovizioso took the stage, the two were even, could have won both, but the crash took away the final thrill of seeing who would have it.
In addition to Marc's victory, they complete the Crutchlow podium and the excellent Rins on Suzuki. Too bad for the fall makes it fourth and a pity also for Iannone whose fall has prevented the fight for the podium.
However great race, great Marquez and great Dovizioso!