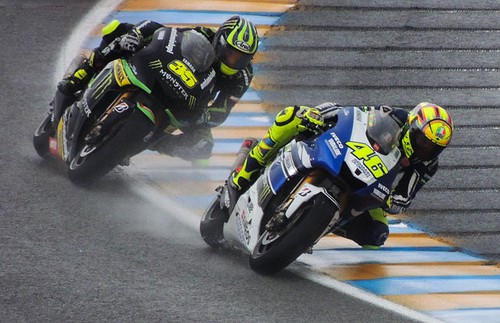 Romano Fenati, rebirth in sight?
The folly of Romani Fenati, who pulled the brake to Stefano Manzi, in full straight at over 200 km / h, has triggered the hardest reactions from the media and public opinion. The crime refers to the Grand Prix of San Marino, so it concerns two Italian drivers involved in the home race. A bad figure made live worldwide ...
Someone even talked about attempted murder, however the gesture remains of great seriousness and can not be justified. His own team has suspended him, so the disapproval is total, and it is right to pay the consequences of his mistakes.
We can also say that all in all went well, the gesture did not bring serious consequences, the same Manzi spoke of slight shock to his bike, so there 'escaped a boat that could be dangerous for Fenati himself, that he could have been involved if there had been a bad crush.
This sport, like the others, is seen and followed by millions of people all over the world and the protagonists have, in spite of themselves, a role of inspiration, especially for the younger generations.
Competition is the salt of sport, but limits must be set and sporting loyalty is a non-negotiable value. In the name of victory one can not jeopardize the safety of oneself and above all of others.
Respect for the adversary comes first of all.
Sport plays a big role in the education of young generation and "shows" like those of Misano are not acceptable.
The severe punishment so far inflicted seems right.
Now after the head wash is it right to open the doors to Fenati rehabilitation?
Forgiveness should be a cornerstone of our upbringing, so perhaps we should give Romano the opportunity to redeem himself, to show that he grew up and understand his own serious mistake. We have the opportunity to show that unfair behavior is not acceptable, but also to show that we have confidence in man, we can all make mistakes and everyone deserves a second chance.
So we hope that his team, MV Agusta, can rethink and offer a second chance to Romano, or if this does not happen, that another team decides to rehabilitate Fenati for the next season.
Severity and forgiveness, are the two essential components to educate future generations, who see models in their idols to be imitated.