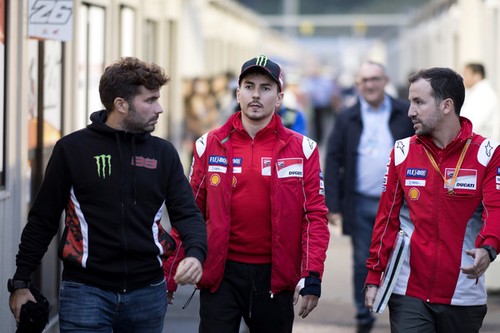 Ducati Corse rider, Jorge Lorenzo, claimed to be very sad because it was confirmed failed to appear for Japan 2018 MotoGP which took place at the Motegi Circuit, Sunday, October 21, 2018. In fact, Lorenzo said he was eager to appear in the 2018 MotoGP series because Motegi Circuit was one trajectory that he really likes.
In addition to sad because he could not appear on his favorite circuit, Lorenzo was also disappointed because he had four consecutive series he failed to add points, which was calculated from the San Marino MotoGP 2018. Of course it added to his sadness because he could not improve his position in the standings while 2018 MotoGP drivers.
"This is a very sad moment for me, because I really want to race on that track (Motegi Circuit), which is one of my favorite circuits. Motegi is the circuit I like the most. Because (in Motegi) the characteristics of the motorbike can adapt well and are perfect for getting good results, "
Actually Lorenzo has tried to do the race when diving the first MotoGP Japan 2018 free training session on Friday, October 19, 2018 yesterday. However, the pain from the injury he got when he appeared in the Thailand series free practice session yesterday, is still very much felt. Because he did not want to get worse, Lorenzo also decided not to continue the race at 2018 Japan MotoGP.
"Yesterday (during the first free latiha session) my feelings were not very positive and today I have confirmed that not only because I still feel sick, but also the serious risk of my injury (the reason why Lorenzo was absent at the Japanese GP),"