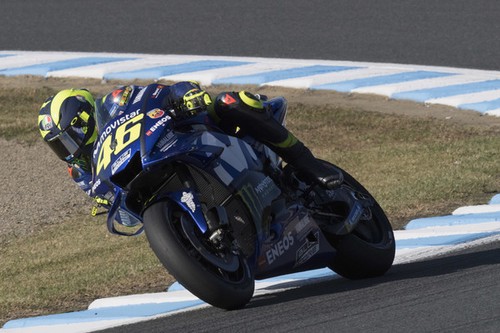 Movistar Yamaha Team rider Valentino Rossi claimed to be happy with the results he achieved at the 2018 Japan MotoGP. In the race that took place at Motegi Circuit, Japan, Sunday 21 October 2018 at noon CST, the VR46 finished fourth.
This finished fourth the second time in a row after the last race (MotoGP Thailand), Rossi also finished in the same position. Raihan is also the failure of the umpteenth time for Rossi who almost climbed the stage.
Even so, The Doctor - nicknamed Rossi - claimed he had no problem with it. Even according to him finishing in fourth place is not bad. Rossi was still happy with the results at Motegi because the YZR-M1 motorbike also drove quite well in this race.
"Fourth place is not a bad result. I think we have worked well today, because this morning we made one more step and I feel better with the motorbike, "Rossi said, quoting from Yamaha's official website on Monday (10/22/2018).
"So, I started the race with enough optimism, trying to fight for the podium. Unfortunately some other drivers are faster than me, "added the 39-year-old racer.
"I have tried not to give up, did not make mistakes, and until the end of the race I did with good speed," concluded the Italian-based racer.