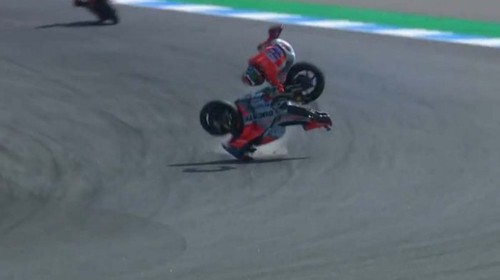 Ducati rider Jorge Lorenzo is confirmed to be absent from the Australian MotoGP. Lorenzo could not take part, because he still suffered a left wrist injury.
The injury was obtained by the Spaniard when he entered the second free MotoGP Thailand training session. In the free practice that took place at the Buriram International Circuit, October 5, 2018, Lorenzo suffered a severe accident.

Jorge Lorenzo cannot appear at the Thai MotoGP on 7 October 2018 and the Japanese MotoGP on Sunday (10/21/2018). Not only that, the former Yamaha racer also could not race in the Australian series, on 26 to 28 October.
"Based on an agreement with the Ducati Team, (Lorenzo) will return home (Barcelona) today to conduct further examinations with the doctor, and accelerate the recovery of his left wrist," read an official statement from Ducati.
"Jorge Lorenzo will miss the Australian GP next week and will try his best to perform at the Malaysian MotoGP," said the statement on Ducati's Twitter account.