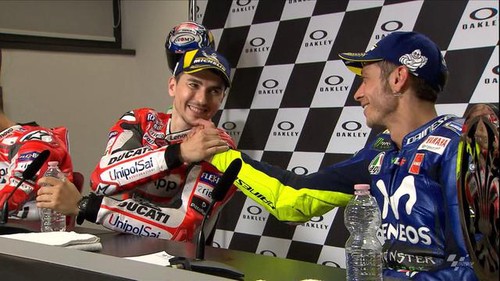 Valentino Rossi failed to reach the podium in the Malaysian MotoGP racing event, Sunday 4 November 2018.
In the race that took place at the Sepang Circuit, Rossi showed his best performance. The Doctor led the race for 15 laps.
The Movistar Yamaha rider's appearance is quite consistent, as is his timeline. Damn, the title of the series just vanished, when the race left four more rounds.
The former Ducati racer could not stop the fasting of the victory for quite a long time, after the last time he won the Dutch GP in 2017. Even so, Lorenzo was quite impressed with Rossi's appearance in Malaysia.
"Regardless of the accident, I have never seen Rossi so consistently, more than 10 laps he can record 10/10 seconds on the hottest and longest tracks, which impressed me. (Meanwhile) Some people say that he started to be affected by his age on some the last race, "Lorenzo wrote on his Twitter account.
Received praise from the former teammate, Rossi replied by saying thank you. Meanwhile, for this result Rossi failed to compete in the runner-up position in the final standings this season