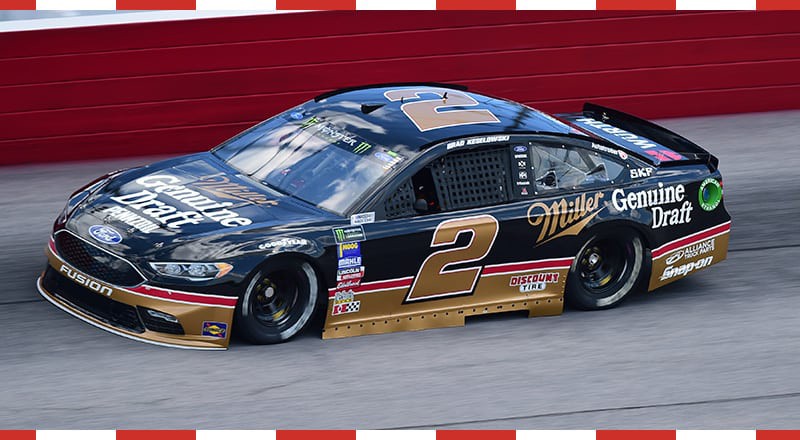 "Am I dreaming?" - Brad Keselowski
Brad Keselowski takes advantage of a late pit stop to win the Bojangles' Southern 500 at Darlington.
One thing NASCAR fans know is the fastest car doesn't always win. Brad Keselowski proved that point on Sunday night by taking advantage of a fast pit stop to win the Southern 500 at Darlington Raceway. The win is the first of the season for Keselowski and the first win for team owner Roger Penske at Darlington since 1975.
The start of the race was delayed for 45 minutes by lightning, but once the green flag dropped it was Kyle Larson who electrified the track. Starting from the second position, Larson quickly took the lead and simply sped away from the field. He took the checkered green for Stage One and Stage Two and led 284 of the first 344 laps. With only 23 laps remaining in the race Larson, who has five runner-up finishes with no wins on the season, seemed to be a shoo-in to grab his elusive first checkered flag of the season.
Then Jeffrey Earnhardt spun out in Turn 2 to bring out the sixth yellow flag of the race. Larson led the field onto pit row for the final pit stop of the night, but it was Brad Keselowski who came out of pit row first by inches over Larson. The race re-started on Lap 348 and Keselowski sped out with the lead. Larson, who was stronger all night on long runs rather than short runs, couldn't catch up and was eventually passed by Joey Logano. Keselowski led the last 19 laps to bring home the checkered flag followed by his Team Penske teammate Logano. Larson had to settle for a disappointing third place finish.
"I've got to give a lot of credit to my pit crew," said Keselowski. "We were running second and that last stop they nailed it and got us out in the lead. I thought Kyle was really good, and he was flat-out flying. I know how it goes. In 2015 we led a bunch of laps and lost it on the last pit stop and today my team won it on the last pit stop. Then it was just about me hitting all my marks and not screwing it up. How cool is this winning in Rusty Wallace's Throwback car, the Southern 500, Throwback Weekend."
Kyle Larson put on a brave face after the race despite another heartbreaking finish. The Southern 500 marked the 10th time Larson has led over a hundred laps in a Cup Series race so far in his career. He has only won one of those races.
"It's always important to come out the leader off pit road or be the control car on the restart," said Larson. "I felt like if I could have been in clean air, I would have been all right. All day when I would get in traffic I'd get loose. There on that last run I was just really loose and allowed Joey (Logano) to get by. I knew the only really weakness we would have throughout the race was a short run and that's what it kind of came down to. On long runs, I was just really, really good all race long. That was good. Hat's off to everybody back at our race shop. This car was extremely fast. We had the dominant car and we proved it. We just came up a little bit short. Thanks to DC Solar and everybody, like I said. It's nice to show some dominant speed like that and a 1.5-mile like this leading up to the Playoffs."
Kevin Harvick nearly caught Larson at the end, but fell just short to finish in fourth place one spot ahead of Chase Elliott. Kurt Busch, Kyle Busch, Erik Jones, Jamie McMurray and Denny Hamlin round out the top ten.
"I'M TIRED OF THAT CRAP"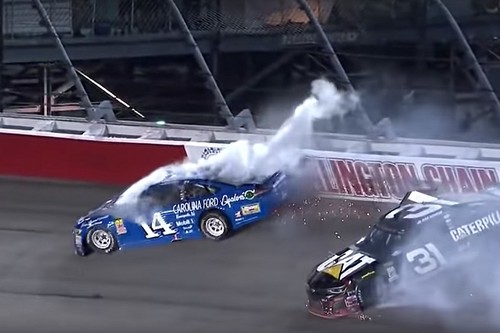 It's safe to say Darlington Raceway is not one of Clint Bowyer's favorite tracks. In 13 career starts the veteran driver has exactly one top-ten finish and it came back in 2007 when he finished in 9th place. The racing action on Saturday night didn't do anything to change his opinion either.
While under the green flag, Ryan Newman stuck his hand out the window to signal to the field he would be slowing down to make a pit stop. The problem for Bowyer was lapped traffic blocked his view and he missed the signal. As Newman began to pump the brakes, the lapped traffic moved up the track to pass. Bowyer saw this as an opportunity to pass the lapped cars and hit the throttle hard. The result was Bowyer slamming into the rear of Newman and sliding up the track to bounce of the wall twice. The wreck ended Bowyer's night and he finished in 36th place.
Bowyer let his frustrations be known as he was interviewed in the garage area before he left the track.
"It was a shot," Bowyer said. "I don't know; he (Newman) must have been pitting. I mean he just stopped right in the middle of the racetrack. First of all, the damn lappers out there. I don't know who the damn 99 car is or whatever, but I think I lapped him 50 something times. He's all over the damn place. You come by him. You come by this guy. You don't even have a chance to get track of where you're at because of who you're racing and some of the guys that are in the race. Everybody deserves a chance out there, but I'm tired of that crap. Frustrated. I was really proud of this car with Ned Jarrett here today. it was a pretty special day."
Bowyer's throw back paint scheme was a tribute to former NASCAR champion Ned Jarrett. Derrike Cope was the driver of the #99 car and finished twenty laps down, so Bowyer definitely didn't pass him 50 something times. A little hyperbole for his narrative.

Unfortunately lapped traffic can have a negative impact on the race, but the truth is not every team is well funded and can compete directly with the big boys. That's just the nature of motorsports. Bowyer of all people should realize this. He wasn't very competitive for years while driving for smaller organizations. His career has been revitalized since joining powerhouse Stewart-Haas Racing last year.
Bowyer is a colorful character and is generally well-liked by fans and fellow drivers. Hopefully his comments were pure frustration after being knocked out of the race because NASCAR needs the little guys too. Everyone has to start somewhere.
The Chase For The Cup
Only one race remains before The Chase For The Cup begins and the Southern 500 helped clear up the playoff picture. Denny Hamlin and Aric Almirola clinched playoff spots by virtue of points earned throughout the season. Now 14 drivers have clinched playoff positions with two still up for grabs at Indianapolis next week.
If a driver who hasn't won a race this season or who hasn't clinched a spot through points wins at the Brickyard next week, that driver will claim one of the final two spots. Otherwise the spots will be earned based on points accumulated throughout the regular season. Jimmie Johnson and Alex Bowman are the only drivers in the field who can clinch a spot without winning the race.
Kyle Busch only needs to score 22 points at Indianapolis to secure the regular season championship. He can do that by finishing 15th or better, or by earning stage points to prop up his total if he finishes lower. All of that depends on Kevin Harvick's day at the track. Harvick is the only driver who could possibly surpass Busch for the title, but he is going to need a lot of help. Basically barring a miracle Busch will win the regular season championship and earn 15 bonus points for The Chase.
The Next Race
The Monster Energy NASCAR Cup Series returns to the Hoosier State next week for the Big Machine Vodka 400 at The Brickyard Sunday September 9th at Indianapolis Motor Speedway.