Hey y'all! This weeks driver is my favorite, the driver of the no. 9 Chevrolet Camaro ZL1 for Hendrick Motor Sports, Chase Elliott.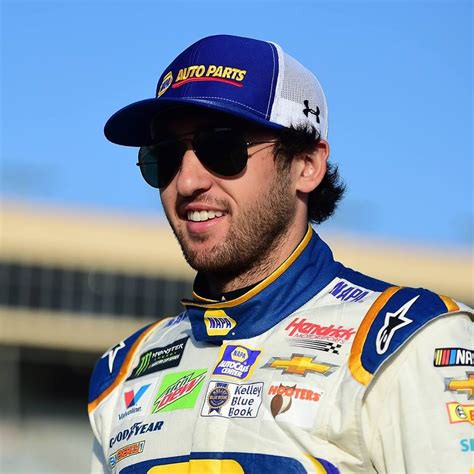 On November 28th 1995 William Clyde "Chase" Elliott was born to Cindy and Bill Elliott. Chase comes from Dawsonville, a small town in north Georgia. His father who also drove the no. 9 car in his NASCAR career is known as "Awesome Bill from Dawsonville."
FUN FACT: Chase's mom didn't want him to become a racecar driver at first. She wanted him to play golf. Thank goodness she couldn't convince him!
Chase started out racing in several small series race cars but the first series that most people remember him in was K&N Pro Series East. He drove the no. 9 car for Hendrick Motor Sports and won his first series race at Iowa Speedway.
In 2013 Chase competed in 9 races for Hendrick Motorsports in the NASCAR Camping World Truck Series. He only won one race which he wrecked out Ty Dillon for in the last turn at the Canadian Tire Motorsport Park. (Coincidentally his first win in the truck series and the cup series were both at a road course.)
In 2014 Chase competed full-time for the first time in the Nationwide Series, now known as the Xfinity Series. Chase drove the no. 9 Chevrolet for Jr. Motorsports. (The racing team owned by Dale Earnhardt Jr.) He won 3 races and became the first rookie and youngest driver to ever win a NASCAR series championship at age 18. Later on in the year he was awarded with the Most Popular Driver award.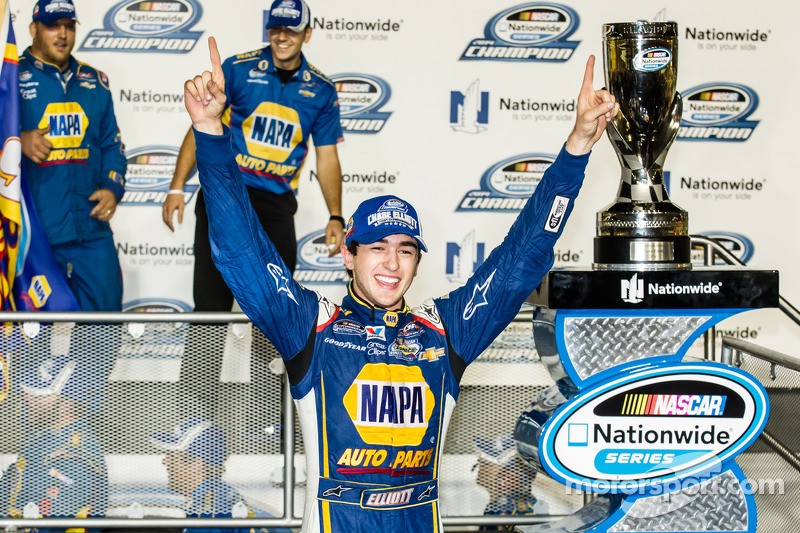 In January 2015 Chase was given the chance to race in 5 Sprint Cup Series (now Monster Energy Cup Series) races in the no. 25 car. It was also announced in January of that year that he would be taking over Jeff Gordon's ride, the number 24, in the 2016 season. The 5 races that Chase raced in for 2015 were at Martinsville, Richmond, Charlotte, Indianapolis, and Darlington. I was actually able to attend the Charlotte race that season and Chase finished 18th.
In 2016 Chase started out his first full-time cup season in the no. 24 car as the youngest ever Daytona 500 pole-sitter at age 20. Although he didn't win any races he had 2 poles, 17 top 10's, and 10 top 5's which is pretty darn good for a rookie. He then went on to win Rookie of the year beating out Ryan Blaney, Chris Buescher, Jeffery Earnhardt, and Brian Scott.
Chase had a little bit of a better season in 2017. He didn't win any races but he did win the pole at the Daytona 500 for a second year in a row. He also had 21 top 10's and 12 top 5's. He improved on a lot in this season and built character through the losses.

In the 2018 season Chase was able to switch numbers on his car. He went from Jeff Gordon's no. 24 to his dad's no. 9. So far this season Chase has gotten 14 top 10's, 8 top 5's, and one win. Chase clinched his first Monster Energy Cup Series win this season and it was a very sweet victory. He won at Watkins Glenn International Speedway on his 99th start. Unfortunately I was at work when he won and I didn't get to see him win. But it's ok because I recorded the race and my mom texted me as soon as it happened. I was so happy and felt so proud of him. I really was grinning from ear to ear for the rest of the night.

There's more to Chase than just racing though. He also has his pilots license. He has been flying a small airplane for a few years and is even pursuing his license to fly a helicopter. He flies himself out to most of his races and even brings some of his racing buddies with him. Chase is also a huge Atlanta Braces baseball fan. He has been to quite a few games and has met the players. He's also a big fan of Eric Church.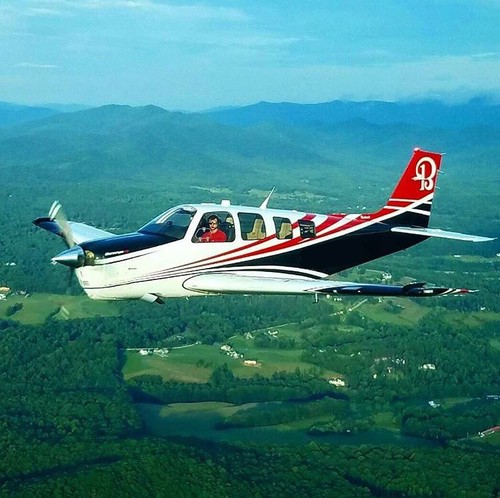 So why do I like Chase so much? Because he's a good ole southern boy who grew up in the heart of racing. He has manners, is respectful, has good character, and has a good head on his shoulders. He's really cute too so that helps a lot ;) Also he loves Krispe Kreme donuts. Look at him eating a donut when he was a little kid. Isn't that just the cutest thing? Chase Elliott is by far my favorite driver and I have a lot of hope for him in his racing seasons to come. I can see him winning many races and even being inducted into the NASCAR Hall of Fame.
Thanks for reading, comment below and tell me what you think. I'm still taking suggestions for next weeks driver of the week so let me know who you want to read about!
XOXO @hellsbelle 🖤